2018 Volkswagen Tiguan: If you Can't Beat 'Em, Join 'Em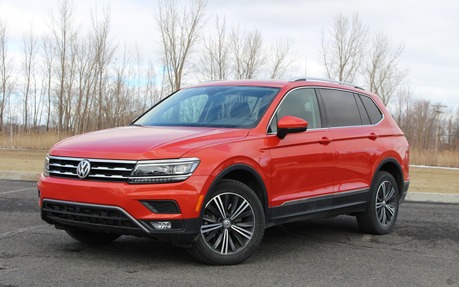 If North-American consumers want compact SUVs that feature lots of interior space and don't care too much about driving dynamics, Volkswagen was missing the mark with its first-generation Tiguan. The latter was often described as the "Volkswagen GTI of SUVs," which was actually pretty accurate.
However, over the years, the Tiguan's rivals grew in size, and although it was the most fun-to-drive compact SUV, something had to be done to keep a respectable market share. The second-generation, 2018 Volkswagen Tiguan was introduced and to make sure interior space wasn't an issue for U.S. and Canadian buyers, the company created not one, but two versions of the vehicle.
In Europe, there's the regular Tiguan, and there's the bigger Tiguan Allspace. In North America, the latter is the only version we're getting, which benefits from a wheelbase extension of 110 millimetres. This allows for more cargo space, but also the option of adding a third-row seat. It joins the select crowd of seven-passenger compact SUVs that includes the Dodge Journey, the Mitsubishi Outlander and the Nissan Rogue.
So, could we buy a seven-seat Tiguan instead of the bigger Volkswagen Atlas if we're frequently hauling more than five passengers? Absolutely not, as that third-row seat is miniscule. VW doesn't call this a "5+2" seating arrangement for nothing. In the Tiguan's defence, its compact-sized rivals mentioned above aren't really better. Maybe a little.
The 2018 Volkswagen Tiguan gained a more modern interior, especially thanks to the eight-inch touchscreen that's included in Comfortline and Highline trim levels—the base Trendline makes do with a 6.5-inch unit—and the Volkswagen Digital Cockpit driver instrument pod that's standard in the Highline. Apple CarPlay and Android Auto integration is included in every Tiguan, though.
While the Trendline is low on features, stepping up to the more expensive variants and choosing an option package or two will add autonomous emergency braking, blind spot monitoring, adaptive cruise control, a 360-degree camera system, navigation, remote engine start, a power liftgate, a panoramic sunroof, heated front seats, leather upholstery, a heated steering wheel and dual-zone climate control, among other things. However, no heated rear seats unlike what's found in many other compact SUVs.
The infotainment system works very well, with big button zones, a reactive screen and a navigation map that's easy to read. The climate control layout couldn't be any simpler, and the Fender sound system is excellent. On the other hand, some interior plastics as well as the leather seating surfaces (actually leatherette) look and feel cheap.
The Tiguan's seats are firm yet comfortable, and there's a good amount of second-row legroom for teenage and adult passengers. As for cargo space, VW's SUV climbs from one of the smallest in its class to one of the biggest, with a maximum volume of 2081 litres with the second-row seatbacks folded. When the third-row seat is added, max volume drops to 1860 litres—which is still good—and when all the seats are upright, cargo space shrinks to 340 litres, slightly more than in the aforementioned competitors. The retractable cargo cover can be cleverly stowed under the load floor, which is good.
While interior room is way up, driving pleasure is way down.
It sounds worse than it actually is, but the old Tiguan was just so energetic and so willing to be tossed around that the new one feels like it stopped working out at the gym and now spends its evenings binge watching Netflix and chomping down potato chips. However, it does offer a comfortable ride that most SUV shoppers will appreciate. The most fun-to-drive compact SUV is now the Mazda CX-5, especially that it's available for 2019 with a 227-horsepower turbocharged engine.
The 2018 Volkswagen Tiguan is also less powerful than before. Its turbo 2.0-litre engine produces 180 horsepower, down by 20, although torque has climbed from 207 to 221 pound-feet. This recently developed engine is shared with the Volkswagen Beetle and Volkswagen Passat, and is tuned for fuel economy above all-out performance. It's smooth and well managed by an also-new eight-speed automatic transmission.
At least the new Tiguan runs on regular fuel, while the old one required super unleaded. Despite the curb weight gain of more than 200 pounds, fuel consumption is down by almost 1 L/100 km. We averaged a decent 10.5 L/100 km during our test, but some adversaries such as the Honda CR-V and Toyota RAV4 can do much better.
Base price is set at $28,925 before freight and delivery charges, but that's for a front-wheel drive Trendline. Adding 4MOTION all-wheel drive jacks the price up to $31,175. Our Highline tester with the seven-row seat and the Driver Assistance Package checks in at about $41K—about the same price as its fully loaded rivals.
There's a lot to like about the Tiguan for newcomers to the Volkswagen brand in North America. It's comfortable, spacious and is technologically up to date. However, we can't help thinking that the company's loyal customer base, who saw the upscale Touareg be replaced by the Atlas and the Tiguan lose its playful character, are disappointed with the strategy of offering products that feel more American than German.
But if that's what the mass of American consumers want, Volkswagen had to adapt in order to keep selling vehicles on our market. As the old saying goes, if you can't beat 'em, join 'em.
Test drive report
Test model

2018 Volkswagen Tiguan

Trim level
4Motion Highline
Price range
$28,925 – $39,175
Price as tested
CA$39,175
Warranty (basic)
4 years/80,000 km
Warranty (powertrain)
5 years/100,000 km
Fuel economy (city/highway/observed)
11.3 / 8.8 / 10.5 L/100km
Options
N/A
Competitive models
Chevrolet Equinox, Ford Escape, GMC Terrain, Honda CR-V, Hyundai Tucson, Jeep Cherokee, Kia Sportage, Mazda CX-5, Mitsubishi Outlander, Nissan Rogue, Subaru Forester, Toyota RAV4
Strong points

Spacious interior
Good infotainment system
Ergonomically sound dashboard

Weak points

Driving pleasure isn't what it used to be
Fuel economy could be better
Cheap interior plastics

Editor's rating
Fuel economy
Good, but not great. Several rival compact SUVs are more efficient.
Comfort
Comfortable ride, good seats. The optional third-row is pretty tight, though.
Performance
The 2.0-litre engine has plenty of torque for quick take-offs, but otherwise, it isn't all that exciting.
Infotainment
Easy to use, with a reactive touchscreen. The optional Fender sound system is great.
Driving
Not a chore to drive, but the difference between the old Tiguan and the new one is like day and night.
Overall
A Tiguan that's perfect for newcomers to the Volkswagen brand. Owners of the previous-generation Tiguan might have mixed feelings about the new model.