2019 Honda Pilot: Try to Keep Up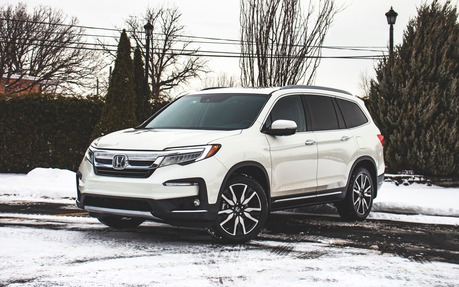 2018 definitely was a year of SUVs. As these things become more and more dominant within the automotive landscape, carmakers are dishing out seriously competitive offerings to lure consumers into their showrooms. In the midsize segment, the new Subaru Ascent has recently been introduced, and we already drove the new 2020 Hyundai Palisade. Kia has also announced that its new people hauler – the Telluride – will hit showrooms sometime this year.
This is why I was worried before getting behind the wheel of my 2019 Honda Pilot press unit over the holidays. I was afraid that we at The Car Guide had made a bad decision by calling it the Best Buy of 2019 in its category. After all, the Pilot's been on the market since 2016. How can it possibly compete against the new crop of more sophisticated machines?
Turns out I had nothing to worry about.
Dominating in the Areas that Matter
Here's the thing; even though the Pilot now faces serious rivals, they still can't beat it in the areas that actually matter for consumers. For starters, Honda's rig is still the interior space king. Granted, its trunk (524 litres) is a tad smaller than those of other big boys such as the Chevy Traverse (651 litres) and Volkswagen Atlas (583 litres), but it continues to trump the entire segment when all its seats are folded flat. At 3,087 litres of total cargo space, the Pilot remains the most cavernous of its class.
For 2019, Honda gives its largest vehicle a mild update, both visually and mechanically. New bumper, headlight and taillight designs, as well as new wheels give the Pilot a tad more ruggedness, but we're not sure about the fake bumper guards. There's no denying Honda is trying to distance its SUV from the Odyssey minivan, who it shares almost all of its mechanical components with. But we still find the Pilot to be an odd-looking machine, especially from the side profile where it resembles some sort of herbivore dinosaur.
All Pilots continue to be powered by Honda's tried-and-proven 3.5-litre, naturally aspirated V6, an engine which currently only powers the Pilot, Odyssey and Ridgeline at Honda. It's good here for 280 hp and 262 lb.-ft. of torque.
The Pilot comes with a choice of two gearboxes, either Honda's own six-speed automatic, or a ZF-sourced nine-speed unit, a gearbox we've complained about in the past for being slow to react, especially when asked to downshift.
Honda claims to have improved it, both mechanically and electronically to be more responsive. It also improved the stop/start system to make its engagement smoother than before. Other changes include a revised infotainment system with an actual volume knob and integrated Wi-Fi (data subscription required) as well as the Odyssey's Cabin Talk intercom system with all the kids' interactive apps that come with it.
Our tester was a seven-passenger Touring AWD model. It stickers at $54,400 and sits at the higher end of the range, with only the new-for-2019 Black Edition standing over it.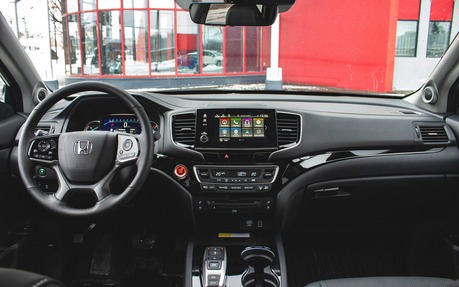 Big and Strong
Without surprise, the Pilot feels big behind the wheel, because it is. You sit upright in its minivan-style captain's chairs in front of an upright dashboard and windshield. But it never feels clumsy. As a matter of fact, the Pilot's chassis remains ultra-solid, absent of unwanted cabin rattles or quibbles. It will react quickly when asked to, not afraid to attack a corner and with little complaint.
Of course, this isn't a sports car, but there's willingness to be sporty which gives it extra points over its rivals. Add to that a gem of an engine – one of the last survivors of Honda's naturally aspirated legacy, and the Pilot ends up being much more rewarding to drive. That V6 pulls strong, loves to rev and the VTEC switchover sound as it passes 5,500 rpm reminds us of Honda sports cars from another era. As a matter of fact, with a 0-100 km/h time of 6.0 seconds flat, the Pilot outruns the Volkswagen Atlas V6 (7.9 seconds), the Chevrolet Traverse (6.5 seconds) and even the Mazda CX-9 (6.8 seconds).
And it'll tow up to 5,000 lbs. (2,268 kg) when properly equipped, not forgetting our 10.6 L/100 km fuel consumption average while we had it in winter. As we said, class leading.
But that doesn't mean the Pilot doesn't come with its share of caveats. While Honda claims to have improved the nine-speed transmission, there's still an important delay between the time you gun the throttle and the darn thing actually downshifts. A delay we haven't noticed with Honda's own gearboxes, notably the – ahem – ten-speed unit found in the Odyssey and Accord.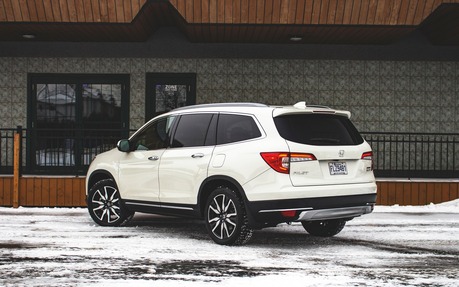 We have nothing to say about the improved start/stop system, however. There's less delay when restarting. That's because Honda's engineers calibrated it to react the moment brake pedal pressure is released. The result is a much smoother interaction, preventing us from wanting to switch it off.
Now, while we are thankful for the addition of a volume knob for the infotainment system, something we've long asked for in modern Hondas, the system isn't the brand's new Display Audio unit first introduced in the Accord. It's the old one, improved by a gauge-cluster package ported over from the Odyssey. The result is an interface that remains unintuitive where several steps are required to execute simple commands. At least, there's standard Apple CarPlay and Android Auto integration, as well as the aforementioned Wi-Fi hotspot.
But these are all minor details. They don't prevent the Pilot from dominating the segment with qualities that will convince buyers to choose the big H versus another large SUV out there. While the Pilot may seem a tad more expensive than some rivals, its proven reliability record, great resale value and low running costs make it a great investment for any family seeking a faithful companion.
Test drive report
Test model

2019 Honda Pilot

Trim level
Touring AWD (7-seats)
Price range
$41,090 – $53,990
Price as tested
CA$52,490
Warranty (basic)
3 years/60,000 km
Warranty (powertrain)
5 years/100,000 km
Fuel economy (city/highway/observed)
12.4 / 9.3 / 10.6 L/100km
Options
N/A
Competitive models
Chevrolet Traverse, Dodge Durango, Ford Explorer, Ford Flex, GMC Acadia, Mazda CX-9, Nissan Pathfinder, Subaru Ascent, Toyota Highlander, Volkswagen Atlas
Strong points

Spacious cabin
Powerful V6 engine
Great fuel economy

Weak points

Laggy nine-speed automatic
Can get expensive fast
Infotainment system still needs work

Editor's rating
Fuel economy
We recorded an average of 10.6 L/100 km. For a V6-powered all-wheel-drive SUV, that's excellent.
Comfort
The Pilot is spacious and comfortable for seven adults. That rear seat is easy to get in and out of.
Performance
Once that gearbox decides to downshift, the Pilot's V6 engine pulls hard and loves to rev.
Infotainment
While we appreciate the addition of a volume knob, the system remains unintuitive and complex.
Driving
There's a lot to like about the way the Pilot handles. While a large vehicle, it feels small and nimble behind the wheel.
Overall
No vehicle is perfect, but Honda's Pilot is darn close to the perfect family shuttle.