2020 Lamborghini Huracán EVO: Updated and Improved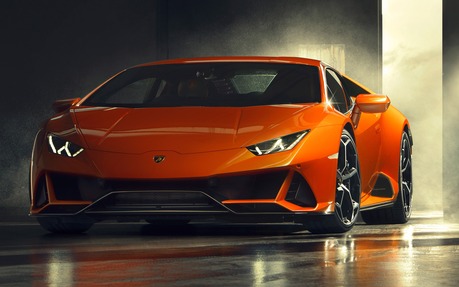 Lamborghini has just lifted the cover on the new generation of the Huracán, which benefits from a reworked body and several technological improvements.
First of all, the Huracán EVO is based on the Performante version that was recently introduced, borrowing its naturally aspirated, 5.2-litre V10 that produces 640 horsepower and 443 pound-feet of torque. The car also boasts an all-wheel drivetrain and a four-wheel steering system, and according to the manufacturer, the EVO can blast from 0 to 100 km/h in 2.9 seconds. Top speed is pegged at more than 325 km/h.
The sports car also benefits from a central processing unit named Lamborghini Dinamica Veicolo Integrata. The latter controls all aspects of the Huracán EVO's dynamic systems, setting up the electronics in order to maximize the car's road manners and anticipating the driver's intentions. A roundup of sensors called Lamborghini Piattaforma Inerziale, which includes a gyroscope located on the centre of gravity of the car, is now more precise and works in conjunction with the magneto rheological suspension. In addition, the steering system has been retuned to increase agility. In a nutshell, the EVO is more dynamic than ever.
As for the exterior design, the 2020 Lamborghini Huracán EVO obtains a new front bumper, a reshaped profile, new alloy wheel designs and a redesigned rear fascia. A four-layer paint called Arancio Xanto represents a new halo colour for the brand. Thanks to a more aerodynamic underbody, the car's downforce has been increased.
The Huracán EVO's cockpit gets an 8.4-inch touchscreen, a navigation system and Apple CarPlay integration. A dual-camera telemetry system is also available to record and analyze driver performance. We also find a mix of leather and Alcantara as well as colour-coordinated accenting
The 2020 Lamborghini Huracán EVO will be on sale in the spring of 2019 and will retail in Canada from $313,529.