The Car Guide's 2019 Best Buys: Porsche 718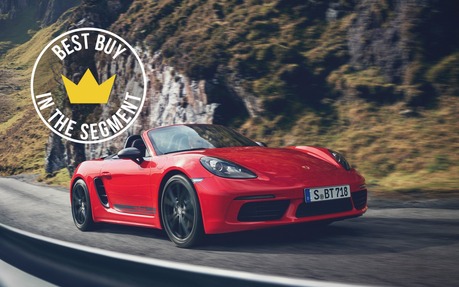 In order to help consumers with their new-vehicle shopping process, The Car Guide's team publishes each year its Best Buys in a variety of car and utility vehicle categories. From affordable cars to performance luxury trucks, each model is rated at ranked by segment.
In the luxury sports car category, the 2019 Best Buy title goes to the Porsche 718. The rear-wheel drive 718, available in Cayman coupe and Boxster roadster configurations, is offered in several trim levels, including the base variant equipped with a turbocharged, 2.0-litre four-cylinder engine that develops 300 horsepower. It's can be managed by a six-speed manual transmission or a PDK seven-speed, dual-clutch automated gearbox. The 718 T, which will soon arrive in Canada, are stripped-down editions of the base trim. Meanwhile, the 718 Cayman S and 718 Boxster S rely on a 2.5-litre engine good for 350 horsepower, while the GTS editions benefit from 365 horsepower. The latters can accelerate from 0 to 100 km/h in 4.7 seconds.
However, the Porsche 718 pleases us most by its sublime road manners. It's a perfectly balanced car, with driving dynamics that surpass even those of the 911. We also like the Porsche 718 for its impeccable finish and build quality, its ergonomic cockpit and its resolutely sporty design. It retails from $63,700 before freight and delivery charges.
In second place in the Luxury Sports Car category, we find the M editions of the BMW 2 Series (MSRP from $47,200). The M240i serves up 335 horsepower and optional all-wheel drive, while the M2 Competition is quite the beast with 405 horsepower on tap.
In third place, we find the Chevrolet Corvette (MSRP from $65,095), available in coupe and convertible body styles. GM's legendary sports car spits out 455 to 755 horsepower, according to the trim level chosen, and provides exhilarating performance at a relatively reasonable price.