The 2020 Chevrolet Silverado HD is Actually Stronger than the GMC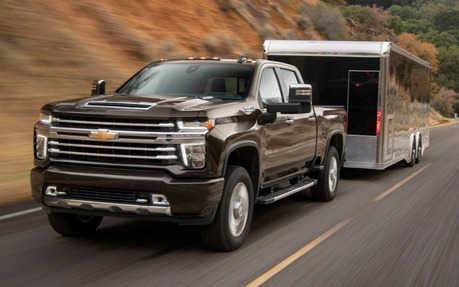 Like a Roman gladiator match, American carmakers are releasing, one after the other, the latest iterations of their iconic work trucks.
A few weeks ago, we were exposed to the all-new 2020 GMC Sierra HD, a turbo-diesel rig that churns out no less than 910 lb.-ft. of torque, capable of towing up to 30,000 lbs. (13,607 kg).
We were certain its Chevrolet cousin would boast identical numbers. After all, it's powered by the exact same engine. It turns out we were wrong; the Silverado is even stronger.
Brute Force
Scheduled to be presented at this week's Chicago Auto Show, the 2020 Chevrolet Silverado HD will be powered by the same 6.6-litre Duramax turbo-diesel V8 as its brother, with a power rating of 445 horsepower.
But while it's built on the same frame, and that its engine produces the same amount of torque, the Chevrolet can tow up to 35,500 lbs. (16,102 kg), making it a stronger truck than the Sierra, but also the latest Ram HD (35,100 lbs. / 15,921 kg) and the current Ford Super Duty (32,500 lbs. / 14,741 kg).
This is interesting as the Silverado HD utilises the same Allison ten-speed automatic gearbox. We assume this gap in towing rating is related to engine and transmission calibration, or axle ratios.
The other distinction between the two is that the Silverado HD will also be offered with a 6.6-litre, gasoline-powered V8 good for 401 horsepower and 464 lb.-ft. of torque. Also, Chevrolet claims a payload rating of 7,466 lbs. (3,386 kg), numbers GMC has still not unveiled.
And like its latest rivals from Ford and Ram, the 2020 Chevrolet Silverado – both 2500HD and 3500HD models – will come fitted with the latest towing technology to help better assist the driver when backing up with a large trailer pinned out the back.
Arriving to Canadian dealerships this summer, this new Silverado HD will be offered in LT, LTZ and High Country trim levels, in single or dual rear-wheel configurations. Pricing will be released a few months before its official release.