Plug-in Hybrid Powertrain for Audi A6, A7, A8 and Q5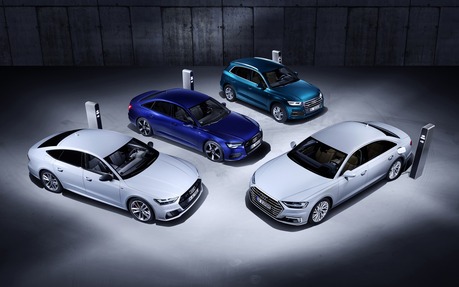 At the upcoming Geneva Auto Show, the German automaker will present its new range of vehicles equipped with plug-in hybrid powertrains. They will be available over the course of 2019 and will wear the TFSI e badge.
Two plug-in variants will be offered for the Audi A6, Audi A7 and Audi Q5—one that emphasizes comfort and the other, driving dynamics with greater boost performance, a firmer suspension and a sportier appearance.
Audi hasn't published details regarding the combustion engine used, output or displacement. However, it mentions turbocharging and direct injection, and we'll guess that it will be a 2.0-litre four-cylinder mill. It should be connected to an electric motor and a 14-kWh lithium-ion battery pack. A quattro all-wheel drivetrain is confirmed for the Audi A8, but we'll have to wait for more details about the other models.
The drive mode system will include three settings, including EV (fully electric driving), Auto (smart management of gas engine and electric motor) and Hold (battery energy conservation). According the World Harmonized Light Vehicles test procedures, the vehicles fully electric driving range is set at more than 40 kilometres. In our market, that number will likely be reduced. The on-board 7.2-kW charger will allow for a full recharge in two hours.
For now, we don't know if the Audi A6, A7, A8 and Q5 plug-in hybrids will be offered in Canada. The Audi A3 Sportback e-tron, which relied on a turbo 1.4-litre four-cylinder engine and an electric motor to produce a combined 204 horsepower and an EV range of up to 26 km, was pulled from the Canadian market after the 2018 model year.