Ford Introduces a New Workhorse: The 2020
Super Duty

F-600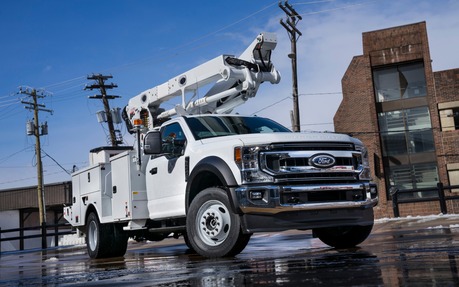 Always looking to expand its line of commercial vehicles and strengthen its market dominance, Ford plans to introduce a new variant of the F-Series Super Duty in 2020: the F-600.
Between a Pickup and a Two-ton
Until recently, Ford's Super Duty pickup range ended with the F-550, while its two-ton trucks started with the F-650 and F-750 series.
According to Ford, this left commercial customers in limbo. It can be hard to add certain work equipment to pickups, but it can also be hard to use heftier vehicles on narrow or muddy roads.
For example, consider a maintenance truck sent to repair an electrical tower in a remote area. Two-tons are sometimes too bulky and awkward to reach these areas. And yet, pickup trucks like the F-550 can't always handle the weight of a boom lift or small crane.
Remember, the gross vehicle weight (GVW) rating of the current Ford Super Duty F-550 is 19,500 lbs. (8,845 kg). Meanwhile, the F-650's GVW is 25,999 lbs. (11,792 kg).
By listening to customer feedback, Ford saw an opportunity and responded with the new F-600.
From a mechanical standpoint, the new vehicle is essentially identical to the F-550, but it's only available as a chassis cab. The chassis and tires have been reinforced to bring the GVW up to 22,000 lbs. (9,979 kg). As a result, this commercial pickup is much more robust than its competitors.
Available with either rear-wheel or all-wheel drive, the 2020 Ford F-600 will be powered by the same engines as the rest of the 2020 Super Duty line, namely a 6.7-litre turbo-diesel V8 or an all-new gasoline 7.3-litre V8. Technical specs for these two engines haven't been released yet, but we know they'll be paired with a new 10-speed automatic gearbox.
Like the rest of the Ford Super Duty family, the 2020 F-600 will make its way to dealerships next fall. The technical data (horsepower, torque and towing capacity) will be released a few months before the vehicle.