2019 Geneva Auto Show: World Premiere of Audi Q4 e-tron Concept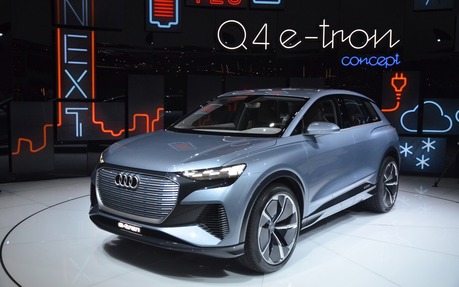 GENEVA (Switzerland) – At the 2019 Geneva Auto Show, Audi unveiled the new, fully electric Q4 e-tron Concept at a stand where only electrified vehicles are on display. This experimental zero-emission, all-wheel-drive SUV is based on Volkswagen's MEB architecture and the plan is to launch the production version toward the end of 2020, which would make it the fifth electric Audi in the lineup.
Smaller than the e-tron quattro, the new Q4 e-tron Concept features a long wheelbase that maximizes interior room. In terms of size, it stands at 4.59 metres long, 1.90 metres wide and 1.61 metres tall. During the press conference, Audi president and CEO Bram Schott announced that the Q4 e-tron Concept offers a range of 450 kilometres based on the WLTP (World Light-vehicle Test Procedure) cycle, while Audi chief designer Marc Lichte assured us that the future production model will closely resemble the concept, save for a few details.
The Audi Q4 e-tron Concept is motivated by a pair of electric motors including one on the front axle and another one in the rear, essentially creating an AWD setup. Sprints from 0-100 km/h are reportedly done in 6.3 seconds, while top speed is electronically limited at 180 km/h. Power is stored in an 82-kWh battery located in the floor, similar to the e-tron quattro.
In most situations, the Audi Q4 e-tron Concept mainly uses the rear electric motor in order to achieve optimum efficiency. Torque is generally distributed with a rear-wheel bias. If the driver requires more power than the motor can deliver, the electric AWD system turns to the front electric motor to transfer part of the torque to the front wheels.
By the way, the rear motor is rated at 150 kilowatts and 229 lb.-ft. of torque, while the front motor is rated at 75 kilowatts and 111 lb.-ft. Total system output is 225 kilowatts, or 302 U.S. horsepower. The battery is charged with a maximum of 125 kilowatts. As a result, it takes hardly more than 30 minutes to return to 80 percent of the total capacity.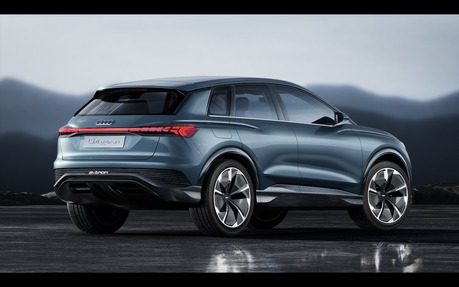 At the Geneva Auto Show, Audi is also celebrating the European debut of the e-tron GT Concept, which was first unveiled in Los Angeles last fall, and presenting the e-tron Sportback, whose market release is scheduled for later in 2019. Let's not forget the plug-in hybrid variants of the Q5, A6, A7 and A8L, which round out the current electrification program of the four-ring brand.