New Kia EV Concept is All About Emotions… and That Insane Cockpit!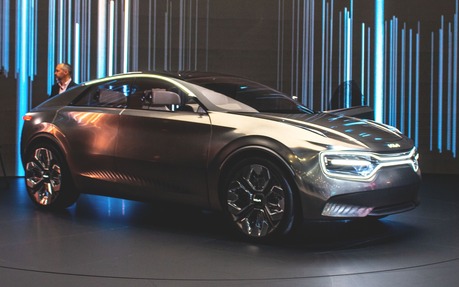 Today at the 2019 Geneva Auto Show, Kia revealed a new electric car concept that aims to "capture the heart and make it beat that bit faster for that bit longer." It's called "Imagine by Kia."
The company says that the best way to answer the many questions and concerns of today's drivers about electric vehicles is to approach electrification purely from an emotional point of view.
While most EV manufacturers insist on "rational and empirical data-driven messages," like range, efficiency and performance, Kia wants to surprise people and "embrace a warmer, more human approach," according to Gregory Guillaume, Vice President of Design for Kia Motors Europe.
Time to free your imagination
This is all embodied by the segment-busting Imagine concept, a pure electric four-door passenger car that hints at Kia models we already know, yet offers something entirely new. The Tiger Nose grille, for instance, has been reinterpreted into a bold new illuminated Tiger Mask that encircles the main LED headlights. Separated by horizontal "eyelids," the dipped and main beam units are housed with a single block of clear acrylic glass, creating the effect of piercing eyes floating free of visible support. Meanwhile, the ripples on the lower front bumper and at the bottom of the side doors are said to create the impression of movement as light falls on the car—kind of like shockwaves.
The body in itself is quite a sight to behold, as well, with six hand-applied layers of chrome-effect silver paint covered in a tanned bronze tint. The super-smooth lines are further emphasized by the continuous glass panel used for the windshield and the roof, not to mention the 22-inch alloy wheels with four flush inserts of transparent acrylic glass that reflect and refract light much like a cut diamond would. Dynamic lighting elements complete the package.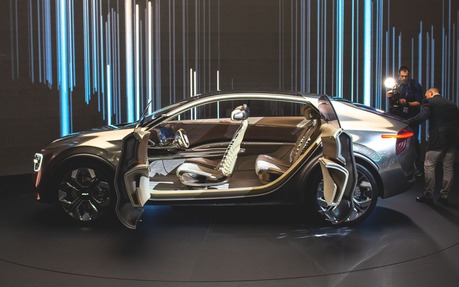 The clean and spacious interior is dominated by an out-of-this-world arrangement of no fewer than 21 individual ultra-high-resolution screens that curve their synchronised way across the top of the dashboard—a "humorous and irreverent riposte to the on-going competition between some automotive manufacturers to see who can produce the car with the biggest screen," Kia says.
One thing's for sure: the design team pulled off quite a feat here. From the driver's point of view, the screens create a single, unified display. Vehicle information is presented along with a series of Kia concepts from years gone by to create an emotional link between past, present and future.
With the brand not insisting on specs and other technical details, we know next to nothing about the electric powertrain in the Imagine by Kia concept. The only mention was a low-mounted, induction-charged battery pack that powers a compact drivetrain. Are you intrigued enough to want to drive a future production model?