Are You the Next Infiniti Engineering Academy Winner?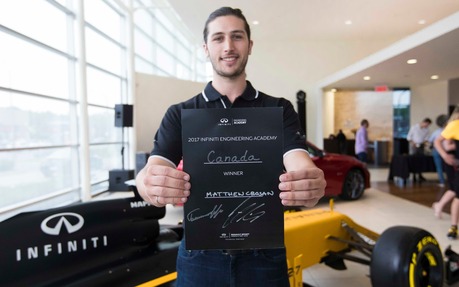 The Infiniti Engineering Academy is returning in 2019 for the sixth consecutive year as the luxury car company wants to find the best up-and-coming engineers on the planet to work with them and the Renault F1 Team on a unique 12-month paid placement.
Since 2014, almost 30,000 people have registered and half of all winners have put their careers on the fast track by securing full-time roles at either Infiniti or in Formula 1 following their internship. Others are currently finishing their studies, so the proportion is set to increase in 2019.
"Recruiting new engineering talent is key for Infiniti and the wider Renault-Nissan-Mitsubishi alliance," said Tommaso Volpe, Director Motorsport & Performance Projects, Infiniti Global. "We believe that human talent is the driving force behind technology and we constantly strive to keep our talent pool revitalized."
One of the great things about the Infiniti Engineering Academy is the ability to explore crossover opportunities between the auto industry and Formula 1 from a technology standpoint.
In 2017, for instance, Canadian Matthew Crossan became an Infiniti Academy Engineer and went on to receive a full-time employment offer with the Renault F1 Team as a Simulation Development Engineer in the Vehicle Performance Group.
"It has always been my dream to work in a motorsport team as an engineer," Crossan said. "I am so happy I got the opportunity thanks to the Infiniti Engineering Academy; it is an incredible program that gives young engineers like me the chance to live their dream."
For the seven winners from each region (Asia & Oceania, Canada, China, Europe, Mexico, the Middle East and United States), the placement includes travel, accommodation, an Infiniti company car and salary, not to mention the chance to work alongside top engineers at the cutting edge of the automotive and motorsport industries.
Further information can be found at academy.infiniti.com.