The Car Guide's 2019 Best Buys: Audi Q7 and Q8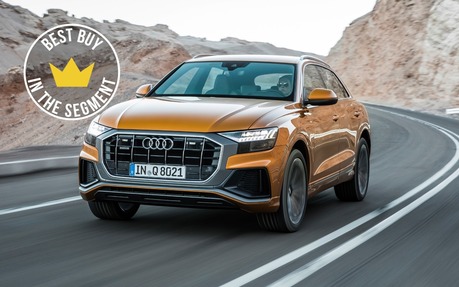 The midsize luxury SUV segment is filled with models that serve up performance, opulence and style, to the point where it's hard for consumers to make a sound purchase decision. The Car Guide makes the process easier with its annual Best Buys in this market segment, in addition to all car and truck segments.
This year, the Audi Q7 and Audi Q8 both take the Best Buy title in the midsize luxury SUV category. The Q7 shines for its sublime build quality, its impressive interior fit and finish as well as its dynamic road manners. A 2.0-litre turbocharged four-cylinder engine is the fuel-efficient choice, while the 333-horsepower, supercharged 3.0-litre V6 provides interesting performance and a maximum towing capacity of 7,690 lbs. (3,493 kg).
The Audi Q8 was added to the brand's line-up for the 2019 model year, and if it shares many mechanical components with the Q7, it sets itself apart with its resolutely sportier design, its lavish and modern cockpit as well as its exhaustive on-board technology. The Q7 retails from $66,300 before freight and delivery charges, while the Q8 is available from $81,200.
In second place, we find the Porsche Cayenne (MSRP from $75,500) that seduces us with its wide array of muscular powertrains, with output ranging from 335 to 541 horsepower. There's also a plug-in hybrid variant that provides up to 44 kilometres of electric-only driving. We're excluding here the just-introduced Porsche Cayenne Coupé that will go on sale later this year.
The Volvo XC90 (MSRP from $59,750) takes third place for its elegant and pure design, the exceptional comfort of its cabin and ride as well as its potent and efficient powertrains. Notably, the T8 Twin Engine plug-in hybrid variant that dishes out 400 horsepower and allows for a fully electric range of up to 27 kilometres.