2020 Lexus RC F: V8 Magic FTW!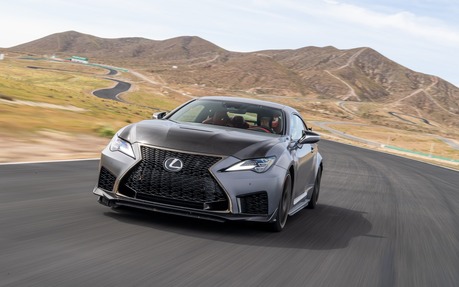 The Lexus RC F has been around since 2015 and was starting to show its age. For 2020, this Japanese luxury coupe benefits from a number of improvements. But don't get too excited: Only a keen eye will be able to notice them.
Old-School Engine
While Lexus doesn't have the same longstanding tradition as the German makes it has been going up against since 1989, the RC F is a sports car built the old-fashioned way.
Forget turbos and superchargers: Under the hood is a naturally aspirated 5.0-litre V8 engine that produces 472 horsepower and 395 pound-feet of torque. These numbers are up by five and six, respectively, compared with the 2019 model. I'd be lying if I said that the difference can be felt from the driver's seat.
But really, this is more than ample power and torque. Acceleration in the Lexus RC F could hardly be stronger. What's more, natural aspiration makes for a completely unbridled engine sound, although it's not the same in the cockpit as when you step outside. I would have liked to hear the big V8 growl a bit more clearly.
Unfortunately, the RC F is not old-school enough to offer a manual transmission, which means you have to make do with an eight-speed autobox. To Lexus' credit, the latter is a marvel of efficiency and it returns unchanged for 2020.
As much as it is comfortable and driver-friendly on the road, the 2020 Lexus RC F proved competent on the track. In Sport + mode, the response from the engine and transmission is super-quick, while steering is flawlessly precise. For the tiny number of owners who will hit the tarmac, a firmer suspension setup is a must. Luckily, the company says the car is more rigid in the back.
Mild updates
Beyond the modest power and torque increases, we're pleased that Lexus engineers worked to reduce the weight of the RC F. For instance, they've downsized the intake manifold and the compressor for the air conditioning system, while also using newly designed aluminum spring support brackets.
The addition of launch control allows the car to sprint from 0-96 km/h (60 mph) in just 4.1 seconds. It's fantastic when you want to put on a show, but totally useless for most RC F buyers.
The 2020 update also includes new Michelin Pilot Sport 4S tires that were exclusively designed for this model. Prepare to spend a fortune when the time comes to replace them, however.
No Worries About Reliability
I hear you: An Audi RS5, BMW M4 or Mercedes-Benz C 63 S AMG would be more exciting and prestigious. But consider that the Lexus RC F has proven to be exceptionally reliable. When you fork over $80K+ for a car, it shouldn't keep you up at night due to reliability concerns.
In the most recent J.D. Power Vehicle Dependability Study, Lexus ranked first, way ahead of BMW (7th) and Mercedes-Benz (13th).
On the flip side, the RC F will cost you a lot of money at the pump. That big V8 engine is rated by Natural Resources Canada at 15.2 L/100 km in the city, 9.5 L/100 km on the highway and 12.6 L/100 km combined.
Infotainment frustrations
Rather than sending journalists out on the open road for several hundred kilometres, Lexus invited us to the Willow Springs race track where most of the testing would take place. This way, we wouldn't need to use the company's maddening infotainment system, which is poorly designed, unintuitive and just plain annoying to use—unless you're a computer expert… or a longtime Lexus customer, I guess.
Track Edition
Not content with refreshing the RC F for 2020, Lexus also created a Track Edition that's even lighter, more radical and more exclusive. Around ten units will be sold in Canada.
You can recognize this limited model with its fixed carbon fibre rear wing (the base RC F has an active rear wing), 19-inch BBS forged-alloy wheels and carbon-ceramic Brembo brakes. Carbon fibre is also used for the roof, hood and seats.
The RC F Track Edition is one tenth of a second faster from 0-96 km/h. And at $119,950, there's a pretty big gap in pricing with the standard version, which starts at $85,000. The payoff is a more liberating experience on the track, since the various driver-assist features are less intrusive and allow more tail wagging. Prepare to work a little bit harder if you want to look good behind the wheel.
Test drive report
Test model

2020 Lexus RC

Trim level
F
Price range
N/A
Price as tested
N/A
Warranty (basic)
N/A
Warranty (powertrain)
N/A
Fuel economy (city/highway/observed)
N/A
Options
N/A
Competitive models
Audi A5, BMW 4 Series, Infiniti Q60, Jaguar F-TYPE, Mercedes-Benz C-Class
Strong points

Powerful V8
Exclusive model
Top reliability

Weak points

Not as dreamy as German rivals
Maddening infotainment system
Excessive price (Track Edition)

Editor's rating
Fuel economy
With a big 5.0-litre V8, don't expect any miracles.
Comfort
Comfort levels exceed expectations for a sports coupe.
Performance
The naturally aspirated V8 is almost perfect.
Infotainment
Definitely one of the worst systems in the entire industry.
Driving
Great times can be had with the RC F both on the road and on the track.
Overall
The RC F may be expensive, but you'll get a lot of bang for your buck.