2019 BMW
8 Series

Cabriolet: 8th Heaven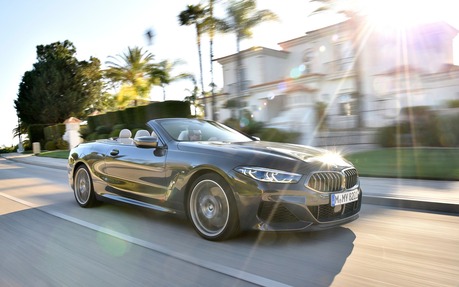 FARO, Portugal—First came the 8 Series Coupe, now the 8 Series Cabriolet. Inevitably, these models will be followed by an 8 Series Gran Coupé and the almighty M8. As you can see, BMW is taking advantage of every opportunity to express its new vision of luxury.
Codenamed G14, the new 8 Series marks a different approach than the one that saw the Bavarian automaker sell a coupe-only 8 Series in the 1990s. By adding a drop-top variant, more customers will show interest.
For the record, the 2019 BMW M850i xDrive Cabriolet carries a base MSRP of $131,500 in Canada, freight and delivery charges not included.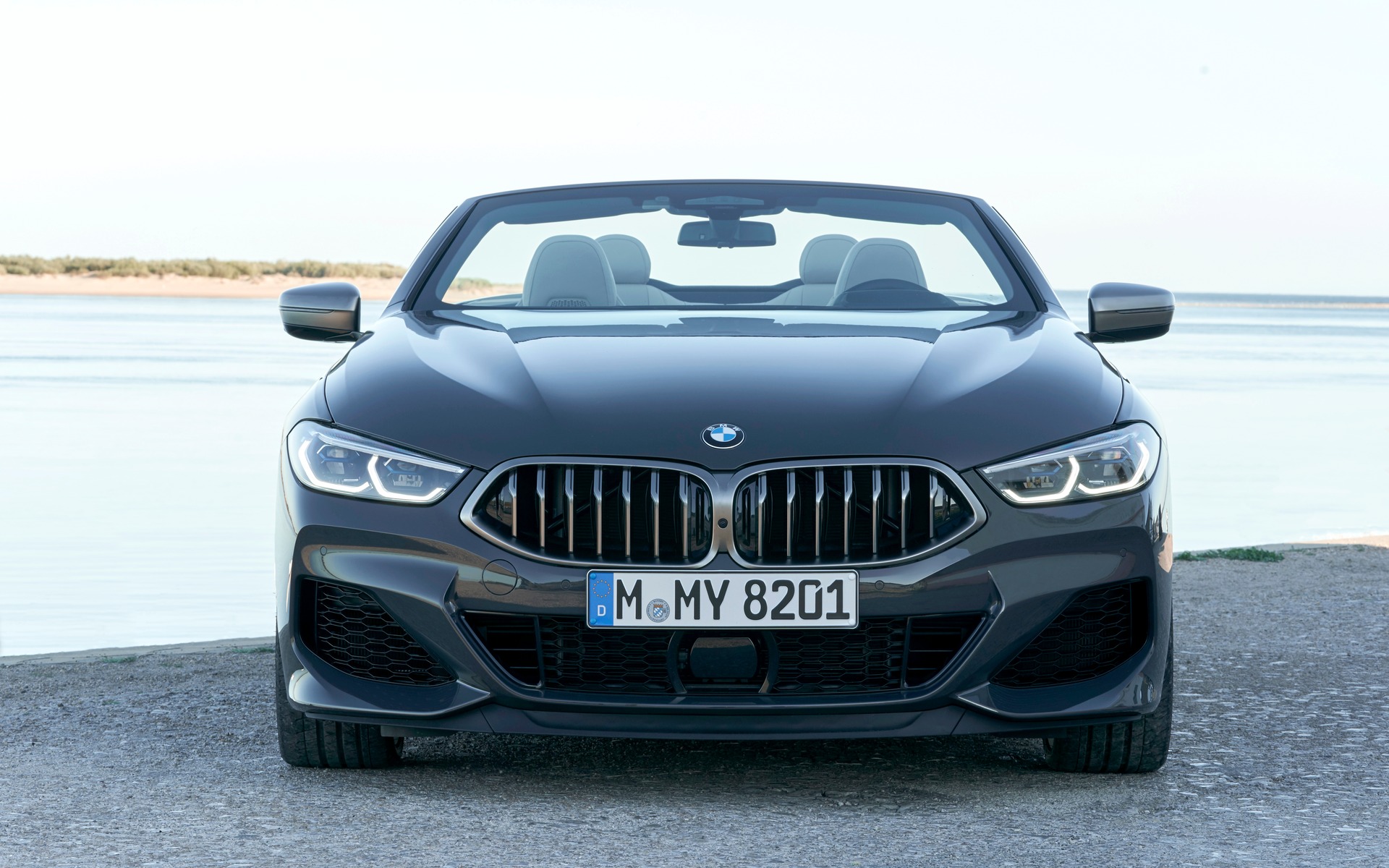 The Looks of a Star
In terms of styling, the 8 Series Cabriolet uses the same formula as the Coupe, but with a soft top that opens or closes in 15 seconds even at speeds of up to 50 km/h.
It's a similar story inside, where the exception resides in a small button for the power-operated top and some air ducts integrated to the head restraints. A wind deflector comes standard, too; you can fix it behind the front seats to reduce turbulence while driving with the roof open or keep it stowed away in the trunk when you have passengers in the rear.
Speaking of which, space is at a premium in the 8 Series Cabriolet. In fact, it's more of a 2+2 car than a true four-seater.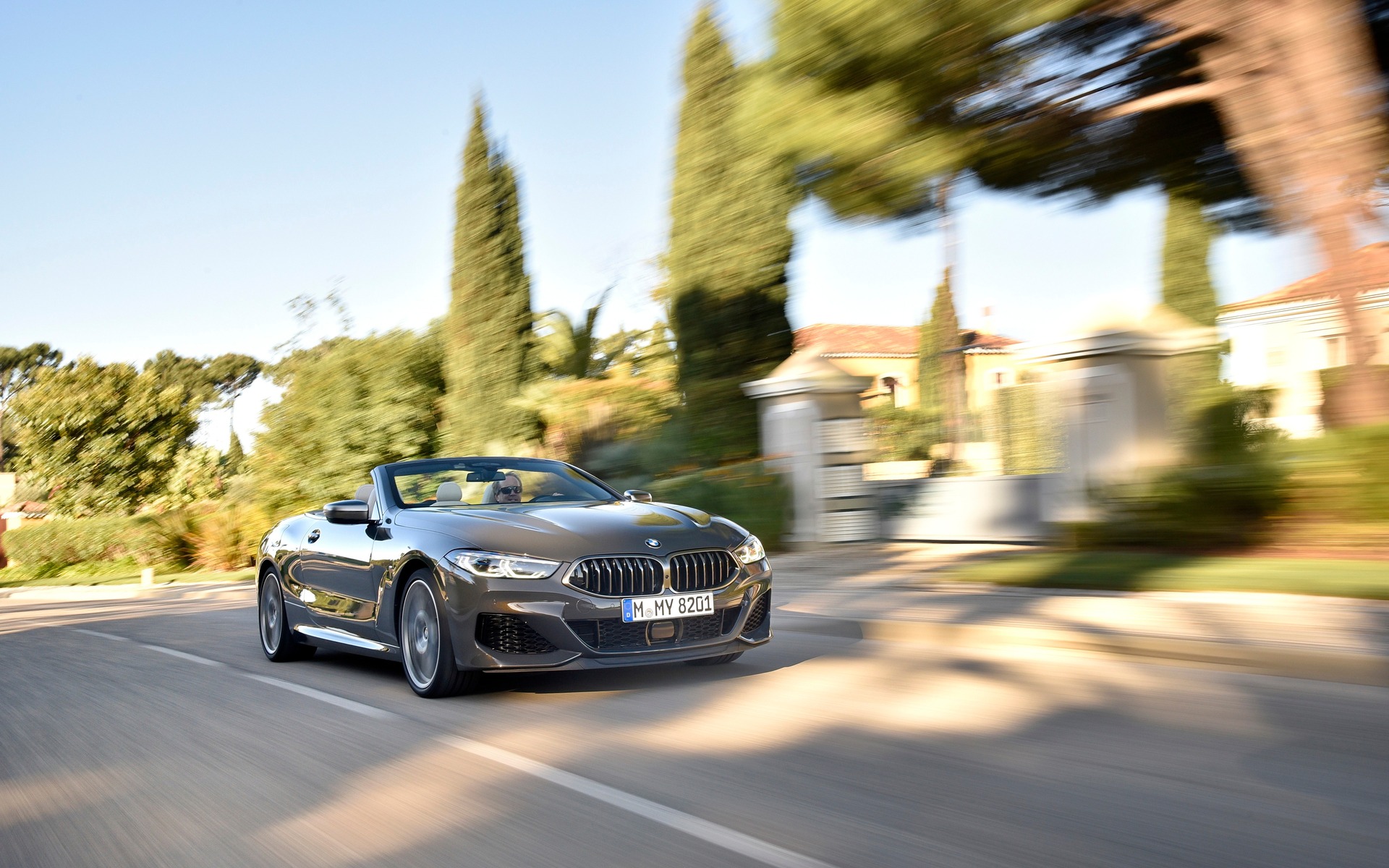 On the Road
The 8 Series (Coupe and Cabriolet) is built on BMW's multi-material CLAR platform, which combines steel, aluminum, magnesium and carbon to ensure a light weight and high structural rigidity. Having said that, the convertible tips the scale at 2,148 kilograms, which is 125 kilos heavier than the hard-top model.
To make up for all that mass, the 8 Series Cabriolet relies on various sophisticated systems designed to improve handling and agility, such as Integral Active Steering and Adaptive M Suspension. Still, no car can escape the laws of physics and, ultimately, this one behaves more like a grand touring convertible than a sports car.
On the super-slick pavement that we used for our first test drive, the M850i xDrive Cabriolet proved quite comfortable. However, with 20-inch alloy wheels, things will be quite different on winter-ravaged Canadian roads. Thank God there's a Comfort mode that softens up the suspension.
In order to optimize driving dynamics, the all-wheel drive system is calibrated to deliver most of the torque to the rear wheels under normal grip conditions. The 8 Series Cabriolet also features active sway bars that enhance body control during cornering manoeuvres.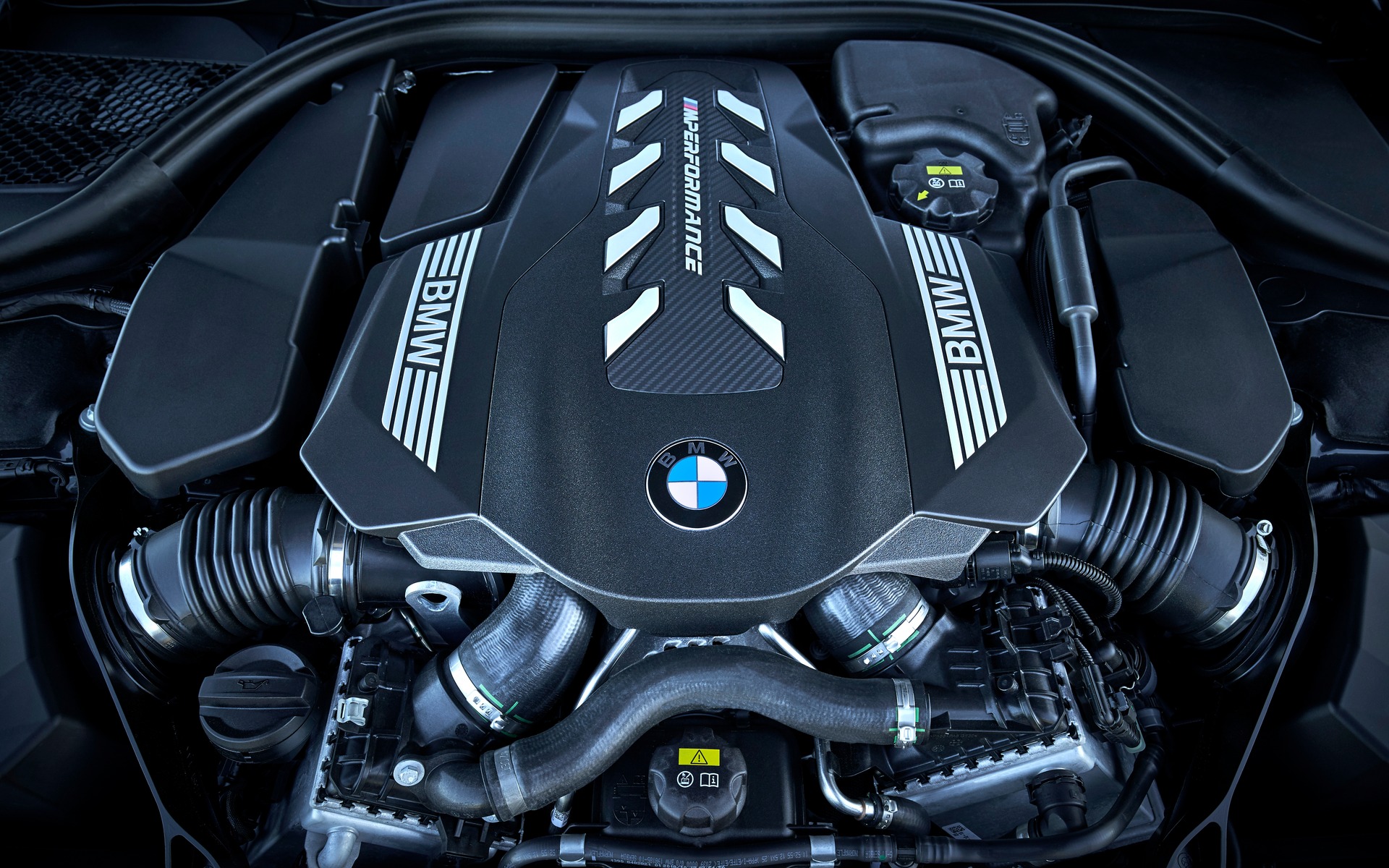 Expressive Twin-Turbo V8
Under the hood of the M850i xDrive is an eight-speed automatic transmission mated to a twin-turbocharged 4.4-litre V8 engine that produces goosebump-inducing sound effects, especially in Sport mode or when pressing a button to let the exhaust system loose.
The epic rush to 7,000 rpm, the quick rev match upon downshifting, all those pops from the exhaust when you take your foot off the throttle—driving the M850i xDrive Cabriolet is a fabulous experience for the senses, especially your ears. Find a tunnel and prepare to be blown away!
The powerful V8 is quite explosive thanks to a max torque of 553 pound-feet, delivered between 1,800 and 4,600 rpm. Sprints from 0-100 km/h are over in just 3.9 seconds. Did I mention this car weighs more than two tons?
Tech Galore
The 2019 BMW M850i xDrive Cabriolet naturally carries over all the advanced technologies found in the coupe, such as the latest version of iDrive featuring configurable menus, plus a number of driver-assist systems like BMW's Personal Co-Pilot, which allows semi-autonomous driving in dense traffic at speeds of up to 60 km/h.
What's more, the 8 Series Cabriolet offers a parking assistant that takes over parking manoeuvres to easily get in or out of tight spaces. It handles steering and all you have to do is to control the pedals.
As mentioned above, the BMW 8 Series lineup will soon add Gran Coupé and high-performance M8 models to the existing Coupe and Cabriolet. We can't wait!
Test drive report
Test model

BMW 8 Series

Trim level
M850i xDrive Cabriolet
Price range
$131,500
Price as tested
131 500 $
Warranty (basic)
4 years/80,000 km
Warranty (powertrain)
4 years/80,000 km
Fuel economy (city/highway/observed)
13,5 / 9,2 / N/A L/100km
Options
N/A
Competitive models
N/A
Strong points

Stylish lines
Powerful and expressive V8
Impressive dynamics
Advanced infotainment system

Weak points

Heavy weight
High price
Expensive options
More 2+2 than a four-seater

Editor's rating
Fuel economy
A twin-turbo V8 engine and sporty driving don't make for a fuel-efficient combination
Comfort
Surprisingly comfortable thanks to the electronically adjustable suspension's Comfort mode
Performance
0-100 km/h in just 3.9 seconds with a very linear torque curve
Infotainment
The latest version of iDrive offers configurable menus but still requires some getting used to
Driving
Only the car's weight takes a bit of fun out of the driving experience
Overall
The new 8 Series Cabriolet is a true grand touring car