2020 Mercedes-
AMG GT

: Thundering Performance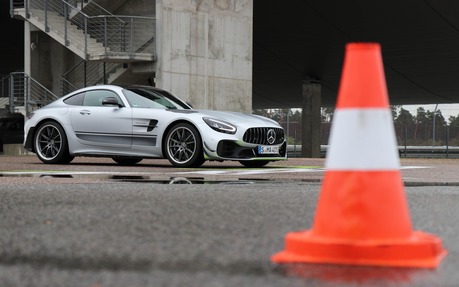 Is it summer yet? It seems like this winter took forever to go away. Alas, just as warmer temperatures began to return, I found myself trapped on a plane headed to Stuttgart where cold, torrential rain awaited me. Talk about a bummer.
My dose of sun—and fun—actually came in the form of the new 2020 Mercedes-AMG GT Coupe and Roadster, two exceptional machines that I got the opportunity to test drive on the beautiful German autobahns—a far cry from the boring Trans-Canada Highway, that's for sure.
Chasing the 911
Mercedes-Benz made it clear: They want to develop a powerful love story between drivers and the AMG GT, something that could eventually match the legendary Porsche 911 in terms of desirability and passion. It's no surprise, then, that the company is adding more variants to the lineup as the car enters its fifth year on the market.
For the record, only 1,751 units of the Mercedes-AMG GT were sold in North America last year. Meanwhile, Porsche sold a little more than 11,000 copies of the iconic 911. That's approximately a 6-to-1 edge.
For 2020, there are five GT models to choose from. And I'm not even counting the sedan-like GT 4-Door Coupe, which features the EQ Boost mild hybrid technology. Like I said, Mercedes really wants to appeal to a greater number of customers in order to close the gap with its top domestic rival.
GT R
I was randomly picked among the media in attendance to start the day off with the most radical member of the family, a wicked Mercedes-AMG GT R painted in a Green Hell Magno colour that's available as a $9,500 option. The tester was also equipped with a carbon exterior package at $6,000 and matte black alloy wheels at $1,500. Although Canadian prices have yet to be made official for 2020, that particular car most definitely cost over $200,000.
It's impossible to go unnoticed with a beast like that. The second you fire up the engine, a violent exhaust note draws everyone's attention. And if that's not enough, you can dial it up thanks to the active exhaust system—a great way to make enemies with your neighbours!
The firm, heavily bolstered sport seats serve as a warning that the Mercedes-AMG GT R is a world-class sports car aimed at purists, with a ride that's anything but comfortable. A quick look through the rear-view mirror provides further evidence: The giant spoiler basically cuts rearward visibility in half. Of course, with a car that can top 300 km/h, you'd be wise to keep your focus ahead!
I pushed the GT R for more than 200 kilometres and realized that it's not a one-dimensional athlete. With an adaptive suspension, four-wheel steering and multiple drive modes, this almighty Mercedes easily adjusts to a number of driving scenarios. While I didn't run across pothole-ridden pavement like we're used to see back home, I can tell you there's a world of difference between the softest drive mode and the most extreme one.
As for power, the 577 ponies unleashed by the twin-turbocharged 4.0-litre V8 engine are all alive and well, I can promise you that. Gear shifts are done in milliseconds and can even be intimidating with the loud pops coming from the exhaust.
Eccentric Muscle Car
This latest encounter with the Mercedes-AMG GT reminded me how much it loves to defy conventions. The bold design and proportions—narrow windshield, seemingly endless hood, seats almost right over the rear axle—make for a unique sports-car look and feel. In GT R trim, it's all amplified due to the sheer power at your disposal, the performance-tuned suspension and the surreal grip from the tires.
There's a host of electronic aids to help bring out your inner Lewis Hamilton, but make no mistake: the AMG GT R is a hardcore machine designed to deliver big-time muscle-car thrills. It's a bit like the Corvette, just nicer and more refined inside.
Technology galore
You can record your lap times, quarter-mile times and even your 0-300 km/h sprints. This car is littered with gadgets and other techy stuff. And because Mercedes-Benz was never one to do things the simple way, the 2020 AMG GT replaces the analogue gauges and physical buttons with digital instruments and controls.
There's also a new touchpad on the centre console that I find dangerous because you should never, ever, turn your attention away from the road with a car like this. Ergonomics continue to be its biggest problem—that is once you get past all the initial sports-car compromises. When the gear selector resides next to your elbow, it's pretty clear that control placement could be improved.
From the Road to the Track
After a few hours of driving on the road (and cursing at the navigation system), we hit the famous Hockenheimring for what was supposed to be an awesome experience. Mother Nature had other plans, however. Hot laps on a super-wet track? Oh boy…
Even our group leader and five-time DTM champ Bernd Schneider admitted to using the car's driver-assist features to make the most of the situation. Imagine how I felt behind the wheel! I was unable to exploit the many talents of the Mercedes-AMG GT R PRO that had been specially prepared for us, let alone test its limits.
The PRO version gets several technical upgrades that improve performance over the regular AMG GT R, although power remains unchanged. The list includes a revised, fully adjustable suspension, composite-ceramic brakes, electronically controlled engine and transmission mounts, plus an electronic limited-slip differential.
Engineers also reduced seat weight by 3.6 kilograms and saved another 2.3 kilos by using carbon fibre sway bars. In fact, this precious material takes on a more prominent role here, from the underbody plates to the additional aero components that generate even more downforce in corners—at least that's what we've been told.
On the return trip, I was given the keys to a Mercedes-AMG GT C Coupe. This model is a tad less powerful (550 horsepower) but offers a really cool luxury vibe. I'm talking about more comfortable seats with diamond stitching as well as some extra gadgets and amenities. It's essentially the pinnacle of refinement in the AMG GT lineup. The GT C can still pull off all kinds of athletic feats on the road, but it made me feel like I didn't have to go crazy on a race track to really enjoy it.
At the end of the day, which turned out to be full of thrills despite the bad weather, I asked myself one very important question: Would I choose the Mercedes-AMG GT over the Porsche 911? An AMG GT R PRO over a 911 GT3 RS? An AMG GT C Roadster over a 911 Turbo Cabriolet? Yeah, I know, first-world problems. In my heart, the 911 is still king.
Test drive report
Test model

N/A

Trim level
R
Price range
N/A
Price as tested
N/A
Warranty (basic)
4 years/80,000 km
Warranty (powertrain)
4 years/80,000 km
Fuel economy (city/highway/observed)
15.9 / 11.8 / N/A L/100km
Options
N/A
Competitive models
N/A
Strong points

Exceptional styling
World-class performance
High-quality materials and finish
Incredible handling

Weak points

Limited visibility
Complex infotainment system
Not at all suited to Canadian roads (Quebec's in particular)

Editor's rating
Fuel economy
Decent fuel economy given the performance potential. Of course, you don't buy this car to save money on gas!
Comfort
The seats are firm and the ride is harsh in true sports-car fashion, especially in the case of the GT R.
Performance
The accelerations and sporty dynamics are just too good. It's like being shot out of a cannon!
Infotainment
Complex, frustrating and downright dangerous to use.
Driving
On the track, this car is a real blast. Things get more complicated on the road due to its unique proportions and limited visibility.
Overall
An exceptional, mind-blowing machine, for sure. I would still pick the Porsche 911, though.