2020 Toyota Corolla: The Beige Corolla is Dead… Almost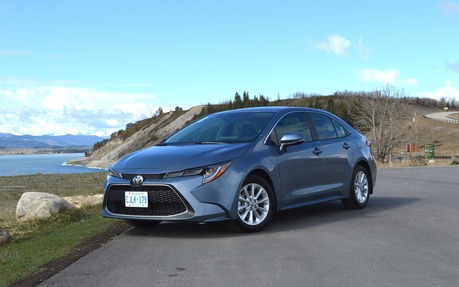 Toyota has completely redesigned and improved the Corolla sedan for 2020, a year after introducing the new Corolla Hatchback.
The Japanese automaker aimed to make the Corolla more dynamic and more attractive to young drivers. And to ensure no one ever calls it "beige" again, the PR staff at the media event was quick to point out that the dreaded body colour can no longer be ordered.
I don't want to spoil the conclusion of my review, but I've got to tell you right off the bat that Toyota didn't quite achieve its lofty goal. The question is, does it really matter?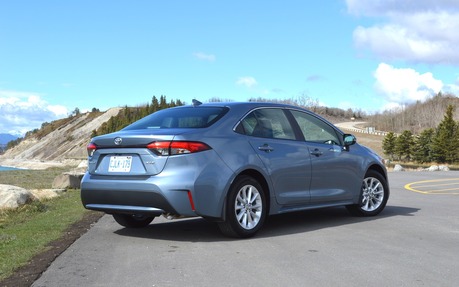 New Platform
Based on the Toyota New Global Architecture (TNGA), the 2020 Corolla is available for the first time as a hybrid. In order to preserve trunk capacity, engineers positioned the battery pack under the rear seat.
The 1.8-litre four-cylinder engine combines with two motor-generators to deliver 121 horsepower through a continuously variable automatic transmission (CVT). According to Toyota, fuel consumption is slightly lower in the city (4.4 L/100 km) than on the highway (4.5 L/100 km). And I'm happy to report that these ratings match what we observed during our brief test drive.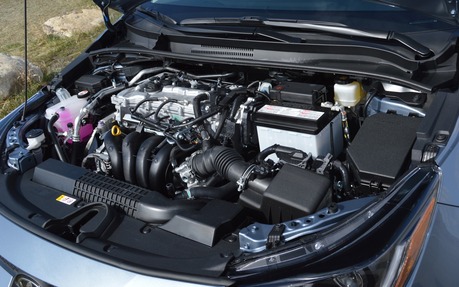 On the road, the Corolla Hybrid essentially feels like a Prius. That's because the two cars share the exact same powertrain. Driving is not exciting is any way, but then again, that wasn't the goal here.
With the little Prius c about to retire, this new model will most certainly prove to be a worthy successor in the long run.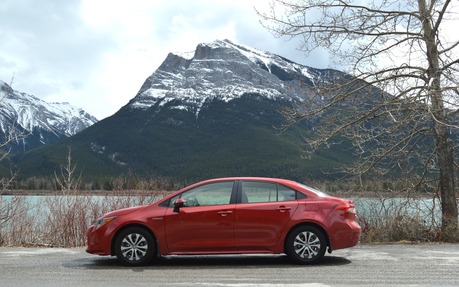 Two Gasoline Engines
While the Corolla Hybrid commands attention as a brand-new addition to the lineup for 2020, the regular, gasoline-powered Corolla can't be overlooked. After all, it will easily attract the most customers to Toyota showrooms.
The base 1.8-litre four-cylinder engine returns and teams up with either a six-speed manual transmission or a CVT. However, with just 139 horsepower and 126 pound-feet of torque, it runs out of steam fairly quickly.
For improved performance, you can specify a new 2.0-litre four-cylinder mill that produces 169 horsepower and 151 pound-feet of torque. Transmission choices are the same. This doesn't make the 2020 Corolla a monster of acceleration, but it will get you from A to B in more convincing fashion.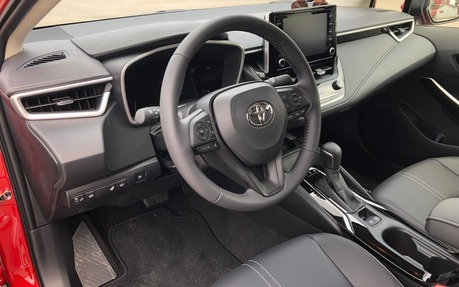 Survival of the Manual Transmission
While Toyotas have long been considered to be as boring as a curling match, the brand has decided to keep offering a manual transmission to help shed that reputation. No matter if modern automatics and especially CVTs are more efficient, there are people at Toyota who continue to believe in three pedals and a stick.
For the record, Toyota Canada says that only 10 percent of customers who have bought or leased a Corolla Hatchback so far have opted for the manual gearbox.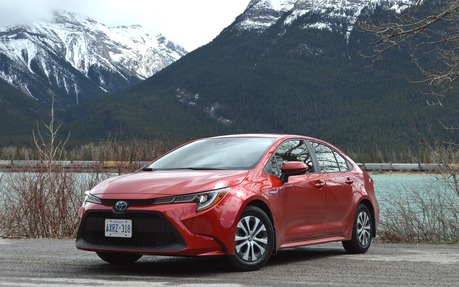 A Massive Edge over the Competition
One thing that doesn't change is the main reason why people buy a Corolla: top-notch reliability. Fresh styling and cutting-edge technology are nice, but this car is all about making sure drivers won't run into any problems.
Since the 2020 Corolla is a more an evolution than a revolution, I guess we can expect it to be just as reliable as it has been in the past. For everyone except the competition, this is great news!
Don't Forget About Safety
Toyota products are known for their safety, as well, and the new generation of the Corolla comes standard with the Toyota Safety Sense 2.0 suite of driver-assist features.
The list includes a pre-collision system with pedestrian and cyclist detection, automatic high beams, a lane keeping system with steering assist, plus adaptive cruise control.v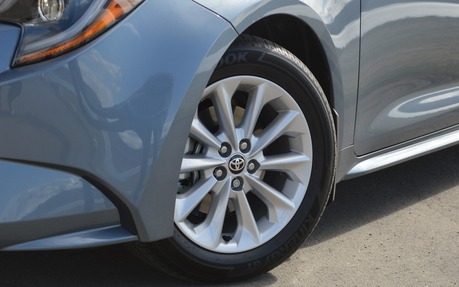 Bottom Line
Considering that Honda tried—and failed—on multiple occasions to break through the compact hybrid segment with the Civic, Toyota is sort of making a gamble with the new Corolla Hybrid.
On the bright side, the Japanese automaker has historically enjoyed a lot more success with its hybrids than Honda, led by the venerable Prius. Combined with the Corolla's superb track record for reliability, this could very well be a winner.
As for the gas-powered Corolla, each new generation is better than the last, but Toyota still has ways to go to make it a truly fun-to-drive compact car. We will keep recommending it due to its high quality and reliability, that's for sure.
Test drive report
Test model

2020 Toyota Corolla

Trim level
Hybrid
Price range
$17,500 – $28,000
Price as tested
28 000 $
Warranty (basic)
3 years/60,000 km
Warranty (powertrain)
5 years/100,000 km
Fuel economy (city/highway/observed)
5,0 / 5,0 / N/A L/100km
Options
N/A
Competitive models
Honda Civic, Honda Insight, Hyundai Elantra, Kia Forte, Mazda Mazda3, Nissan Sentra, Subaru Impreza, Volkswagen Golf, Volkswagen Jetta
Strong points

Bulletproof reliability
Manual gearbox is a good operator
Bolder design

Weak points

No e-AWD system like in the Prius
Drive is not any more fun than before
Infotainment system could be easier to use

Editor's rating
Fuel economy
The Corolla Hybrid burns less than 5 L/100 km on average, so it's pretty hard to complain.
Comfort
The sloping roofline in the rear means tall passengers have to make a few sacrifices.
Performance
The base 1.8-litre engine is just good enough. The available 2.0-litre unit is more appropriate
Infotainment
Toyota's Entune system is not very user-friendly.
Driving
The new Corolla is still not a sporty car.
Overall
Corolla buyers don't care about performance and driving excitement. As a reliable compact car, it perfectly fits the bill.