MINI Puts 301 Hp in New John Cooper Works Models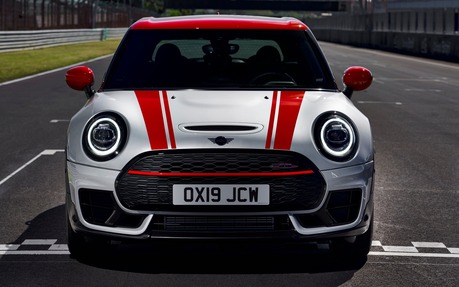 If you thought MINI's John Cooper Works models had plenty of power already, prepare to be blown away.
When they go on sale in Canada this summer, the new 2020 MINI JCW Clubman ALL4 and JCW Countryman ALL4 will feature the mightiest production engine in the British brand's 60-year history, namely a turbocharged 2.0-litre four-cylinder that produces 301 horsepower between 5,000 and 6,250 rpm.
That's a staggering increase of 73 horsepower from the current 228-hp models!
But wait, it gets even better: Maximum torque has increased to 331 pound-feet (+73) between 1,750 and 4,500 rpm, reducing acceleration times by a full second and a half. The JCW Clubman ALL4 and JCW Countryman ALL4 now sprint to 100 km/h in just 4.9 and 5.1 seconds, respectively. And for the first time with MINI vehicles, their maximum speed is electronically limited to 250 km/h.
How is that possible? In addition to the latest generation of MINI TwinPower Turbo technology, the engine incorporates a reinforced crankshaft, a strengthened main bearing, upgraded pistons and connecting rods, a new vibration damper and a racetrack-bred cooling system. The increased output is further facilitated by a larger turbocharger, a redesigned air intake duct and optimized direct fuel injection.
Both models also benefit from a new eight-speed Steptronic sport automatic transmission with standard paddle shifters, launch control and integrated mechanical differential lock at the front wheels. Meanwhile, the new sport exhaust system has a tailored sound profile.
Engineers improved handling through reinforcement modifications for the body structure, engine mounts and chassis fixtures, while upgrading the sport brake system with four-piston, fixed-caliper disc brakes on the rear wheels.
Without getting into technical details, you should know that the all-wheel drive system and suspension have been upgraded, as well. Optionally, the adaptive chassis enables the vehicles to be lowered by 10 millimetres.
Other changes include revised aerodynamics, available contrast paintwork in red for the roof and mirror caps and a slightly different grille.
Pricing for the new 2020 MINI JCW Clubman ALL4 and JCW Countryman ALL4 will be announced closer to their launch date. This follows a series of changes to the base MINI Clubman for 2020.