This New Skoda Pickup Concept is Really Cool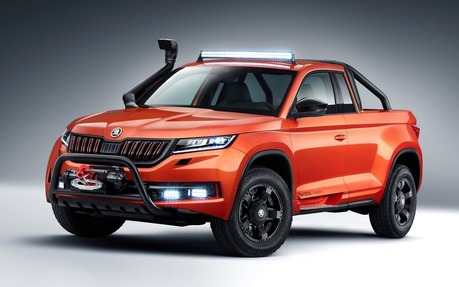 Skoda, the Czech automaker whose vehicles are sold in more than 100 countries but not in Canada, has come a very long way since launching in 1895. Nearly 125 years later, this is what we get.
The freshly unveiled Skoda Mountiaq concept, based on the existing Kodiaq SUV, is one cool truck. Developed by a team of 35 apprentices who put in more than 2,000 hours of intense work over eight months, it combines the appeal of a contemporary lifestyle vehicle with the everyday usability of a pickup while conveying the spirit of off-road adventure.
Standing 4,999 millimetres long, 2,005 millimetres wide and 1,710 millimetres tall, the Skoda Mountiaq concept is smaller than typical midsize pickups like the Ford Ranger and Honda Ridgeline, yet significantly heavier at 2,450 kilograms. Ground clearance is a full 290 millimetres (11.4 inches).
Beyond the reinforced body with wide proportions, modified bumpers, and a completely redesigned rear section, the vehicle impresses with a number of visual highlights. These include a specially designed Sunset Orange paint finish, 17-inch Rockstar II wheels wrapped by special off-road tires, a light bar on the roof, a raised air intake snorkel and a distinctive front featuring a winch, bullbar and special lighting effects.
Speaking of which, the radiator grille, brand logo on the hood, engine bay and cargo bed all feature unique lighting, as well. The front doors even project a Skoda logo onto the ground.
The cabin of the Skoda Mountiaq concept boasts orange contrast stitching and accents, a glowing Skoda logo in the roof lining, a built-in refrigerator and two walkie-talkies. The team also improved the 320-watt sound system with a 2,000-watt amplifier and a 2,000-watt subwoofer.
Other notable features include a storage compartment under the cargo bed and a Volkswagen-sourced 2.0-litre TSI gasoline engine delivering 187 horsepower.