Lamborghini Huracán Sterrato Redefines Off-road Performance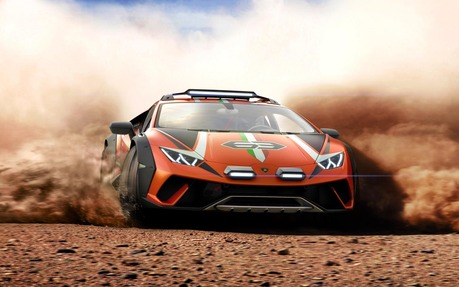 In case you had doubts about Lamborghini's off-road expertise following the launch of the Urus SUV, the Italian automaker has just unveiled another ultra-high-performance machine that can take on challenging environments.
Forty-five years after the Lamborghini Jarama and Urraco were turned into desert-going missiles, the new Lamborghini Huracán Sterrato is a wild concept offering a new dimension of fun beyond paved roads.
Based on the Huracán EVO (which our colleague Gabriel Gélinas is testing this week, with a review coming up soon), this beast houses the same naturally aspirated 5.2-litre V10 engine rated at 640 horsepower. A state-of-the-art integrated vehicle dynamics management system with predictive logic controls the Sterrato's four-wheel drive, four-wheel steering, modified suspension and torque vectoring—all calibrated with off-road driving in mind.
Of course, it takes more than that to even just step away from the beaten paths. Lamborghini engineers raised the Huracán's ground clearance by 47 millimetres, sharpened the approach angle by one percent and enhanced the departure angle by 6.5 percent. The front and rear tracks are 30 millimetres larger, while the 20-inch wheels are shod in beefier tires with increased side walls and protected by new wide-body wheel arches with integrated air intakes.
To limit damage, the Sterrato is fitted with underbody reinforcements and body cladding, including a rear skid plate that acts as a diffuser and aluminum-reinforced side skirts. There is stone-deflecting protection around the engine and air intakes and mud guards in hybrid materials of carbon fibre and elastomeric resin.
A roof-mounted LED light bar and LED bumper lights with flood function complete the exterior, while aluminum floor panels, a new lightweight titanium roll cage and new carbon bi-shell sports seats with four-point seatbelts highlight the cockpit.
Lamborghini has yet to post a video of the Huracán Sterrato, but we suspect it performs pretty much like this: