2019 Porsche Macan: More Accomplished than Rivals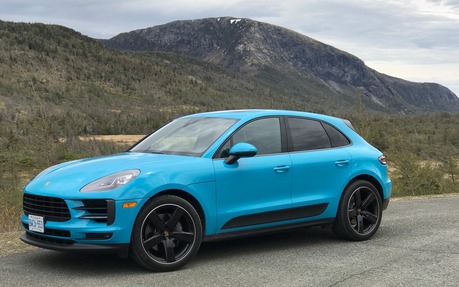 Introduced in 2014 for the 2015 model year, the Porsche Macan quickly became the German brand's most popular model in Canada, ahead of the larger Cayenne. However, it was time for the compact SUV to get a lifting in an effort to stay up-to-date and boost sales until the next generation comes around.
We got the opportunity to discover and drive the refreshed 2019 Porsche Macan on the gorgeous roads of Newfoundland.
The "new Macan," as company reps call it, will arrive at dealerships in just a few weeks with two models to choose from including the base Macan and the sportier Macan S. Inevitably, the Macan Turbo and Macan GTS will follow a bit later. The real big news is the projected launch of a fully electric variant based on the Premium Platform Electric (PPE) developed by Audi.
As far as styling is concerned, the 2019 edition won't make you regret buying the outgoing Macan. The most striking changes are in the rear where the taillights are now connected by an LED strip similar to Porsche's latest models. New body colours are available, such as Miami Blue ($3,560) that gives the vehicle a flashier appearance normally seen on sports cars. There are some new wheel designs, too, with the black-painted 21-inch Sport Classic alloys being our favourite.
The Macan competes against a number of compact luxury vehicles and the fact that it carries a Porsche badge means it's pricier than most. Not only is the base MSRP quite high, but it's also tough to resist adding some (expensive) options to make it even more special.
You should know that the 2019 Porsche Macan starts at $55,000, an increase of $1,400 from last year. It is motivated by the same turbocharged 2.0-litre four-cylinder engine that produces 248 horsepower.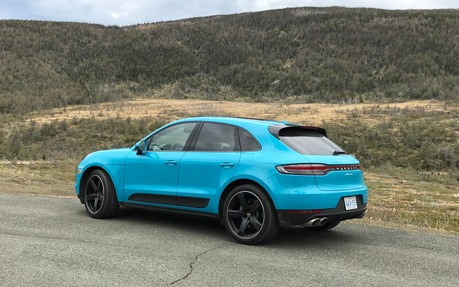 A Bit of Audi in the Macan S
The better-selling Macan S drops Porsche's twin-turbocharged V6 and gains Audi's single-turbo 3.0-litre mill. Why? It's simple: Porsche is now in charge of V8 engines, while Audi takes care of six-cylinders. This strategy helps both companies reduce development costs, although it takes away a bit of exclusiveness from the Macan.
The good news is that performance is improved as a result, albeit marginally. The Macan S now generates 348 horsepower (+8) and 352 pound-feet of torque (+13), accelerating from 0-100 km/h one tenth of a second faster.
With one less turbo working under the hood, we feared that power delivery wouldn't be as immediate, but we were wrong. The twin-scroll turbocharger of the new engine is mounted within the two cylinder banks forming the "V," which makes for a shorter exhaust manifold and minimum turbo lag. Passing slower vehicles is a breeze; a simple jab at the throttle produces a quick surge accompanied by the right amount of sound effects.
The Soul of a Sports Car
The lightweight Macan is nimble and actually handles like Porsche's sports cars. It's when you start pushing it that you understand why the asking price is so high.
Using just your fingertips to drive, this compact SUV attacks corners like very few cars can. The added bonus of a competent all-wheel drive system helps maintain performance in all conditions. For 2019, Porsche also revised the suspension and chassis to optimize handling and take the Macan to new heights in terms of on-road dynamics. It's almost a sin to exploit just a quarter of its abilities, because this machine has what it takes to perform and even excel on a track.
While the larger Cayenne uses a conventional automatic transmission for towing purposes, the Macan features Porsche's supremely effective dual-clutch PDK. At all times, this unit shifts gears with no hesitation. Meanwhile, the instruments are nicely designed and easy to see, although there is no head-up display like in some competitors.
The interior updates include a new 10.9-inch infotainment screen with higher resolution, air vents that now reside below the screen like in the new 911, and a centre console with more rounded edges offering a bit more legroom.
In the rear, space continuous to be a problem, especially for taller passengers due to the sporty roofline. Cargo capacity is one of the worst in the segment—much smaller than the class-leading Acura RDX.
Bottom Line
It's hard not to be excited when driving the 2019 Porsche Macan. Despite sharing more and more components and technologies with other members of the Volkswagen family, this athletic SUV never disappoints.
Test drive report
Test model

2020 Porsche Macan

Trim level
S
Price range
$55,500 – $63,000
Price as tested
63 000 $
Warranty (basic)
N/A
Warranty (powertrain)
N/A
Fuel economy (city/highway/observed)
13,7 / 10,4 / N/A L/100km
Options
N/A
Competitive models
Alfa Romeo Stelvio, Audi Q5, BMW X3, BMW X4, Jaguar F-PACE, Land Rover Range Rover Velar, Lincoln Corsair, Mercedes-Benz GLC, Volvo XC60
Strong points

High level of performance
Supremely effective PDK gearbox
Superb fit and finish
Plenty of low-end torque

Weak points

Pricey options
Limited cargo capacity
Base model is not as exciting
Porsche DNA is a bit diluted

Editor's rating
Fuel economy
The engine requires premium gas and is considerably thirstier in sporty driving.
Comfort
Adequate comfort up front, but limited room in the rear.
Performance
No doubt the Macan's biggest strength.
Infotainment
The audio system is good, but Apple CarPlay compatibility is optional.
Driving
This is one of the few SUVs that offer exciting driving dynamics.
Overall
The Macan continues to be at the top of its game.