2020 BMW X3 M and X4 M Competition: 503 Hp FTW!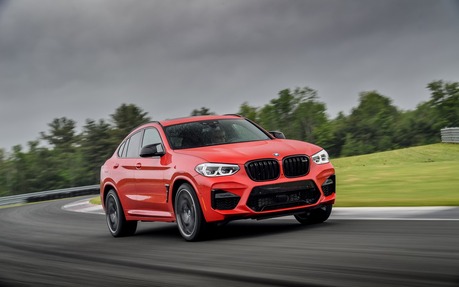 The SUV craze, combined with the sales success of BMW's M vehicles including the X3 M40i and X4 M40i, drove the performance division of the Bavarian automaker to launch the first-ever X3 M and X4 M. These models are powered by a new turbocharged 3.0-litre inline six-cylinder engine that cranks out as much as 503 horsepower in Competition trim. For real.
According to Dirk Häcker, head of development at BMW M, the idea was to create the X equivalent of an M3. He wouldn't say it, but we bet the arrival of the Mercedes-AMG GLC 63 S also had something to do with it. The long-time German rivals never miss an opportunity to attack each other directly, even in niche segments.
Our first contact with these juiced-up SUVs took place not only on the roads of New York State and New Jersey, but also on the fabulous private track of the Monticello Motor Club, where we were able to push the X4 M Competition to the limit in a controlled environment.
Brand New Engine
Before going any further, it's worth noting that the engine in the 2020 BMW X3 M and X4 M is 90-percent new. Codenamed S58, it relies on BMW's signature inline six-cylinder configuration and features twin turbochargers. There are key differences, however, including a bigger bore, shorter stroke and forged crankshaft.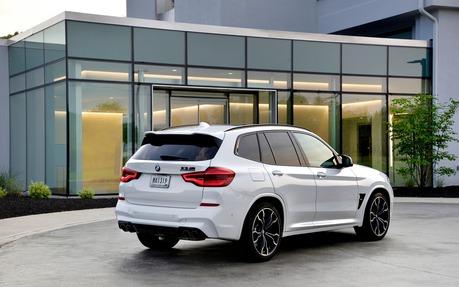 It appears this new engine will find its way into other BMW models in the future. Why not the next M3? The company is staying mum for now, but you can definitely count on it. After all, engineers claim they can extract more power and torque from the S58 mill.
The X3 M and X4 M also use an M-calibrated all-wheel drive system and electronically controlled suspension with three driver-selectable modes. If you want to have fun on the track, just press the M2 button on the right steering wheel spoke and the vehicle suddenly develops sharper reflexes.
On this highly technical, 5.8-kilometre long track, which features numerous elevation changes, decreasing-radius turns, a fantastic chicane and long straightaways, the X4 M Competition felt right at home, delivering impressive performance for an SUV. The ceramic-composite brakes are remarkably strong, handling is superb when changing directions and the vehicle re-accelerates in convincing fashion. In M Dynamic mode, you'll even experience a slight drift as you exit a turn.
Body movements are effectively neutralized, even when the inside front wheel goes up and over the curbs in a chicane. The sound of the engine at full throttle is pretty sweet to listen to, although it remains a bit muted like typical turbos. With 503 horsepower on tap and a 7,200 rpm redline, it's BMW's mightiest six-cylinder engine.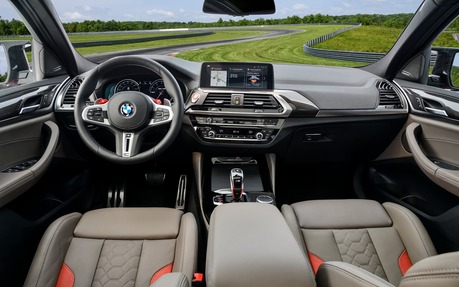 Dressed to Kill
The 2020 BMW X3 M and X4 M are aggressively styled to match their outstanding performance. Each one sports 21-inch wheels, imposing fascias and a great-looking body kit, while a gloss black finish adorns the grille, mirror caps and rear diffuser.
Under the distinctive sheetmetal are extra chassis reinforcements including a front strut tower brace just above the engine. Inside the cockpit, you'll find two-tone leather seats with Alcantara inserts, an M sport steering wheel (with M1 and M2 red buttons specifically designed to unleash the beast) and a few other unique design cues highlighting the special nature of these SUVs.
On the road, the BMW X3 M and X4 M Competition can be docile and fairly comfortable—that is, when the pavement is in pristine condition. The time spent on highways also made us realize how bad rearward visibility is in the X4 M due to the coupe-like roofline and narrow rear window. Because the two models are identical from a technical standpoint, I would pick the much roomier and more accommodating X3 M any day. Plus, it costs a bit less money.
Speaking of which, sales will begin in July with prices starting at $82,700 (freight and delivery charges not included) for the 2020 BMW X3 M and $84,300 for the 2020 BMW X4 M. In both cases, the Competition package requires a premium of $10,300.
Test drive report
Test model

2020 BMW X3

Trim level
X3 M Competition
Price range
$82,700 – $94,600
Price as tested
94 600 $
Warranty (basic)
4 years/80,000 km
Warranty (powertrain)
4 years/80,000 km
Fuel economy (city/highway/observed)
N/A
Options
N/A
Competitive models
Acura RDX, Alfa Romeo Stelvio, Audi Q5, Cadillac XT5, Infiniti QX50, Jaguar F-PACE, Land Rover Range Rover Evoque, Land Rover Range Rover Velar, Lexus NX, Mercedes-Benz GLC, Porsche Macan, Volvo XC60
Strong points

Powerful engine
Superior dynamics
High-quality fit and finish
Strong brakes

Weak points

Big price tag
Expensive options
X4 M less practical than X3 M
Poor rearward visibility (X4 M)

Editor's rating
Fuel economy
The new S58 engine is the brand's most powerful six-cylinder engine and fuel consumption reflects that.
Comfort
Quite comfortable on slick U.S. roads, but what about Canada?
Performance
Performance is nothing short of impressive by SUV standards.
Infotainment
BMW's iDrive is pretty user-friendly.
Driving
Simply fantastic.
Overall
The only downside is the big price tag... and the expensive options.