Last Corvette with a Front Engine Sold for Record $3.5 Million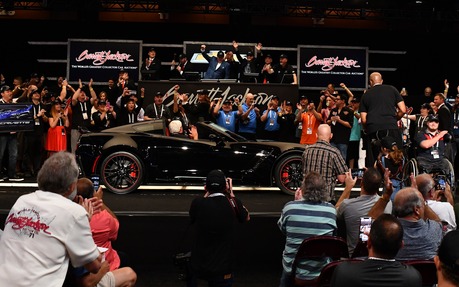 The very last copy of the seventh-generation (C7) Chevrolet Corvette was sold for $2.7 million USD (approx. $3.5 million) at the Barrett-Jackson Northeast Auction this weekend.
It marks a record for an automaker-donated vehicle sold by the prestigious auction house.
The winning bid was for a black Corvette Z06 3LZ coupe with Adrenaline Red trim, a car that normally retails for $103,660 in Canada. It has a custom leather-wrapped red interior package that provides the ultimate sport and luxury experience and includes Performance Data Recorder and navigation.
Under the hood is a supercharged 6.2-litre LT4 V8 engine making 650 horsepower at 6,400 rpm, mated to a seven-speed manual transmission. The Z06 accelerates from 0-96 km/h in just 3.7 seconds and then comes to a stop using powerful Brembo brakes.
All proceeds from the sale will go directly to the Stephen Siller Tunnel to Towers Foundation, which will build at least five mortgage-free, accessible smart homes for the most catastrophically injured service members.
Now, we're curious to see how much the first copy of the all-new, eighth-generation 2020 Corvette with a mid-engine will be worth. That model, as you know, will have its official reveal on July 18 and some fans have paid as much as $20,000 to attend the event.