2020 Chevrolet Silverado HD: Built to Work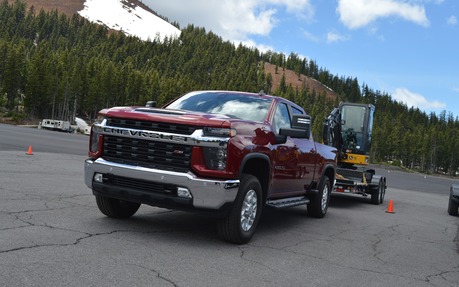 All across the country, many people work really hard and some of them need a truck that works just as hard. That's why we have big, heavy-duty pickups with hoods about as tall as a normal-sized adult and capable of towing monstrous loads.
Chevrolet recently invited The Car Guide to a first drive of the next-generation 2020 Silverado HD and it quickly became apparent that the company didn't take any shortcut or make any compromise.
Born to Tow
Let's start with the undisputable highlight of this truck: a maximum towing capacity of 35,500 pounds. No, this is not a typo!
The 2020 Chevy Silverado HD can do that thanks to a 6.6-litre Duramax turbo-diesel engine that produces 445 horsepower and a phenomenal 910 pound-feet of torque. Sure, the new Ram Heavy Duty manages to top 1,000 pound-feet, but the former still has the edge in terms of acceleration and pulling power.
This diesel is actually a carry-over from the old Silverado HD. However, the new 10-speed Allison transmission it's mated to makes a world of difference. After pushing the mastodon on the hilly roads of Oregon with a trailer weighing nearly 20,000 pounds in the back, we can safely say that this truck was born to tow.
Even when driving up the mountains, the diesel-powered Silverado HD never seems to run out of steam. The autobox does a great job of always finding the right gear—so much so that we forgot we were pulling a trailer at times.
Similar to the Silverado 1500, the heavy-duty model comes with a plethora of systems that make towing easier. For instance, up to eight cameras around the vehicle combine to provide as many as 15 different views, effectively eliminating any blind spot.
You'll also find a two-speed transfer case, 12 fixed and nine mobile tie-downs, a 120-volt power outlet and many other features and amenities designed for a true workhorse.
New Gasoline Engine, but…
In addition to the tireless Duramax, the 2020 Chevrolet Silverado HD offers a brand new 6.6-litre gasoline V8. This one generates 401 horsepower and 464 pound-feet of torque, allowing a towing capacity of 17,400 pounds. That's not even half the rating of the diesel engine, yet an 18-percent improvement over the previous edition.
The various towing tests we conducted with the gasoline-powered Silverado HD were fairly discouraging. During climbs, the engine revved beyond 4,000 rpm—even 5,000 rpm at some point—and the pickup acted like it was exhausted. We did reach our destination, but it's clear the gasoline V8 had a much harder time.
To be fair, the problem here is the obsolete six-speed transmission from the old Silverado HD that Chevrolet decided to pair with the new engine for some reason. One of the engineers at General Motors admitted to us that cost was a big factor. By retaining the six-speed unit, the company can price the new Silverado HD more attractively for fleets and base customers. Pricing details are still unknown, mind you.
One thing's for sure: the gasoline V8's performance would be so much better if it were mated to the same 10-speed transmission as the diesel.
Questionable Looks
Of course, we can't write a review about the 2020 Chevrolet Silverado HD without addressing the elephant in the room, namely the polarizing face that sets this model way apart from the entry-level Silverado 1500.
The massive, oddly split front grille has many people crying foul. Unless you opt for a bowtie-wearing High Country model, the "CHEVROLET" name is slapped in big, block letters across the bar.
Inside, Chevrolet designers were much more conservative. The cabin of the new Silverado HD is relatively plain and almost identical to that of the Silverado 1500.
The centre stack houses a touchscreen that's barely large enough, although the infotainment system itself is pretty easy to use. This is where you can access all the different camera views, plus a built-in app that will guide you through the required steps to safely attach a trailer. Seasoned truck owners will tell you they don't need it, but those with less experience are likely to rejoice.
Since prices and fuel economy ratings have not been announced yet, it's hard to say if you should go with a Work Truck, Custom, LT, LTZ or High Country model. By the way, the 2020 Silverado HD is also available with three cab sizes and with either single or dual rear wheels.
But make no mistake: If you need to tow heavy loads on a regular basis, the diesel engine is the only sensible choice.
Test drive report
Test model

Chevrolet Silverado 2500HD

Trim level
High Country 4x4 Crew Cab (6.5')
Price range
N/A
Price as tested
N/A
Warranty (basic)
N/A
Warranty (powertrain)
N/A
Fuel economy (city/highway/observed)
N/A
Options
N/A
Competitive models
N/A
Strong points

Exceptional towing capacity (diesel)
Diesel power and torque
Many technologies that make towing easier

Weak points

Questionable looks
Plain interior
Gasoline V8 has a harder time towing

Editor's rating
Fuel economy
N/A
Comfort
The suspension is a bit stiff, but the cabin is quiet and the seats provide adequate support.
Performance
The torque-rich diesel engine delivers impressive acceleration and pulling power. The Silverado HD isn't as good with the gasoline V8.
Infotainment
The system has it all and is easy to figure out, but could use a fancier look.
Driving
Fans of diesel engines will love the sound of this Duramax and the strong acceleration it provides.
Overall
The new Silverado HD is a true workhorse, especially with the diesel engine.