Exclusive

Porsche 718 T is Coming to Canada and We Drove it!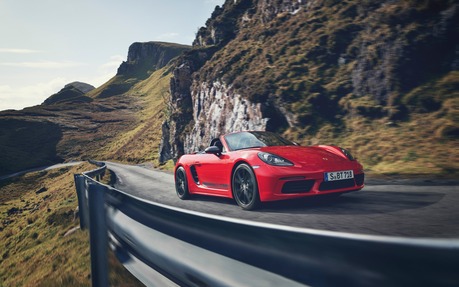 While on a stop in Germany, The Car Guide received confirmation that the new Porsche 718 T will indeed be sold in Canada.
Introduced in Europe last December, this car is a lighter version of the standard 718 Cayman and Boxster. Designed with sportier driving in mind, it features a lower ride height (-20 mm), 20-inch wheels and a shorter gear shifter, among other things.
Weight is reduced through the elimination of a few unnecessary items. Even the interior door handles are replaced with a simple strap, just like in the Porsche 911 Carrera T.
As for power, the Porsche 718 T uses the same mid-mounted, turbocharged 2.0-litre four-cylinder engine as the stock coupe and convertible. It delivers 300 horsepower and 280 pound-feet of torque through a standard manual transmission. A dual-clutch PDK is optional.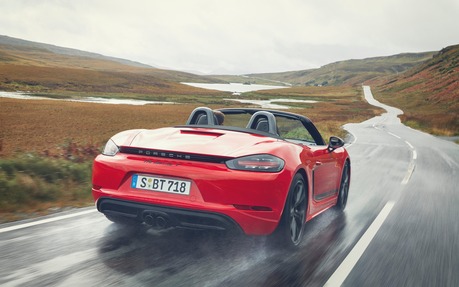 Performance, naturally, is quite similar. The 718 T is not any quicker as Porsche claims a 0-100 km/h acceleration time of 5.1 seconds with the manual gearbox and 4.7 seconds with the PDK. Top speed is set at 275 km/h.
For a better adrenaline rush, customers can turn to the 718 Boxster S and 718 Cayman S, which benefit from a larger and mightier 2.5-litre engine producing 350 horsepower.
On the Road
We had the opportunity to drive one of the first 718 Boxster T models as part of a drive program set up by Porsche to celebrate 50 years of mid-engined sports cars.
Aesthetically, the difference between this car and the regular 718 Boxster is almost impossible to see. Other than the aforementioned door straps and some minor cosmetic tweaks, they're all the same.
On the road, the shorter-ratio manual transmission is an obvious improvement over the base unit. Even though the dual-clutch PDK does a marvelous job, as well, customers now have a pretty compelling reason to go with three pedals and a stick.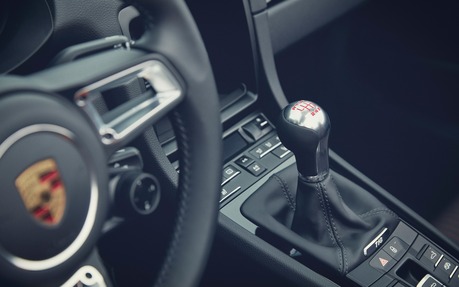 The mid-mounted powerplant endows the 718 with near-perfect weight distribution. In sporty driving, this gives you a real sense of control and the impression of becoming one with the machine. Few modern cars are able to provide this much fun.
Is the new 718 T worth the investment? That's hard to say since Porsche Canada has yet to announce pricing. In Europe, the model starts at €63,000, so expect to pay a hefty number out here. The 2019 718 Cayman and 718 Boxster cost $63,700 and $66,100, respectively, just to give you an idea.
If the 718 T turns out to be too expensive, you should instead opt for the 718 S or even the base 718, which is equally competent.
You can't go wrong either way. The Porsche 718 is superbly built, very reliable and exceptionally pleasant to drive.
Test drive report
Test model

2020 Porsche 718 Boxster

Trim level
Boxster
Price range
N/A
Price as tested
N/A
Warranty (basic)
N/A
Warranty (powertrain)
N/A
Fuel economy (city/highway/observed)
N/A
Options
N/A
Competitive models
Alfa Romeo 4C, Audi TT, BMW Z4, Jaguar F-TYPE, Mercedes-Benz SLC
Strong points

Exceptionally pleasant to drive
Shorter-ratio manual transmission
Timeless design

Weak points

Too similar to the regular 718
Price has yet to be announced

Editor's rating
Fuel economy
Comfort
Performance
Infotainment
Driving
Overall