Goodbye Volkswagen Beetle, Hello Future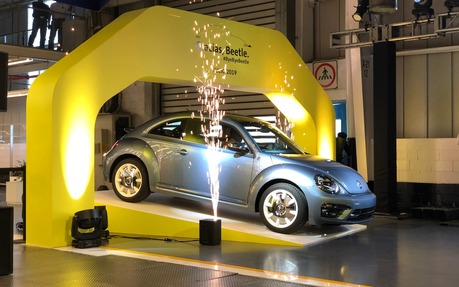 Nearly everybody has a Volkswagen Beetle story to tell. A survey has never been done to our knowledge in Canada, but we're quite convinced that a the very least, a third of us have an uncle, a parent or someone close that can tell you about their experience with the Beetle.
My father drove a Beetle in 1967 and recalls freezing to near death and driving nearly blind—the car had no heater or defroster at the time. This typical Canadian story is not one that will be shared by Mexicans, however 80% of them, 4 out of 5, have driven, owned, been driven or have a person close to them that has a Beetle story.
The Volkswagen Beetle is part of modern Mexican folklore—it put the country in a car, much like the Ford Model T mobilized the United States. When production of the original Beetle ended in 2003, in Nave 28 where it had always been built for nearly 40 years, many tears were shed. In fact, they refer to Nave 28 as the Hall of tears. Despite the fact that production of the New Beetle began in 1998, nothing could match the history of Puebla, Mexico and the original Beetle. The other emotional VW product built in Puebla is the Jetta, whose production started in 1979, but the Jetta's reach pales in comparison with the Beetle's.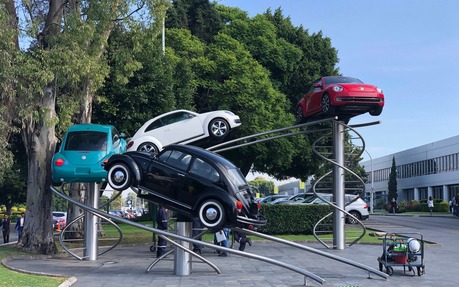 The modern Beetle entered its third generation for the 2012 model year and it is to this one that we say goodbye, and to the Beetle as a whole. Truth be told, the car we see in VW's and our pictures is not exactly the last Beetle as we spotted a number of Beetles going through various stages before the ceremony. But this is not important. What is important is that VW will not be laying off hundreds or thousands of employees.
The decision to cut the Beetle, although difficult on many levels, was in part a financial one. Demand for the iconic Volkswagen Beetle had slowed only to rise and steady itself over the last few years, but there's more money to be made elsewhere through other products and efficiency. By the end of July 10th 2019, 48% of the Beetle's assembly was automated. This is in stark contrast with automation and robots accounting for 70-75% of the assembly process of more recent models.
The Puebla assembly plant also builds the Jetta, as mentioned, the Golf and the extremely popular Tiguan. It is to the latter that will be transferred a large portion of ex-Beetle line workers, at least at first.
Volkswagen of Mexico announced that a new subcompact SUV will be produced in Puebla come next year for North America and other markets, which will be positioned below the Tiguan. Deliveries of the as-of-yet unnamed SUV will begin at the very end of 2020 or very beginning of 2021. VW reps would not elaborate on the vehicle itself, but it is referred to internally as the Tarek. This is not to be confused with the Tarok pickup concept. We imagine that a cross between the T-Cross and T-Roc are what we can expect. We'll know more in time.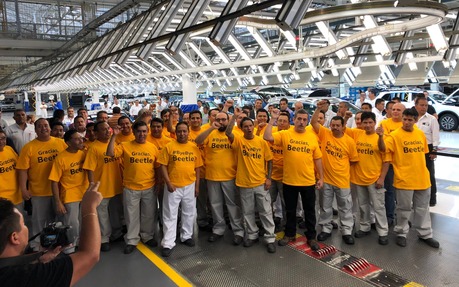 On the subject of the Tarok, it seems as though it will be coming to market; however, this compact pickup (which may not be named Tarok) will be based on VW's MEB flexible EV platform. It will be built in Chattanooga, TN, and be reserved for the American and Canadian markets. Details on this matter were convoluted at best.
We know at this point that the Volkswagen ID.3 5-door hatchback is not slated, at least at first, for North America (including Mexico), but this could be one way for VW to gain a stranglehold on a segment that is exploding at the moment. The ID. Family has an SUV, a bus and might just be gaining a pickup, an electric one at that. More on this when information becomes available too.
As for the Beetle, there's hope that it's not entirely dead. It was reborn once and although it's gone once more, it could rise from the ashes like a phoenix as a completely different vehicle, although instantly recognizable as a Beetle. The MEB architecture is well capable of serving as a basis for a smaller vehicle, the ID.3, as well as the large-ish ID. BUZZ.
The internal combustion-engine Volkswagen Beetle is gone, but it will never be forgotten. It leaves behind a legacy as well as a spot for future VW vehicles.