This is the Fastest-accelerating Production Truck Ever Built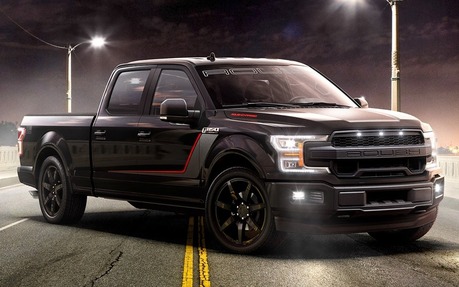 When someone modifies a pickup truck, their goal is usually to make it more extreme and capable off the road or simply to create something flashy and outrageous. Think about Hennessey's VelociRaptor 6x6 or VelociRaptor Ford Ranger.
Roush Performance, which is known for creating super-powerful and ultra-fast versions of the Mustang, has just created the quickest production truck ever.
The new 2019 Roush Nitemare F-150 4x4 SuperCrew is capable from sprinting from 0-60 mph (96 km/h) in a record-setting 4.1 seconds. Another variant equipped with a regular cab even broke the elusive four-second mark by posting a time of 3.9 seconds.
The feat was achieved and officialised by a team of Roush Performance engineers on a prepared drag strip. The truck was in Sport mode with the rear differentials locked, a light fuel load and the standard Continental tires that come factory-equipped on all Roush vehicles.
"It's one thing to just add raw power to a vehicle, it's another to truly engineer it," said Jack Roush Jr. "With 650 horsepower, the Nitemare delivers power unlike any other truck while retaining the reliability and refined feel you'd expect from any Roush vehicle."
Painted in black and featuring a custom Roush grille and graphics package, plus a set of 22-inch Roush wheels, this low-riding pickup costs nearly $25,000 more than a stock, V8-equipped F-150. The side-exit exhaust tips add even more style and the available active exhaust system lets drivers choose between four settings. In addition to the 650 ponies, the Roush TVS R2650 supercharger under the hood increases torque to 610 pound-feet.
The following video presents the Roush Nitemare F-150 4x4 in greater detail and will even give you goosebumps: