2020 Lexus RX: Minor Changes to Stay in the Game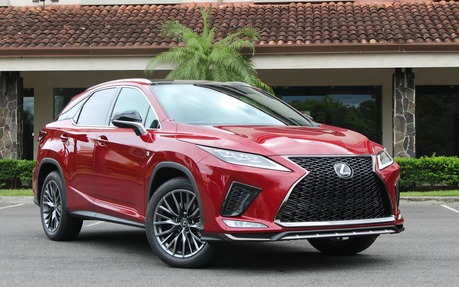 LIBERIA, Costa Rica – Lexus is proud to say that it invented the luxury crossover when it introduced the RX 300 back in 1998. It was an instant hit and when on to become the brand's all-time, best-selling model. In 2018, it accounted for 29% of total Lexus sales across the globe.
Can the company truly claim that it invented the segment? The lines between a crossover and an SUV are blurry, but basically, a crossover vehicle uses a car platform—the original RX and the Lexus ES sedan shared the same architecture—and an SUV boasts a body-on-frame design. Technically, the RX is a crossover and the bigger Lexus GX is a true SUV. So yes, the RX was indeed something new on the market.
The current-generation RX was introduced for the 2016 model year, while the longer-wheelbase, seven-passenger RX L hit the market in 2018. Both are receiving some improvements for the 2020 model year, but nothing significant. Why mess with a good thing?
Greater Stiffness
The 2020 Lexus RX gets a slightly revised front fascia that might not seem all that different, but it does include new lower bumper design and grille mesh, while triple-beam LED headlight clusters are now available. The taillights, rear bumper diffuser, exhaust outlets and alloy wheels are also new. Subtle changes, but visual cues that brings the crossover's design closer to the brand's newer products.
In order to increase the vehicle's stiffness, Lexus engineers applied laser spot welding to the frame, just aft of the rear door handles. It seems insignificant, but this extra welding allowed for a revision of the rear suspension to reduce body roll, noise and vibration, while improving steering response.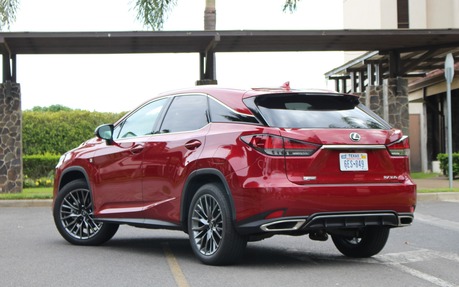 No changes have been made underhood, which means the RX still relies on a 3.5-litre V6 that develops 295 horsepower in the regular-wheelbase variant, and 290 in the RX L. It's connected to an eight-speed automatic transmission and an all-wheel drivetrain. Fuel economy is competitive in its category with a combined city/highway rating of 10.8 L/100 km—or 11.1 in the case of the RX L.
The hybrid variants of the RX are interesting, as their powertrain produces a total output of 308 horsepower and serves up a combined rating of 7.9 L/100 km—8.1 for the RX L. These vehicles are particularly frugal in city driving, where the electric motors can step in and provide forward motion while the V6 engine takes a break. And the transitions from gas to electric to gas propulsion are seamless.
During a very brief drive of the 2020 model, while we were taking part in Lexus' Milestones event in Costa Rica to celebrate the brand's 30th anniversary, it was impossible to discern the handling improvements brought on by the suspension revisions, but the 2019 model is already pretty solid. We'll point out here that the RX doesn't ride on the company's recently developed—and impressively stiff—TNGA platform, which underpins almost all new Toyota and Lexus vehicles.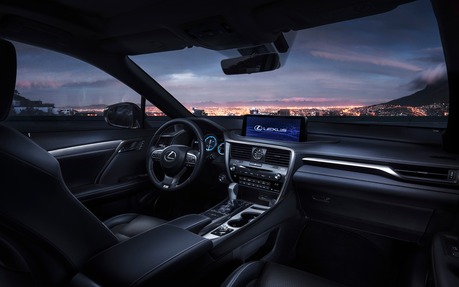 Android Auto Integration
The 2020 Lexus RX's infotainment system features an eight-inch touchscreen as standard, while a 12.3-inch unit can also be specified. The company brought some improvements to the user interface, such as larger on-screen button zones and improved voice command software. However, the console-mounted touchpad is still difficult to use while driving.
Owners can forego the brand's operating system by plugging in their phone and using Apple CarPlay or—new for 2020—Android Auto. For many car shoppers, this could be the RX's most significant improvement. The automaker promises to roll out Android Auto into other models within the next few years, but as these lines are being written, the RX is the only Lexus to offer Android Auto.
The 2020 Lexus RX will go on sale this fall, although pricing has not yet been announced. The 2019 edition currently ranges from $55,350 to $77,600 before freight and delivery charges. Once again, an F SPORT packages are available on the regular-wheelbase RX 350 and RX 450h variants, adding a more aggressive appearance, a posher interior and plenty of comfort and convenience features—for a hefty sum, though.
Should we run to the dealership and trade in our current-generation RX for the 2020 model? Nah. However, the minor improvements will keep Lexus' crossover competitive for the next couple of years, before an all-new, fifth-generation RX shows up. And it's built right here in Canada.
Test drive report
Test model

Lexus RX

Trim level
N/A
Price range
N/A
Price as tested
N/A
Warranty (basic)
4 years/80,000 km
Warranty (powertrain)
6 years/110,000 km
Fuel economy (city/highway/observed)
N/A
Options
N/A
Competitive models
N/A
Strong points

Smooth and powerful drivetrains
Plenty of space (expect in the third row of the RX L)
Reliability and high resale value

Weak points

Lacks character
RX L variant not much more versatile
F SPORT packages are expensive

Editor's rating
Fuel economy
The conventional RX is fairly efficient, while the hybrid RXh is particularly frugal around town.
Comfort
Excellent ride and comfort, lots of space up front and in second row.
Performance
Strong acceleration from both powertrains, with no performance compromise for the hybrid.
Infotainment
Distracting user interface, but at least the RX now benefits from Android Auto and Apple CarPlay integration.
Driving
The RX is about ride comfort and refinement above all-out performance handling.
Overall
Lexus' most popular model, and arguably the best one overall, too.