2020 Porsche 718 Spyder and Cayman GT4: The Star Players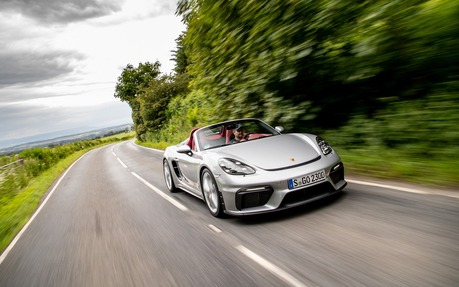 KNOCK HILL, Scotland – It's simple, really: pound for pound, dollar for dollar, there are no better sports cars than the mid-engined Porsche Boxster and Cayman. They've been the undisputed handling champs since making their debuts in 1997 and 2006, respectively.
The wizards in Weissach keep finding ways to increase performance and refinement from one generation to the next. The last time was in 2017 with the introduction of the 718 nameplates that marked a fourth generation of the Boxster and a third for the Cayman. Along with them came new turbocharged 2.0-litre and 2.5-litre four-cylinder engines that may not have the exquisite sound of the previous six-cylinder boxers but deliver more power and sharper performance.
Now that the S and GTS variants are firmly established, Porsche is returning with the Boxster Spyder and Cayman GT4, the ultimate expressions of its entry-level convertible and coupe. The former is back for a third time following the 2012 and 2016 editions, while the latter made a first appearance in 2016.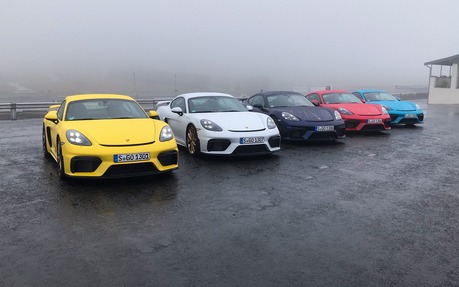 Brand New Heart
For the return of the six-cylinder in the 718 lineup, Porsche opted for a naturally aspirated version of the turbocharged 3.0-litre engine found in the current 911 Carrera S. By increasing cylinder bore and stroke, engineers upped displacement to 4.0 litres, resulting in an output of 414 horsepower at 7,600 rpm. Peak torque is 309 pound-feet at 5,000 rpm, which allows 0-100 km/h sprints in 4.4 seconds.
Compared with the old 3.8-litre unit, that's a gain of 34 horsepower in the case of the Cayman GT4 and 44 horsepower in the case of the Boxster Spyder. For the first time, both models offer the same power. The front axle, the suspension and the brakes are all shared with the 911 GT3, but the engine is different. According to Porsche, the titanium connecting rods and other upgraded components that allow the GT3 to rev up to 9,000 rpm would be too expensive in the 718 models.
From a technical standpoint, the only real thing that separates the Cayman GT4 from the Boxster Spyder is the manual adjustment of camber, toe, ride height and anti-roll bar settings. That's because the coupe is more likely to be pushed around a racetrack than the roadster. By the way, the ride height is 30 mm lower than a standard 718 Boxster or Cayman, which drops the centre of gravity and improves agility and handling at the same time.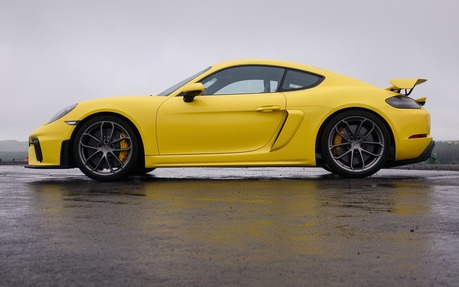 Solid as a Rock
The adaptive dampers of the Porsche Active Suspension Management (PASM) setup offer a stiffer mode that is absolutely unnecessary outside of your favourite track, as evidenced by the sheer grip and stability displayed by the Spyder on Scotland's fabulously tight and twisty roads. Granted, it helps to have a near-perfect, variable-ratio electric power steering (controlled by an ideally sized, Alcantara-trimmed steering wheel). We probably would have selected Sport mode had the tarmac been dry, but Mother Nature had other plans. In Normal mode, the Cayman GT4's suspension still performed flawlessly.
The Boxster Spyder and Cayman GT4 also share ultra-high-performance 245/35ZR20 front and 295/30ZR20 rear tires. The cars we drove in Scotland were all fitted with Michelin Pilot Sport Cup 2 tires that offered massive grip on the road and honestly surprised us on the rain-soaked track. With their semi-slick tread, they're not supposed to have that much bite in the water. This goes to show just how balanced and stable the chassis is.
The wide-open, beautifully styled 20-inch alloy wheels barely hide the 380-mm brake discs with six-piston callipers up front and four-piston callipers in the rear. Whether you stick with the standard steel discs or opt for the larger yet 50-percent lighter carbon-ceramic discs ($9,130), braking performance is impeccable.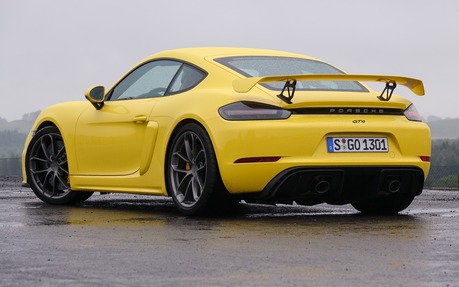 Or Simply Masterful
The six-speed manual transmission features a shorter shifter for quicker, more precise operation. A seven-speed dual-clutch PDK will be added to the lineup next year. A standard mechanical limited-slip rear differential with torque vectoring helps neutralize understeer and maintain optimum traction.
Porsche really paid special attention to aerodynamics with the new 2020 Boxster Spyder and Cayman GT4. The latter is said to generate 50 percent more downforce (with no effects on drag) thanks to a new rear diffuser and a redesigned, manually adjustable rear wing. The Spyder, whose manually operated fabric top is now a bit easier to open and close, is the first Boxster to generate downforce over the rear axle thanks to that same diffuser and a rear spoiler that automatically extends at 120 km/h.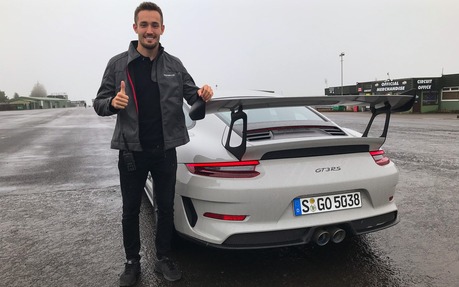 The cockpit is spacious, straightforward and superbly finished. The gauges and the touchscreen are crisp, while the controls and buttons are responsive. We love the Auto Blip button that automatically matches gearbox and engine speeds during a downshift. There are no drive modes to choose from, but you can deactivate stability control and traction control in two stages using dedicated buttons on the centre console.
The standard seats prove surprisingly comfortable over long distances. You can select electrically adjustable 18-way adaptive sport seats with memory ($3,010) or full carbon fibre bucket seats ($6,740) that are nearly identical to those in the 918 Spyder. They provide exceptional support and you'll strengthen your core muscles every time you get in or out.
Pricing for the 2020 Porsche 718 Cayman GT4 and 718 Spyder starts at $113,800 and $110,500, respectively. They're both hardcore sports cars that still possess a surprisingly friendly side. You even get two trunks for your road trip or track day essentials. No competitor can top them.
Test drive report
Test model

2020 Porsche 718 Boxster

Trim level
Spyder / Cayman GT4
Price range
$110,500 – $113,800
Price as tested
111 750 $
Warranty (basic)
4 years/80,000 km
Warranty (powertrain)
5 years/100,000 km
Fuel economy (city/highway/observed)
N/A
Options
Sport Plus seats ($3,010); carbon fibre seats ($6,740); carbon-ceramic brakes ($9,130); Burmester sound system ($5,360), Apple CarPlay ($410); Chalk and Miami Blue paints ($2,950 for the Boxster Spyder and $4,040 for the Cayman GT4), two-tone Spyder Classic interior ($3,190), Sport Chrono Package with timer for the Cayman GT4 ($630)
Competitive models
Alfa Romeo 4C, Audi TT, BMW Z4, Jaguar F-TYPE, Mercedes-Benz SLC
Strong points

Fantastic performance and sound
Exceptional handling
Powerful brakes
Racy looks
Super-solid, high-quality sports cars

Weak points

Harsh ride on bumpy roads
Sound effects are not as exciting in normal driving
Optional sport seats make access harder
Manipulating the soft top is a challenge (Spyder)
Expensive options

Editor's rating
Fuel economy
Quite reasonable for such high-flying sports cars.
Comfort
The ride is pretty stiff and noisy on rough pavement, but the seats are excellent, even the standard ones.
Performance
The quick-revving engine is wonderfully powerful, flexible and pleasant to listen to.
Infotainment
Simple and easy to use, the system responds nicely to inputs
Driving
You have it all: power, explosiveness, handling, grip and sound.
Overall
These are the best of the best with no real competitors.