2019 Toyota RAV4 Trail: Son of FJ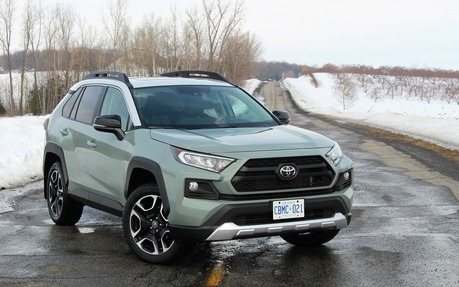 Usually, when a generation of car or truck reaches the end of its production cycle, sales start declining. Which is normal, because newer competitors become more interesting and offer more technology or innovative features.
In the case of the RAV4, the current generation of which appeared back in 2013, it became more and more popular as it aged. It actually ended up being the country's best-selling SUV in Canada in 2018, pulling ahead of the Honda CR-V, the Ford Escape and the Nissan Rogue.
So how do you redesign a vehicle that keeps selling strongly? Very carefully, that's how.
The fifth-generation RAV4 is new from the ground up, riding on a recently developed and very stiff platform. The company's stylists gave it more visual character with creased sheetmetal, a more robust appearance and—in the case of the Trail variant—extra body cladding and black trim.
Our test RAV4's two-tone paint job, with a grey body and a white roof, is quite attractive. One day, we were driving down the highway and crossed paths with a late-model FJ Cruiser that wore exactly the same colour combination. And then it hit us. By introducing the RAV4 Trail edition, Toyota is trying to steal some of the FJ's thunder, which off-road fanatics loved.
Is the RAV4 as capable as an FJ Cruiser? Heck, no. Yet, with its higher ground clearance and its drive mode selector that includes Mud & Sand as well as Rock settings, the Trail can slide off the beaten path and bring us to the cottage without breaking a sweat. And that's obviously a bonus, as very few people will tackle such terrain in their compact SUVs.
Power comes from a newly developed 2.5-litre four-cylinder engine, which develops 203 horsepower. That's up from the previous gen's 176 ponies, so that's good. It provides the RAV4 with decent performance and great fuel economy, as we averaged 9.5 L/100 km during our end-of-winter test. We just wish the engine sounded a little more refined, but on the other hand, Toyota resisted the temptation of shoving a small-displacement, turbocharged mill in its SUV, which will likely maintain low operation costs and greater reliability down the road.
A hybrid powertrain is also on offer, though not on the Trail variant, which serves up 219 horsepower. What it lacks in driving excitement, it makes up for in excellent fuel economy and provides all-wheel drive.
The 2019 Toyota RAV4's interior design is much improved over the previous generation, which seemed to have been penned by a group of stylists that never consulted each other. This time around, we get symmetry, decent-quality materials and well laid-out switchgear. Some like the current trend of tacking an infotainment screen atop the centre stack, others think it looks like an afterthought. However, it's mounted high to be visible while driving, but the buttons surrounding the screen are a far reach. The system integrates Apple CarPlay, but not Android Auto.
The Trail edition also boasts a two-tone scheme with orange stitching, seat striping and trim, which brightens up the overall look. The storage shelves integrated into the dash are handy for dumping our phones and pocket lint.
The RAV4 is one of the roomiest SUVs in its class, although we wish there wasn't a hump in the rear seat area floor that's bigger than the one in the previous-gen model. Uplevel trim levels add USB ports in back so rear-seat passengers can keep their portable devices juiced up, and there's a 110-volt power outlet in the cargo area as well. The latter is pretty big, and the cargo cover can be cleverly stowed under the floor when not is use.
Base price for the 2019 Toyota RAV4 is set at $27,990 before freight and delivery charges, while the Trail version is listed at $38,690. It might not be the FJ Cruiser's spiritual successor, but it looks the part and for many people, that's all they're asking for. And if the rugged appearance isn't their cup of tea, there's always more classic variants as well as more luxurious ones, and let's not forget the impressive efficiency of the hybrid powertrain.
The RAV4 clearly isn't ready to give up its title as the best-selling SUV in the country, and deserves to keep it too.
Test drive report
Test model

Toyota RAV4

Trim level
4WD Trail
Price range
$27,990 – $40,690
Price as tested
38 690 $
Warranty (basic)
3 years/60,000 km
Warranty (powertrain)
5 years/100,000 km
Fuel economy (city/highway/observed)
9,9 / 7,5 / 9,5 L/100km
Options
N/A
Competitive models
N/A
Strong points

Rugged looks
Fuel economy
Undeniable versatility

Weak points

Unrefined engine sound
Slightly less interior space than before
No Android Auto

Editor's rating
Fuel economy
We averaged 9.5 L/100 km, which is pretty good.
Comfort
Adequate front seats and a hump on the rear floor that cuts into foot space.
Performance
The 2.5-litre engine wasn't built for speed, but for fuel economy—and likely long-term reliability.
Infotainment
The essential features are there, but the interface isn't the easiest to use. No Android Auto.
Driving
Not the bland, soulless SUV it once was, but not a road carver either.
Overall
A better RAV4 in almost every way.