Redesigned 2020 Hyundai Sonata Hybrid to Add a Solar Roof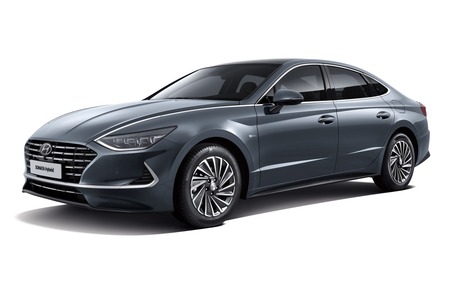 A few months after the world premiere of the next-generation 2020 Hyundai Sonata, which we got an exclusive opportunity to take for a spin around Seoul, the Korean automaker today revealed the new Sonata Hybrid equipped with the world's first Active Shift Control technology and a solar roof system.
Hyundai says the six-speed transmission with ASC improves both the dynamic driving experience and fuel economy of the vehicle by applying new control logic software to the powertrain unit.
Not unlike the rev-matching feature found on other cars, it controls the electric motor to align the rotational speeds of the engine and transmission to allow 30-percent quicker gear shifts. And since friction is minimized in the process, the transmission's durability is bound to increase.
The 2020 Sonata Hybrid appears to carry over the 2.0-litre gasoline engine and 38-kW battery, so expect the same combined system output of 193 horsepower as the outgoing model. Moreover, it is said to achieve approximately 5 L/100 km, though official fuel consumption ratings for Canada will be announced later. Any improvement here will be marginal.
There is no word yet on the Sonata Plug-in Hybrid.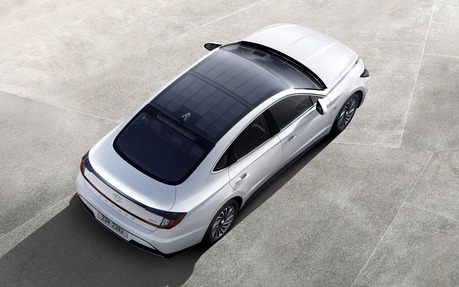 The second major innovation is Hyundai's solar roof system, which makes its debut on the Sonata Hybrid. Available as an option, it charges the battery on the go to maximize range while preventing unnecessary battery discharge. With six hours of daily charging, owners should be able to increase travel distance by 1,300 kilometres annually.
Advanced driver-assist systems on the Sonata Hybrid will include Forward Collision-Avoidance Assist with pedestrian detection and Lane Follow Assist. The latter can keep the vehicle centered at speeds from 0-145 km/h on both highways and city streets.
With regard to styling, the 2020 Hyundai Sonata Hybrid discreetly stands out from the regular Sonata with a distinctive and more aerodynamic design for the cascading grille, rear spoiler and alloy wheels. The doors can be locked or unlocked using a programmable 'Digital Key' app by placing your smartphone next to the door handle. This app can also control selected systems remotely and allows owners to preset the duration of vehicle use or limit the use to only certain features when renting the vehicle.
As previously reported, the 2020 Hyundai Sonata will go on sale in November, so the hybrid variant should follow a season or two after that.