2019 Porsche Panamera GTS Sport Turismo: The Character it Needed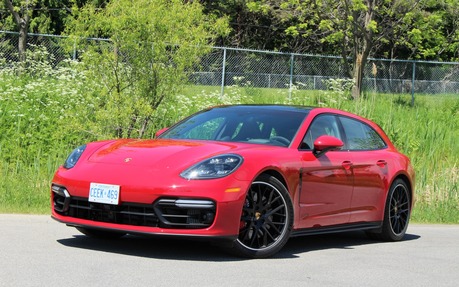 German brand Porsche doesn't launch new models very often, and when it does, it's always a success. When's the last time we saw one of their nameplates retire by lack of interest? It's been a while.
And by creating countless variations of its models, it ensures that loyal customers come back for more, and trade in more often. Case in point: there are 18 versions of the Panamera on our market, in which we find six powertrain choices and three body styles.
Positioned more or less in the middle of the lineup are the GTS editions, which prove that engine output isn't the sole desirability factor. Although a V8 engine does help to get our adrenaline pumping. The GTS gets a twin-turbo, 4.0-litre V8 that belts out 453 horsepower and 457 pound-feet of torque, mated to an eight-speed, dual-clutch transmission and all-wheel drive.
It may not be as potent as the 542-hp Panamera Turbo, or the crazy 671-hp Panamera Turbo S E-Hybrid, but let's get real here for a second. The GTS can blast from 0 to 100 km/h in 4.1 seconds, which is more than thrilling. The more powerful variants will get you up to speed a few tenths quicker, which is pointless if we're stuck in traffic on the way to work.
Simply put, the GTS is a worthwhile expenditure above the base and S trims, which rely on six-cylinder engines. The V8's burble at idle and roar at wide-open throttle is a sure-fire way to make the commute that much more enjoyable, even if we'll never get to fully exploit this car's potential on public roads—legally and safely, anyway.
If we drive the 2019 Porsche Panamera GTS like a grandma, we could net a fuel economy average of close to 10 L/100 km. With a mix of relaxed cruising and frequent bursts of speed, we'll approach the 13 L/100 km mark. That's not bad.
And those bursts of speed are easily obtainable with the Sport Response button. By pressing it, we get 20 seconds of no-holds-barred, full-boil power from the car's powertrain, making passing a slow-moving vehicle or merging into a faster highway lane a piece of cake.
This car is surprisingly agile for size and weight—the GTS Sport Turismo tips the scale at 2,089 kg (4,605 lbs)—and feels buttoned down during spirited driving. On the other hand, it never feels light and those wide tires make the Panamera less manoeuvrable in the shopping mall parking lot.
The Panamera's interior can be dressed up with a variety of colours, and our GTS tester was equipped with seats wrapped in a mix of leather and Alcantara. However, some trim packages are pricey, such as the one in our test car that adds red stitching and red seats belts for a hefty sum of $3,980. Fit and finish is obviously top-notch. We strongly recommend dishing out the $880 asked for soft-close doors, because they're so well insulated only a good swing will close them shut.
The infotainment system and touch-sensitive centre console switchgear boast haptic feedback, which means there's a slight vibration acknowledging the Panamera is responding to our finger contact. It works well, but there are some ergonomic miscues, such as the volume wheel that's awkwardly located behind the shift lever, or the lack of wheel-mounted buttons for skipping songs. We partially solved this problem by programming the "skip forward" feature on the hotkey button (the one with a diamond-shaped icon). Apple CarPlay is available, but not Android Auto. The centre vent located beneath the infotainment screen, which can only be configured on said screen, is a hassle.
There isn't much difference between the regular Panamera and the Sport Turismo, as they're both hatchbacks. Cargo space increases by only 50 litres in the Sport Turismo, and versatility-wise, it's not a viable alternative to a Mercedes-Benz E-Class Wagon or a midsize SUV. There's enough back-seat room for two adults, maybe a child in the middle seat, but no more.
Priced at $153,300 before freight and delivery charges, the 2019 Porsche Panamera GTS Sport Turismo doesn't come cheap. Especially when we consider that a Mercedes-Benz E 63 S 4MATIC+ wagon starts at $120K and comes with a 602-hp, twin-turbo V8. Our optioned-up tester cost about $180K. However, we get a supremely comfortable road rocket, one that draws stares wherever it goes and is arguably a more desirable piece of machinery than a station wagon. In addition, the GTS has more character than the Panamera Turbo at a more affordable price point, and that's definitely a plus.
Test drive report
Test model

2019 Porsche Panamera

Trim level
GTS Sport Turismo
Price range
$98,300 – $212,900
Price as tested
125 600 $
Warranty (basic)
4 years/80,000 km
Warranty (powertrain)
4 years/80,000 km
Fuel economy (city/highway/observed)
13,4 / 10,1 / 12,0 L/100km
Options
N/A
Competitive models
Aston Martin Rapide, Audi A8, Bentley Flying Spur, BMW 7 Series, Jaguar XJ, Karma Revero, Lexus LS, Mercedes-Benz S-Class, Tesla Model S
Strong points

Lustful V8 engine
Unique looks
Comfortable and sumptuous cockpit

Weak points

Fussy centre vent adjustments
Sport Turismo not much more versatile than regular Panamera
High price

Editor's rating
Fuel economy
Very efficient on the highway, not so much around town.
Comfort
Excellent seats, optional massaging function, superb ride quality.
Performance
Zero to 100 in 4.1 seconds, top speed of 289 km/h. Stellar.
Infotainment
Great Bose stereo and lots of system features, but some ergonomic flaws, and no Android Auto.
Driving
Dynamically, the Panamera GTS is surprisingly solid.
Overall
Somehow, the GTS manages to show off a little more character than the Panamera Turbo, which is also less expensive. It's win-win.