2019 Infiniti QX50: A Softer Side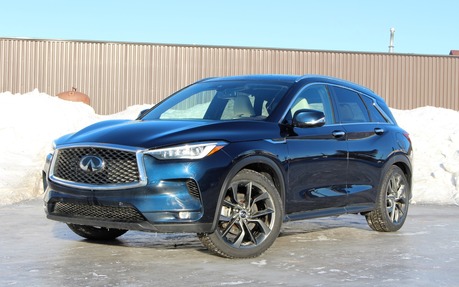 Out of the three Japanese luxury brands on our market, two are struggling with sales decreases almost every year for the past decade. While business is good at Lexus, Acura and Infiniti seem to have lost their identity along the way.
It's particularly challenging for Infiniti, the least successful of these three brands, at least from a sales perspective in Canada and the United States. New products are few and far between, the recently launched Infiniti QX30 subcompact is already dead, and the brand's quest to conquer the European market ultimately failed. Still, Infiniti isn't ready to give up the fight, and introduced an all-new QX50 compact crossover last fall.
And when we say all new, we mean it. Just about nothing has been saved from the first-generation model, which started life as the Infiniti EX. The new QX50's dimensions are more in line with the competition's, which includes heavy-hitters such as the BMW X3, the Audi Q5 and the Mercedes-Benz GLC, but also the Acura RDX, the Buick Envision, the Lincoln Corsair and the Lexus NX.
The 2019 Infiniti QX50 looks good, with just-right proportions, a muscular stance and an elegant design. On the other hand, nothing really makes it stand out from its rivals, aside perhaps from the extremely lustrous paint job.
The QX50's cabin has a bit more flair, as our AUTOGRAPH test vehicle boasts quilted and perforated leather upholstery, open-pore wood and suede trim. However, the white leather in this fully loaded variant can get dirty pretty quickly if we're not careful—the other trim levels offer graphite and wheat cowhide colours. Our tester's interior, while beautifully finished, bears a peculiar mix of white, black, brown, blue and silver.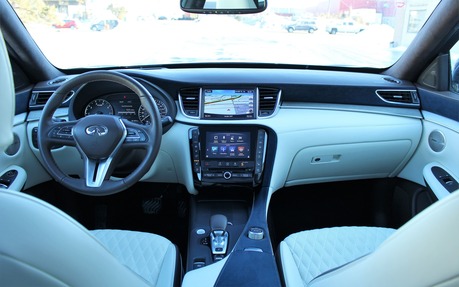 Ergonomically, there's little to fault in the QX50. The driving position is right, the steering wheel switchgear is correctly spread out, and there's a multifunction knob on the centre console for browsing through the infotainment system. We also appreciate that the centre stack still houses physical buttons for setting temperature and fan speed. On the other hand, the two touchscreens lack cohesion, as the top one's navigation map graphics look like they were designed in the early 2000s. The bottom screen has a more modern feel to it, with a glossy finish like on a digital tablet. Overall, the system works well, but it's not the easiest to use while driving.
Space is adequate for a compact luxury SUV, although we would've liked a little more front and rear legroom. As for cargo space, it's rated at 895 to 1,048 litres with the rear seat in place—its cushion slides fore and aft, which explains the variable volume—and 1,823 litres with the seatbacks folded down. Simply put, the QX50 has one of the most spacious cargo holds in its segment, right up there with the Acura RDX and the Jaguar F-PACE.
The biggest news regarding the 2019 Infiniti QX50 is its newly developed engine, which the company calls VC-Turbo—for Variable Compression. In a nutshell, this turbocharged, 2.0-litre four cylinder uses a few extra moving parts to raise or lower the pistons' reach, thus varying the compression ratio. Efficiency is increased when the ratio climbs to 14:1, while power is increased when the ratio drops to 8:1. The engine produces a maximum of 268 horsepower as well as 280 pound-feet of torque from 1,600 to 4,800 rpm. Curiously, towing capacity is set at 1,360 kilograms (3,000 pounds), but only for the two most expensive trim levels.
On paper, this all seems fantastic. In real-world driving, though, we weren't as impressed, and that partially has to do with the continuously variable automatic transmission the engine is paired with, which doesn't feel very sporty. Performance is good, but not great, and at wide-open throttle, it doesn't feel like we're exploiting the announced peak torque. Many other luxury brands offer turbo 2.0-litre engines that are just as powerful, or even more.
As for the promised fuel economy, which was the whole point of the VC-Turbo technology in the first place, it also falls slightly below expectations. The QX50 boasts city/highway ratings of 10.0/7.8 L/100 km respectively, for a class-leading combined average of 9.0 L/100 km—hybrids and PHEVs excluded. Most other compact luxury SUVs hover around the 10 L mark.
On a round trip from Montreal to Toronto in the month of February, we ended up with an average of 9.5 L/100 km. So if we're driving at 100 km/h, or higher to follow the traffic on highway 401, the VC-Turbo mill obviously won't be running at full efficiency.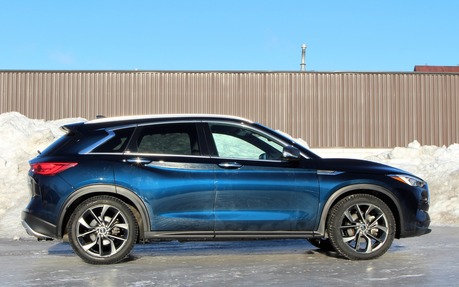 Even if the QX50 manages to be a few tenths of a litre more frugal than the RDX, the X3 or the Q5, we have the question the complexity of this engine and its long-term durability. We're not saying it won't be reliable, but as a measure of precaution, we'd recommend leasing the QX50 instead of buying it for now. The vast majority of luxury-brand customers prefer leasing anyhow.
Performance and fuel consumption aside, what we were impressed with is the ride quality of the 2019 Infiniti QX50. It's smooth, quiet and refined, making our road trip relaxing and comfortable. In addition, the 16-speaker Bose sound system that's available in most trim levels is terrific.
Pricing starts at $44,490 before freight and delivery charges, and for that sum, we get a panoramic sunroof, LED headlights, a power liftgate, dual-zone climate control, heated front seats and steering wheel as well as the usual battalion of advanced safety features. Our loaded AUTOGRAPH test vehicle is listed at $57,990. A very competitive price range.
While the old QX50 offered better performance and handling with its 325-horsepower V6 and sportier suspension setup, it was smaller and way less versatile than this new generation. The QX50 may not be as sharp as the BMW and the Mercedes-Benz, but for those seeking a peaceful drive, a well-appointed cabin and tasteful styling, it's worth a look. Once the most direct Japanese rival of the German brands, it seems as though Infiniti is showing a softer side with the QX50.
Test drive report
Test model

2019 Infiniti QX50

Trim level
AUTOGRAPH
Price range
$44,490 – $57,990
Price as tested
CA$57,990
Warranty (basic)
4 years/100,000 km
Warranty (powertrain)
6 years/110,000 km
Fuel economy (city/highway/observed)
10.0 / 7.8 / 9.5 L/100km
Options
N/A
Competitive models
Acura RDX, Audi Q5, BMW X3, Buick Envision, Cadillac XT5, Land Rover Range Rover Evoque, Lexus NX, Lincoln MKC, Mercedes-Benz GLC, Volvo XC60
Strong points

Cabin fit and finish
Great cargo space
Quiet and refined ride

Weak points

Unknown long-term engine durability
Could offer more legroom
Infotainment system needs work

Editor's rating
Fuel economy
Good, although in real-world driving, it doesn't quite deliver the promised figures.
Comfort
Excellent seats and great ride quality. All that's missing is more legroom.
Performance
By design or because of the continuously variable transmission, the VC-Turbo engine doesn't feel as muscular as the numbers suggest.
Infotainment
Not the easiest system to use out there, and lacks Apple CarPlay and Android Auto integration.
Driving
Infiniti seems to have toned down the performance and handling of its newer models for more comfort and smoothness. That's not necessarily a bad thing.
Overall
A stylish, comfortable and well-executed SUV. But the QX50's complex new engine needs more time to prove itself.