Bugatti Unveils Super-exclusive, 1,577-Hp Centodieci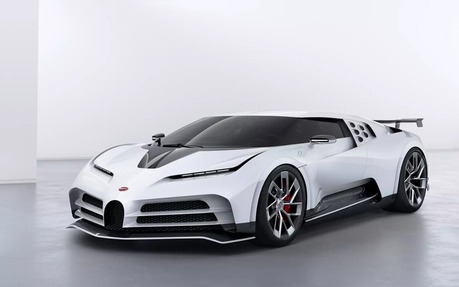 Bugatti promised to make a big announcement this week at the Pebble Beach Concours d'Elegance in California. Well, this is it. Meet the all-new Centodieci, a car that pays tribute to the classic EB110 from the early 1990s.
Despite its phenomenal speed, the latter wasn't as successful as the company had hoped and it contributed to Bugatti going bankrupt.
More than 20 years after Volkswagen bought the brand, we get the Centodieci. Just like the Divo last year, it is based on the Chiron, but it features unique bodywork and a few mechanical upgrades.
In fact, it's the quickest-accelerating Bugatti to date. The quad-turbocharged 8.0-litre W16 engine has been retuned to deliver 1,577 horsepower (99 more than the Chiron) and weight has been reduced by a 44 pounds. Acceleration from 0-100 km/h takes 2.4 seconds, which is one tenth quicker, and 0-300 km/h is completed in 13.1 seconds, a half-second improvement.
The Chiron retains its top-speed crown, however: 420 km/h vs. 380 km/h for the Centodieci.
Some of the design elements inspired from the EB110 include the shape and the arrangement of the front grilles, the hidden A-pillars on each side of the windshield and of course the new side air intakes with five round openings.
At the rear, the quadruple tailpipes are stacked two by two within the huge diffuser and the massive wing above them generates more than 200 pounds of downforce.
Bugatti also claims that the Centodieci's levels of lateral acceleration are similar to those of the more dynamically focused Divo.
One more thing: Only 10 units will be built and, unsurprisingly, they're all sold already. Buyers reportedly had to pay around $11.8 million, more than double the price of the Chiron… yet far less than the La Voiture Noire that made headlines earlier this week.