2020 Audi RS 6 Avant is Coming to Canada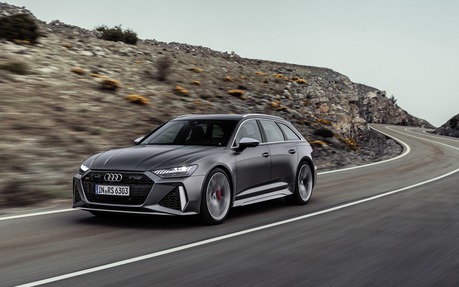 The fourth-generation Audi RS 6 Avant will finally be available in Canada sometime in 2020, much to the delight of performance enthusiasts looking for a car that's equal parts sporty, elegant and versatile.
While many automakers are obsessed with SUVs and crossovers, Audi Canada has decided to expand its RS lineup with a juiced-up wagon. This one boasts a twin-turbocharged 4.0-litre V8 engine rated at 590 horsepower and 590 pound-feet of torque, a ZF eight-speed automatic transmission and Audi's quattro all-wheel drive system. Engineers claim 0-100 km/h acceleration takes just 3.6 seconds.
Mild Hybrid
The 2020 Audi RS 6 Avant also uses a mild hybrid system consisting of a belt-driven alternator and a 48-volt lithium-ion battery, allowing it to coast silently for up to 40 seconds at speeds between 55-160 km/h.
This improves fuel economy on the highway, much like the cylinder deactivation technology that shuts off four of the eight cylinders when cruising under light load.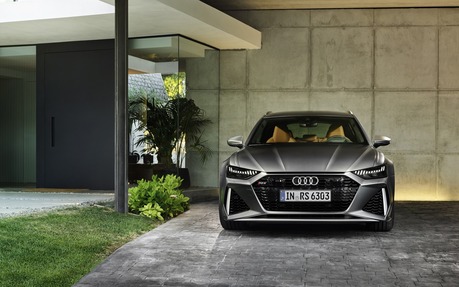 Wicked Looks
The muscular new RS 6 Avant makes another powerful statement when it comes to styling. Largely inspired by DTM cars, it features a widebody configuration with 40-millimetre fender extensions that accommodate the available 22-inch alloy wheels. Only three body sections are shared with the conventional A6 Avant: the roof, the front doors and the rear liftgate.
Up front, you'll notice a redesigned power-dome hood and a super-thin opening just above the Singleframe grille, which is lower, wider and flanked by oversized air intakes with vertical bars. On the sides, the rocker panels as well as the rear doors and fenders are unique to the RS 6 Avant.
A roof-mounted rear spoiler helps generate downforce when driving on a track, where you can exploit the electronically limited top speed (250, 280 or 305 km/h depending on the model you purchase). Below are two oval-shaped exhaust tips integrated to a perfectly designed rear diffuser.
The Daytona Grey Matte paint and the aluminum accents you see on the pictures are part of the aluminum design package. Alternatively, customers can opt for a carbon or black design package.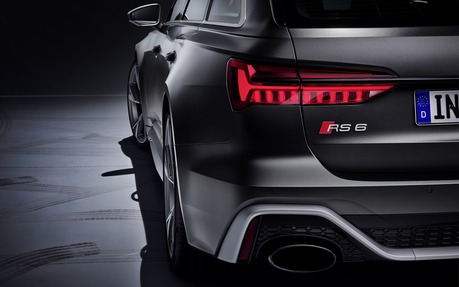 High-tech Cabin
The interior of the RS 6 Avant we were shown by Audi featured cognac-coloured upholstery, heated and ventilated sport seats and a multifunction sport steering wheel that adds an RS button for switching to RS1 or RS2 mode (similar to BMW's M1 and M2 buttons).
The dashboard is identical to the one in the regular A6, except that the 12.3-inch Audi virtual cockpit behind the steering wheel and the 10.1-inch upper screen on the centre stack feature a unique display inspired from the mythical Audi Ür-Quattro.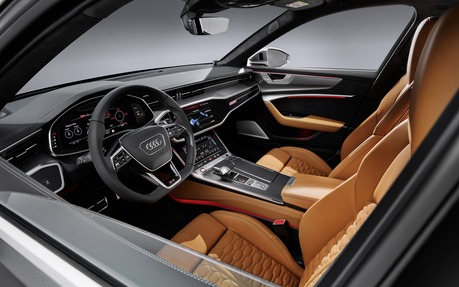 Outstanding chassis
There are two types of suspension to choose from. The first is an air suspension with electronically controlled dampers, while the second is called Dynamic Ride Control and combines steel springs with adjustable hydraulic shocks. Both are governed by the Audi drive select system and its various drive modes.
Need to stop in a hurry? The RS 6 Avant boasts phenomenal braking power thanks to available 440-millimetre ceramic disc brakes with massive, 10-piston callipers up front. The standard brakes aren't too shabby with their 420-millimetre steel front discs. In both cases, the rear discs are 370 millimetres wide.
Another marvel of handling is the four-wheel steering system that pivots the rear wheels five degrees in the opposite direction to shorten the turning radius and facilitate low-speed manoeuvres. Conversely, at higher speeds, those rear wheels turn in the same direction as the front ones (up to two degrees) to improve stability during quick lateral transitions.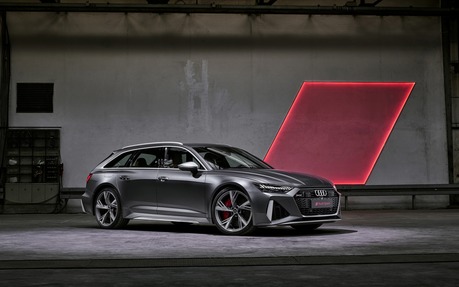 RS Models are Popular in Canada
Canada is the fifth largest market for the Audi Sport division, which is why the new 2020 RS 6 Avant is finally joining the lineup. Other RS models are expected to follow in the upcoming weeks and months, so come back to The Car Guide regularly if you don't want to miss a beat.