2019 Toyota Avalon: Feeling Younger Than Ever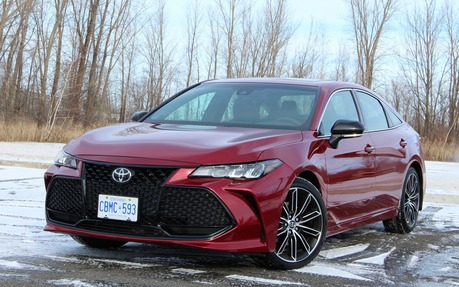 Long considered a dull, yet spacious and indestructible large sedan, the Avalon sure has changed. The previous generation was admittedly a little sharper and contemporary than before, but this newly redesigned Avalon seems to have shed its tweed slacks and suspenders for an Adidas training suit.
What happened? Well, Toyota figured it has to infuse more character and style into its lineup of cars, and the current-generation Toyota Camry is the perfect example of that shift. The Avalon is just following the trend, with a much sportier appearance and improved driving dynamics.
But is it too late?
The full-size sedan segment is shrinking at an alarming rate. After the 2019 model year, the Chevrolet Impala, the Buick LaCrosse, the Ford Taurus and the Kia Cadenza will retire, reducing the Avalon's competition to the newly introduced Volkswagen Arteon, the Nissan Maxima as well as the archaic Dodge Charger and Chrysler 300 cousins. Through the first half of 2019, Avalon sales were down 17% compared to the previous year. That's not good for a car that's just been redesigned.
In Canada, two trim levels are offered; the sportier XSE and the plusher Limited. They're both equipped with a 3.5-litre V6 that develops 301 horsepower and 267 pound-feet of torque, which feeds all that to the front wheels via an eight-speed automatic transmission. At wide-open throttle, the Avalon sounds nasty until we figure out that the XSE variant includes an artificial in-cabin sound generator. The Charger R/T must be laughing its tailpipes off.
On the other hand, this big sedan is fun to drive, and thanks to its stiff new platform, it doesn't even mind being pushed around on a twisty road. Oh, it's still no match for a BMW 5 Series or the aforementioned HEMI-powered Dodge, but there's a world of difference between this Avalon and the previous ones.
The combined city/highway rating is set at 9.4 L/100 km, and we completed our test week with an average of 9.9 L/100 km. Not bad.
The XSE also looks the part, with athletic proportions, a low roofline and a massive front grille that's ready to nip the Maxima's butt. It's mostly cosmetic, since only a small portion of said grille is actually functional. The rear end is just as artsy, topped off with four exhaust tips, and overall, the only brightwork left on the XSE is some window trim. If the Camry XSE's design is overdone, this Avalon is much more tasteful.
Inside, there's a patchwork of faux-suede and faux-leather upholstery, red contrast stitching and alloy pedals to match the car's sporty feel. The dashboard design is clean and cohesive, unlike what was found in the previous generation, while fit and finish is a tad less posh than in the Lexus ES—the Avalon's mechanical cousin.
A 9.0-inch touchscreen is standard in the 2019 Toyota Avalon, as is a 14-speaker JBL sound system, SiriusXM, four USB ports, wireless phone charging and Apple CarPlay integration. Sorry, no Android Auto yet. The 2020 Avalon will soon go on sale, and the XSE will be demoted to an eight-speaker system, so the 2019 edition will be more interesting for audiophiles.
Toyota's Entune 3.0 interface works reasonably well, but it's not the most user-friendly out there. At least the screen is big, which makes finger poking easier. The XSE doesn't include navigation—although one can use the Scout GPS smartphone app and connect it to the screen—but the Limited trim does.
As big as the Avalon is on the outside, it's not all that spacious inside. The problem is the lack of headroom, due to the low roofline, which forces us to tilt the seatback angle that might not be upright enough for some people. Two adults will comfortably sit in back, but three across is pushing it. Simply put, we shouldn't choose an Avalon for more interior space than in the Camry, because it's not necessarily the case. However, the trunk is huge at 456 litres.
Pricing starts at $42,790 before freight and delivery charges for the Avalon XSE, while the $47,790 Limited trim adds a heated steering wheel, ventilated front and heated rear seats, real wood trim, head-up display, a 360-degree camera system, a power-adjustable steering column, semi-aniline leather seating and other minor stuff. We'd go for the XSE, as it's only a couple grand more expensive than a Camry XSE V6, and the Limited trim is pricier than a base Lexus ES 350, which comes with a better warranty—and, well, a Lexus badge.
We'd also take the Avalon before a Maxima, a Charger or a 300, as it benefits from a better reputation a reliability and its resale value is higher. However, the Toyota isn't as gorgeous or as talented as the Arteon fastback—which we also like a lot.
Test drive report
Test model

2019 Toyota Avalon

Trim level
XSE
Price range
$42,790 – $47,790
Price as tested
CA$42,790
Warranty (basic)
3 years/60,000 km
Warranty (powertrain)
5 years/100,000 km
Fuel economy (city/highway/observed)
10.9 / 7.6 / 9.9 L/100km
Options
N/A
Competitive models
Buick LaCrosse, Chevrolet Impala, Chrysler 300, Dodge Charger, Ford Taurus, Kia Cadenza, Nissan Maxima, Volkswagen Arteon
Strong points

Sporty new design
More engaging to drive
Reliability and resale value

Weak points

No heated steering wheel (XSE)
No Android Auto integration
Low on headroom

Editor's rating
Fuel economy
Not bad for a big sedan with a strong V6 engine.
Comfort
Refined ride, although the XSE's suspension is a little stiff for its own good.
Performance
The Avalon's V6 engine is terrific, and well suited to the car's character.
Infotainment
We're not big fans of the Entune interface, even though the system offers plenty of features. No Android Auto is a bummer.
Driving
It's not a true sports sedan, but the stiff new platform enhances the car's handling characteristics.
Overall
A big sedan that's much more enjoyable than before, and much nicer to look at, too.