2020 GMC Acadia AT4: The Proper Uniform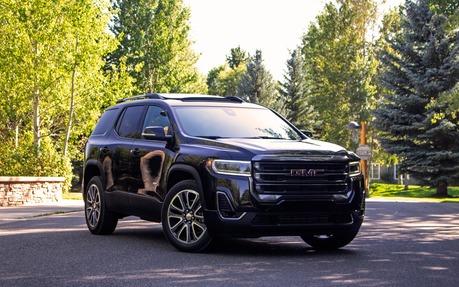 GMC is in the midst of a transformation. The GMC Sierra and GMC Sierra HD pickups are all-new, the AT4 sub-brand is about to expand to the entire lineup and the Acadia midsize crossover sits pretty thanks to a makeover for the 2020 model year.
This story is about the latter, which we recently spent time with on the roads of Wyoming.
Looking Dapper
General Motors has often been criticized for selling the same product across different brands by simply swapping the badges. The new Cadillac XT6 is just the latest example.
With the 2020 Acadia, however, GMC shows how different it can be. While the architecture is essentially the same that the Chevrolet Traverse and Buick Enclave currently use, engineers made it a tad shorter exclusively for the Acadia and the result is a much more compact vehicle. Even the Chevrolet Blazer, which also relies on this platform, stands out from the Acadia.
The 2020 model year brings a mild facelift including a new grille and new headlights. The rear end has also been revised and a rugged new AT4 variant joins the lineup as promised.
A turbocharged 2.0-litre four-cylinder engine makes its debut in the GMC Acadia, as well. Producing 230 horsepower, it slots just above the standard, naturally aspirated 2.5-litre unit, which delivers 193 horsepower.
In AT4 trim, as tested, the only option is a 3.6-litre V6 rated at 310 horsepower and 271 pound-feet of torque. The automatic transmission it's mated to features nine forward gears instead of six and GM's dual-clutch all-wheel drive system comes standard.
As for styling, the Acadia AT4 sports black-painted 17-inch wheels, off-road tires, a black grille and some exclusive interior accents. The mostly cosmetic package replaces the outgoing All Terrain model.
A Bit Tight for Seven
Since the Acadia is shorter than its platform-sharing cousins, the interior is closer in size to that of a Blazer or Honda Passport. GMC insisted on keeping the third-row option, but you can have it in five-passenger configuration if you prefer.
Unsurprisingly, rear-seat space is tighter than in the Acadia's competitors, especially when it comes to legroom. These confines are best used by kids or as a last resort.
The second row consists of a standard three-passenger bench or a pair of available captain's chairs, like in our tester. The latter prove immensely comfortable and offer tons of room for the head, shoulders and legs. Of course, you can only sit six people instead of seven.
With the third-row seats folded, the 2020 GMC Acadia can pack as much as 2,237 litres of cargo, making it way more practical than a Blazer or Jeep Grand Cherokee. It can also tow loads of up to 4,000 pounds (1,814 kilograms).
Surprisingly Refined
On the road, the refreshed Acadia shows surprisingly good manners and the cabin is quiet. Available caramel-coloured leather adds a rich, lovely touch to the vehicle. The interior design is extremely well executed and the various controls are intuitively positioned.
The push-buttons for the transmission took us a bit longer to get used to, however. The obvious benefit here is a cleaner centre console with extra storage, not to mention a dedicated rotary dial for the AWD system. You can disconnect the rear axle to improve fuel economy in light-load situations or alternate between several drive modes.
While the 2020 GMC Acadia looks modern and sophisticated, it doesn't take long to realize that some of the materials feel cheap or that build quality is sub-par.
As far as the infotainment system is concerned, we have nothing but good words for GMC. Similar to every other GM product, the interface is easy to read and user-friendly with those big, coloured icons. Many high-tech gadgets come standard including Android Auto and Apple CarPlay integration, a Wi-Fi hotspot (data subscription required) and a Valet drive mode.
Magnificent Engine
The biggest strength of the new Acadia continues to be the 3.6-litre V6. At a time when downsized turbo-fours become commonplace, this engine delivers solid power and torque along with a sweet soundtrack. It definitely likes to rev and it makes the most of the nine-speed autobox to produce quick acceleration.
Despite GM's attempt to improve fuel economy via the nine-speeder, the Acadia AT4 is a thirsty beast. During our brief time with the vehicle, we could hardly achieve anything better than 10 L/100 km. We're looking forward to a future road test with the new four-cylinder engine to find out how efficient it is.
The 2020 GMC Acadia AT4 is not in a class of its own. Luckily for the automaker, it is nicely executed overall and the fact that it straddles the fence between five- and seven-passenger midsize SUVs makes it an interesting niche model.
The updated Acadia also marks a refreshing departure from GM's habit of recycling the same vehicle across different brands. It looks and feels unique, while the AT4 variant is like a good soldier that proudly wears its special uniform.
Test drive report
Test model

N/A

Trim level
SLT 3.6 AWD
Price range
N/A
Price as tested
N/A
Warranty (basic)
3 years/60,000 km
Warranty (powertrain)
5 years/100,000 km
Fuel economy (city/highway/observed)
13,1 / 9,4 / N/A L/100km
Options
N/A
Competitive models
N/A
Strong points

Excellent V6 engine
Attractive and comfortable interior
Exemplary infotainment system

Weak points

Thirsty V6
Tight third-row seats
Questionable fit and finish

Editor's rating
Fuel economy
During our brief time with the Acadia, we could hardly achieve anything better than 10 L/100 km.
Comfort
This is a spacious and comfortable SUV, although the third-row seats are tight.
Performance
When equipped with the 3.6-litre V6, the Acadia has the power to be quick and capable.
Infotainment
Simplicity, ease of use and the level of standard technology makes the system a model for competitors.
Driving
Midsize SUVs are seldom fun to drive and the Acadia is no exception. Sporty drivers will like the quick acceleration, though.
Overall
Overall 4/5 : The 2020 Acadia is a surprisingly good SUV with enough uniqueness and versatility to remain competitive. It's no longer a clone of Chevrolet and Buick products.