2020 Hyundai Palisade: Standing Tall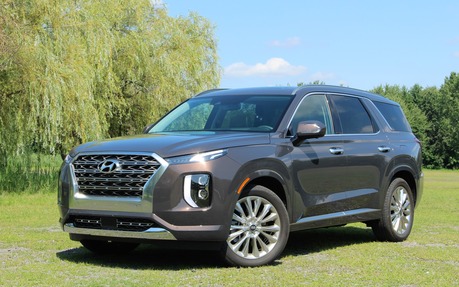 In the U.S. and Canada, about 1.5 million midsize, three-row SUVs are sold each year. That's a important segment not just in size, but in profitability, and everyone obviously wants in. Hyundai does too, and it recently introduced the 2020 Palisade.
Oh, it's not the brand's first effort to produce such a vehicle. It sold the Veracruz from 2007 to 2012, then the Santa Fe XL from 2013 to 2019. However, the new Palisade is generating more interest than its two predecessors.
Why? Because it's bigger. Compared to the Santa Fe XL, the 2020 Hyundai Palisade rides on a longer wheelbase, but it's the extra width that really makes the latter a more imposing vehicle. It also allows the Palisade to one-up its predecessors and many other midsize SUVs by offering room for up to eight passengers. Or seven passengers if we opt for the second-row captain's chairs.
Hyundai also worked hard to make this SUV a family-friendly vehicle not only because of its interior space, but also for its versatility. The second-row chairs in our test vehicle can be folded and moved forward at the touch of a button, so it's fairly easy for children to get in and out of the rearmost row without help from an adult. Uplevel trims of the SUV also include power-folding third-row seatbacks. There are plenty of cupholders and bottle holders front and back in addition to several USB ports so everyone can keep their portable devices juiced up.
The 2020 Hyundai Palisade is among the most spacious vehicles in its class, up there with the Honda Pilot and the Chevrolet Traverse. With all seats occupied, cargo volume is rated at an above-average 509 litres, although many rivals offer more space with the third row folded into the floor, such as the Volkswagen Atlas and the Subaru Ascent. Maximum cargo volume is set at 2,447 litres, which only the Pilot, the Traverse and the Atlas can beat by a significant margin.
Power from a 3.8-litre V6 engine that develops 291 horses and 262 pound-feet of torque, managed by an eight-speed automatic transmission. Only the base trim level offers a front-wheel drivetrain, and all others include AWD.
It's a capable powertrain that's up to the task of moving this big SUV down the road, in addition to being fairly efficient with a combined city/highway rating of 11.1 L/100 km. Many competitors can do better, like the Ford Explorer, the Subaru Ascent and the Mazda CX-9, but they're equipped with turbocharged four-cylinder engines. Despite its bigger size and 4,460-lb (2,022-kg) curb weight, the Palisade consumes less fuel than the Santa Fe XL and the old Veracruz.
During a recent family road trip from Montreal to New Hampshire and back, which obviously involved a lot of highway driving, we averaged 9.8 L/100 km. Like many other midsize SUVs, the 2020 Hyundai Palisade can tow up to 5,000 lbs (2,268 kg) when equipped with trailer brakes.
The Palisade is also equipped with an easy-to-use infotainment system, which is more modern than what's found in other Hyundai products, in addition to a glossy 10.25-inch touchscreen and a 630-watt Harman/Kardon surround sound system in the costlier trims. There's a row of buttons on the centre stack to quickly access the system's main functions, and we also get Apple CarPlay and Android Auto integration as standard.
We're also stuck with a push-button transmission selector, which isn't as intuitive as a conventional shift lever. The drive mode rotary dial offers a bunch of various settings, including Sport and Eco, but also off-road modes such as sand and mud. Who'll take this Hyundai off the beaten path is anyone's guess, but we'll assume it can bring us to our cabin at the end of a dusty trail without too much trouble. We wish the vehicle's turning diameter would be a little narrower, which would help during parking manoeuvres at the shopping mall.
We're less impressed with some of the advanced driving aids aboard the 2020 Hyundai Palisade, notably the lane keep assist system that wiggles the steering wheel in our hands when activated. Also, the lane departure warning is a little too sensitive. What happens is that we get irritated by this and switch them off, which defeats the purpose of having them in the first place. On the other hand, the adaptive cruise control works extremely well, even in stop and go traffic.
Priced from $38,499 before freight and delivery charges, the Palisade is a good deal and includes quite a few standard comfort and convenience items. The Essential AWD and Preferred AWD trims are the logical choices, which cost $40,499 and $45,499 respectively. Our loaded and very luxurious Ultimate tester checks in at $53,999, which is still a very reasonable sum.
For those who haven't noticed, across town or across the street, the Kia dealership also offers a new midsize, three-row SUV called the Telluride. It's just as big as the Palisade and shares its mechanical components, and differs largely in its interior and exterior design. We just have to figure out which one we like best.
However, stepping out of the grocery store on a Sunday afternoon, we came across two buddies who were walking around the Palisade, impressed with how big and stylish the SUV was, but also how far the brand has come since they first arrived in Canada. We don't know why, but people still compare Hyundai's current products with the Pony, the Stellar and the Excel. A lot can change in 30 years, you know.
One thing's for sure: the 2020 Hyundai Palisade has what it takes to give its competition some serious headaches. All that's missing, perhaps, is a hybrid powertrain to take on the Ford Explorer and the Toyota Highlander.
Test drive report
Test model

2020 Hyundai Palisade

Trim level
Ultimate
Price range
$38,499 – $53,999
Price as tested
53 999 $
Warranty (basic)
5 years/100,000 km
Warranty (powertrain)
5 years/100,000 km
Fuel economy (city/highway/observed)
12,3 / 9,6 / 9,8 L/100km
Options
N/A
Competitive models
Chevrolet Traverse, Dodge Durango, Ford Explorer, GMC Acadia, Honda Pilot, Kia Telluride, Mazda CX-9, Nissan Pathfinder, Subaru Ascent, Toyota Highlander, Volkswagen Atlas
Strong points

Comfortable and spacious cockpit
Lots of standard and available features
Strong and capable drivetrain

Weak points

Irritating lane keep assist system
Fuel economy could be a little better
Fairly wide turning diameter

Editor's rating
Fuel economy
Nothing spectacular here, but during highway drives, we can dip below 10.0 L/100 km.
Comfort
Space for everyone, even in the third row.
Performance
The V6 engine is strong and we like its refinement, too.
Infotainment
Plenty of features as well as standard Apple CarPlay and Android Auto integration.
Driving
As far as three-row SUVs go, the Palisade is easy to drive. We'd like a narrower turning diameter, though.
Overall
Hyundai's best midsize SUV so far, and consumers should take notice.