2020 Audi RS 7 Sportback: Powerful, Dynamic and Stylish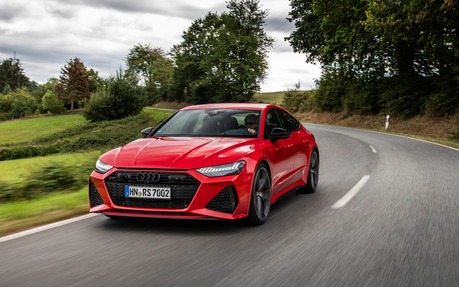 FRANKFURT, Germany—The stereo is rocking Tom Cochrane's Life is a highway and the speedometer needle in the 2020 Audi RS 7 Sportback I'm driving is pointing to 210 km/h.
If I were in any other part of the globe, cops would pull me over and I would probably be listening to AC/DC's Highway to hell instead. However, since I'm driving on the autobahn between Frankfurt and Heidelberg, I can legally fly by at more than 200 km/h, helped by the RS 7 Sportback's incredible poise and stability.
At such high velocities, you must keep your eyes far down the road, analyze the flow of traffic and, most importantly, be ready to hit the brakes at any time to avoid rear-ending a vehicle doing "just" 160 km/h. It's not a problem at all for the RS 7 Sportback, which boasts enormous 420-mm discs with 10-piston callipers up front.
On a good day, traffic-wise, this car can reach a top speed of 250 km/h—or 280 km/h with the Dynamic Package and 305 km/h with the Dynamic Package Plus. While most customers in North America will never drive that fast, it's always pleasant to know that you could if the law allowed it.
590-horsepower V8
The 2020 Audi RS 7 is a technical marvel. The twin-turbocharged V8 engine crammed under the hood produces 590 horsepower and 590 pound-feet of torque, enough to send you from 0-100 km/h in a mere 3.6 seconds.
But wait, there's more: a mild hybrid system allows the car to coast for up to 40 seconds with the engine turned off at speeds between 55-160 km/h, improving fuel economy on the highway. In addition, there's a cylinder deactivation technology that shuts off four of the eight cylinders when cruising under light load.
Following our stint on the autobahn, we headed to an area where hillclimbs were quite popular during the '50s and '60s. Despite the many tight turns and elevation changes, the RS 7 Sportback proved very nimble thanks to a standard four-wheel steering system that pivots the rear wheels five degrees in the opposite direction to improve manoeuverability. For a car that stands more than five metres long, it was impressive.
Handling is further enhanced by steel springs with three-position adjustable hydraulic shocks or, optionally, an air suspension with electronically controlled dampers. In both cases, the RS 7 Sportback can go from docile and forgiving to furiously aggressive on demand.
Engineers added an RS button on the steering wheel allowing you to create distinct driving profiles. For example, you can dedicate RS 1 to softer settings that maximize passenger comfort and reserve RS 2 for more dynamic settings that increase performance in solo driving.
Wicked Looks
The split personality displayed by the 2020 Audi RS 7 Sportback is expressed visually by a new widebody configuration. This model is indeed 40-mm wider than a conventional A7 and its muscular fenders house 22-inch alloy wheels. Up front, the Singleframe grille is lower and broader, too.
In fact, the only body panels that are shared with the rest of the A7 lineup are the front doors, the roof and the rear hatch.
The 2020 Audi RS 7 Sportback will go on sale in Canada next spring. Prices have yet to be announced, but we expect them to be similar to those for the first generation, which ranged from $120,000 to $143,400.
Test drive report
Test model

2020 Audi A7

Trim level
55 TFSI Quattro Progressiv
Price range
N/A
Price as tested
N/A
Warranty (basic)
N/A
Warranty (powertrain)
N/A
Fuel economy (city/highway/observed)
N/A
Options
N/A
Competitive models
BMW 6 Series, Maserati Ghibli, Mercedes-Benz CLS
Strong points

Athletic stance
Impressive performance
Exceptional dynamics
Stability and comfort at high speeds

Weak points

High price
Costly options
Ride quality in Canada may take a hit
Infotainment touchscreen can be distracting

Editor's rating
Fuel economy
Mild hybrid technology reduces average fuel consumption by 0.8 L/100 km.
Comfort
The cabin is tremendously comfortable and quiet, even at ultra-high speeds.
Performance
The RS 7 Sportback delivers sports car-like performance.
Infotainment
The system is quite user-friendly, but can be distracting at times.
Driving
The adjustable suspension, four-wheel steering and all-wheel drive (with a rear bias) combine to create a very nimble five-door sedan.
Overall
This car boasts wicked looks, outstanding dynamics and spectacular performance.