A Remote-controlled Land Rover Defender is in the Works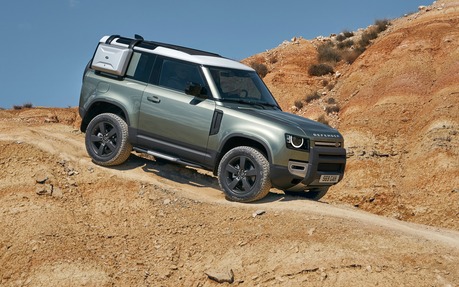 In the wake of Tesla's highly mediatized "Smart Summon" feature that gives cars valet-type functionality, another manufacturer is said to be busy developing a remote control system for its vehicles.
That would be Land Rover, which wants to utilize the all-new 2020 Defender's 3D camera technology to map the surroundings and allow drivers to control the Defender from the outside for low-speed manoeuvres in tricky off-road environments.
As product engineer Stuart Frith told Autocar, even with advanced traction systems, clever software and better visibility with cameras and other sensors, there is no substitute for checking the surroundings from outside the vehicle to get over obstacles.
"If you're in a tight spot and you're on your own, you can still get out of the car and 'spot it' yourself," he said.
According to Land Rover, its wearable "Activity Key" would need to be upgraded with the necessary controls while the Defender itself would get additional autonomous driving technologies specifically designed for off-road conditions.
Frith added the Defender's architecture is totally capable of operating such a system and confirmed the company has run prototypes with the remote control technology.
Legislation remains a big hurdle, of course, but we're curious to see how the whole thing would work out in real life.
In related news, Land Rover is also considering allowing owners to livestream footage of their excursions to the cloud using the Defender's electronic vehicle architecture (EVA 2.0) and Online Package.