Behold the 2020 Chevrolet Corvette Convertible!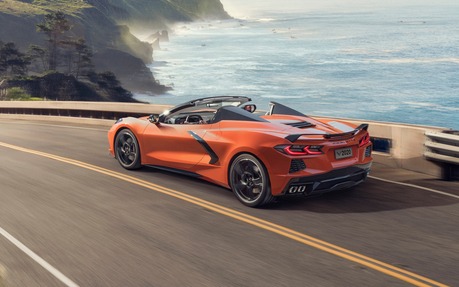 Following the world premiere of the coupe in July, the all-new 2020 Chevrolet Corvette Stingray Convertible was unveiled on Wednesday night during a special event held at the Kennedy Space Center in Cap Canaveral, Florida.
It will go down in history as the first Corvette Convertible with a mid-engine and a retractable hardtop.
According to General Motors, this eighth generation of the Corvette was engineered first and foremost as a convertible. The goal from the beginning was to make sure customers didn't have to sacrifice any functionality, performance or comfort when choosing this model.
The hardtop stows seamlessly into the body and, believe it or not, you will still be able to store two sets of golf clubs in the trunk even with the top down. The convertible also keeps the coupe's front storage compartment, which can fit an airline-spec carry-on and a laptop bag.
Obviously, replacing the previous softtop with a hardtop on the 2020 Corvette Convertible makes the cabin quieter and safer while giving the car a more natural coupe-like silhouette. Powered by six electric motors—a Corvette first—the two-piece top can be activated at speeds up to 50 km/h in just 16 seconds. It comes standard in a body-coloured finish, while a Carbon Flash metallic-painted roof is optional.
Styling is inspired by fighter jets, like the aerodynamically shaped nacelles on the tonneau cover influenced by the housing used for jet engines. They help reduce air recirculation into the cabin and add an exotic touch to the car. Between them is a power-adjustable rear window that doubles as a wind deflector. Not too far behind is a vent for mid-engine cooling.
As for the chassis, engineers specifically tuned the convertible's springs and dampers to achieve nearly the same performance as the coupe.
Motivation comes from the same naturally aspirated 6.2-litre LT2 V8 that delivers up to 495 horsepower and 470 pound-feet of torque via an eight-speed dual-clutch transmission. No manual gearbox will be offered.
While the coupe will enter production in late 2019 (the strike at GM should be over by that time), the new 2020 Chevrolet Corvette Stingray Convertible will follow at the end of winter or early spring. Canadian pricing has yet to be announced; based on the $7,500 premium required in the U.S., you should expect to pay nearly $80,000.