2020 Chevrolet Corvette Stingray: Already Fantastic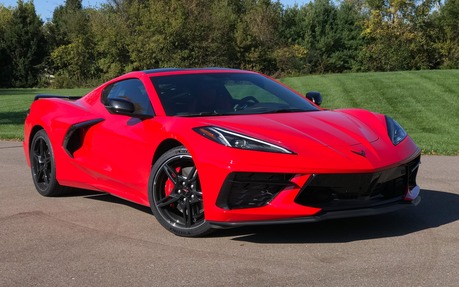 ANN ARBOR, Michigan—Two pre-production copies of the new, mid-engine 2020 Chevrolet Corvette Stingray were among the three dozen vehicles submitted to the North American Car of the Year (NACTOY) jury for three days of testing.
Both were 3LT models equipped with the essential Z51 performance package and virtually all the options on the menu. Painted in the Corvette's signature Torch Red, they were nearly identical, except that one featured the available carbon fibre removable roof panel. And naturally, both were manufactured at the Bowling Green assembly plant in Tennessee.
With its new proportions, including a cockpit and seats moved forward 16.5 inches compared to the outgoing generation, the new Stingray definitely has the look of an exotic sports car. Front-end styling is classic Corvette, though. There's even a hint of Camaro in the design of the rear section. The two sets of square tailpipes are unique to the Corvette.
Sporty yet Comfortable
While the C8 Corvette appears somewhat smaller and slimmer than its predecessor, it actually gained 137 millimetres in overall length and a few millimetres in width. The wheelbase and tracks are wider, too. Maybe the 6-millimetre lower profile creates this impression.
Accessing the driver's seat is easy even though the cushion is quite low. That's because the ultra-rigid aluminum body structure allowed designers to eliminate the broad door sills typically found on mid-engine sports cars. There is more than adequate room and the GT2 buckets in our tester were both incredibly supportive and comfortable. Two-position memory is also included.
We immediately felt at ease in the new 2020 Corvette despite some unfamiliar controls, such as the squared steering wheel designed to improved visibility and legroom. In fact, we were sold after just five seconds. Same thing for the tiny levers that you pull with your fingertips to start the engine or shift to reverse.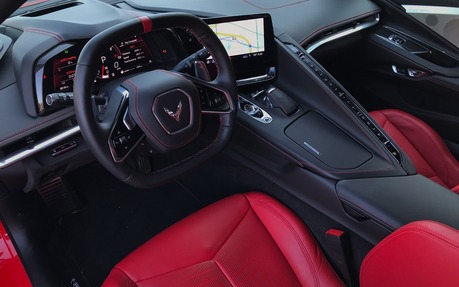 The nearby rotary dial allows you to choose one of six drive modes, while the minimalist buttons for the stability control, front-end lift and front camera systems are capped by a narrow yet surprisingly effective air outlet, plus the eight-inch centre touchscreen. The right part of the console is a row of 18 buttons for the HVAC system—again to free up space in the middle.
In front of the driver is a 12-inch high-resolution instrument cluster that adjusts to the drive mode you select. The steering wheel features some cleverly designed controls, a large Z button for accessing the sportier drive modes and hefty paddle shifters in a satin aluminum finish to manipulate the eight-speed dual-clutch transmission. A wide and flat dead pedal completes the cockpit.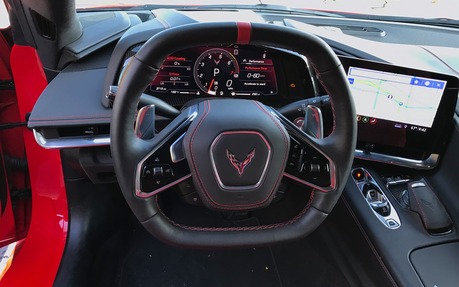 Power and Finesse
Press the aluminum button on the dashboard and the naturally aspirated 6.2-litre LT2 V8 roars to life. Whenever necessary, you can also activate the optional hydraulic lift system that raises the nose of the car 40 millimetres in 2.8 seconds to prevent damage on sloped driveways and speed bumps. You can even set up to 1,000 precise locations where the system will automatically kick in.
Forward visibility is exceptional thanks to the ultra-low hood and dash. The only complaint is the left-side mirror that partially impedes your vision in corners. It's hard to see anything from the rear three-quarter angle because of the fat pillars. A digital mirror providing 180 degrees of visibility makes up for the extremely small rear window.
The high structural rigidity of the 2020 Chevrolet Corvette could be felt right away. When driving around town, we appreciated the car's light handling and good manners. The 495-horsepower V8 is easy and pleasant to exploit thanks to the judiciously calibrated and quick-shifting dual-clutch transmission. Power delivery at full throttle is strong and accompanied by a rich, stimulating exhaust note.
During the second of our 45-minute testing sessions, the car was able to reach 200 km/h in a matter of seconds on a perfectly deserted stretch of highway. It felt totally stable the entire time. And with the nearly infallible launch control system, we could take full advantage of the exceptional mid-engine powertrain. Chevrolet claims the C8 Corvette sprints from 0-96 km/h in less than three seconds.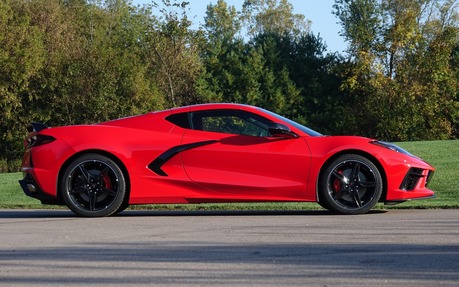 A Sports Car with Many Faces
When turning the drive mode selector from Touring to Sport, everything gets tighter and sharper. Gear shifts are quicker, throttle response is increased and the suspension is stiffer in a good way thanks to the magnetic dampers. Even the tailpipes become louder. What's more, the electric power steering reacts more quickly to the driver's input, yet it never feels twitchy.
Track mode cranks things up even more, so forget this one when you're driving on the road, says Mike Hurley, a vehicle dynamics engineer on the Corvette team.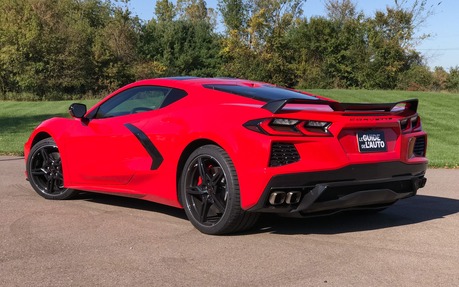 But perhaps the most impressive aspect of the new 2020 Chevrolet Corvette Stingray is the combination of finesse, agility, poise and balance, with a remarkable dose of refinement that belies its brand-new status. All that in a uniquely designed package full of smart details and touches.
This first drive bodes extremely well for an upcoming lapping session on a track that can challenge the car's limits. In the meantime, we're just going to add that it's unquestionably the best Corvette ever and already one of the finest sports cars in the current era.
Test drive report
Test model

2020 Chevrolet Corvette

Trim level
Stingray Z51 Coupe
Price range
$69,998 – $85,398
Price as tested
CA$105,523
Warranty (basic)
3 years/6,000 km
Warranty (powertrain)
5 years/100,000 km
Fuel economy (city/highway/observed)
N/A
Options
Z51 performance package ($5,900), front-end lift system ($1,875), carbon fibre roof panel ($3,100–estimated), Z51 suspension with magnetic dampers ($2,350–estimated), carbon fibre trim on centre console ($1,875–estimated), Trident alloy wheels ($1,875–estimated), engine styling kit ($1,250–estimated), red brake callipers ($745–estimated), red seatbelts ($495–estimated), red topstitching ($495–estimated), carbon mirror caps ($125–estimated)
Competitive models
Aston Martin Vantage, Audi A5, Audi TT, BMW Z4, Dodge Challenger, Ford Mustang, Jaguar F-TYPE, Lexus RC, Lotus Evora, McLaren 570S, Nissan GT-R, Porsche 911
Strong points

Impressive poise, agility and balance
Superior performance and driving excitement
Roomy and comfortable sports car
Bold concept executed with finesse
Modern, racy looks

Weak points

Some visibility issues
Odd black-painted intake accents
Slight transmission shuddering
No manual gearbox

Editor's rating
Fuel economy
N/A The official ratings have yet to be announced.
Comfort
Amazing ride quality for a sports car, excellent GT2 seats.
Performance
Fantastic power, flexibility and sound of the naturally aspirated 6.2-litre V8.
Infotainment
The system is straightforward and easy to use the very first time.
Driving
A world-class combination of finesse, performance and refinement.
Overall
The 2020 Corvette may be all-new, but it's quite impressive already.