Jeep Gladiator Gets the Military Treatment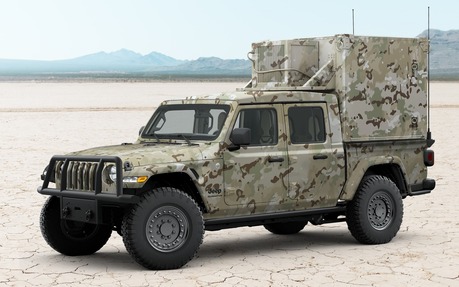 Leading manufacturer of light tactical vehicles AM General, together with Jeep, introduced a new light tactical concept vehicle at the Annual Meeting and Exposition of the Association of the U.S. Army (AUSA) on Monday.
The Jeep Gladiator Extreme Military-Grade Truck (XMT) leverages the new pickup's class-leading capabilities in order to meet global customers' needs for a lightweight military truck.
AM General identified the all-new 2020 Jeep Gladiator—the most capable midsize truck ever with 7,650 pounds of towing capacity and up to 1,600 pounds of payload capacity—as the ideal platform on which to develop this concept.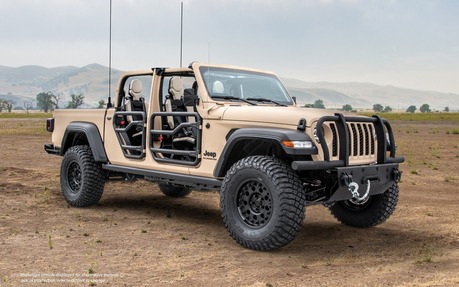 "We are extremely excited to partner with FCA and introduce the Jeep Gladiator Extreme Military-Grade Truck at AUSA," said AM General President and CEO Andy Hove. "This new venture gives us an opportunity to showcase our expertise in light tactical vehicles and help FCA maximize the Gladiator's global reach and potentially enter new military markets."
Based on its more than 100 years of experience in the defense industry, AM General targeted a series of parts and accessories that amplify the Gladiator's off-road maneuverability. The Gladiator XMT has been upfitted by AM General with both custom-built and commercially available military-grade parts to create an even more rugged truck that can traverse the toughest of terrains in adverse conditions and is ready to meet varied military customer requirements.
"The all-new Jeep Gladiator boasts unmatched functionality, versatility and especially capability, including two advanced 4x4 systems, locking differentials, skid plates, tow hooks, and incredible approach, breakover and departure angles—the perfect foundation for this ultra-capable military concept vehicle," said Jim Morrison, Head of Jeep Brand, North America.
Pending feedback and interest in the military marketplace, production could begin in the second half of 2020. In addition to the gas model, the Gladiator XMT would be offered to military customers as a diesel version.
AM General designs, engineers, manufactures, supplies and supports specialized vehicles for military and commercial customers worldwide, the most famous being the Humvee a.k.a. Hummer. The company has produced and sustained over 300,000 vehicles in over 70 countries with the help of its employees at major facilities in Indiana, Michigan and Ohio.