Screens in Cars: When Will the Madness End?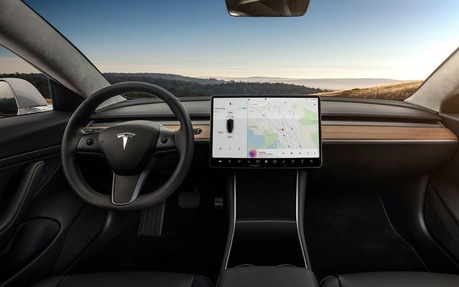 Cell phones have become a real nightmare on the road. Fortunately, most governments have implemented new laws to deter drivers from texting behind the wheel and prevent similar distractions.
At the same time, however, modern cars are being equipped with increasingly large displays that drivers can legally check anytime they want.
Consider the Tesla Model 3 for example. The vast majority of physical buttons and controls have been replaced by a gigantic 15-inch screen on the dashboard. Whether you want to adjust the cabin temperature, turn on the heated seats or switch to a different radio station, everything goes through that laptop-sized digital panel.
Similarly, Land Rover is pushing the limits of common sense with the new Range Rover Velar. While not as in-your-face as Tesla, the sheer number of displays and touch-sensitive controls is a perfect recipe for causing distractions behind the wheel.
With fancy tech and infotainment systems like these, it's kind of hard to keep your focus on the road. True, some functions are deactivated when you shift out of Park, but part of the problem still exists.
A while ago, the AAA Foundation for Traffic Safety partnered with researchers from the University of Utah to test 30 different infotainment systems available in North America. None of them were deemed safe. Even worse, 23 required either "high" or "very high" levels of attention.
Automakers claim they do everything in their power to make on-screen menus as clear and user-friendly as possible to help drivers keep their eyes on the road.
However, even the slightest moment of inattention can be fatal. Studies have shown that turning your attention away for 4-6 seconds at 90 km/h is the same as crossing a football field with your eyes closed.
The use of any device with a screen can cause a distraction, even if that screen—like the built-in nav system—abides by the law.
Banning cell phones behind the wheel is pointless if other intrusive displays are still allowed in cars. Just because you're not manipulating the device with your hands doesn't mean it's not distracting.
Isn't it time to regulate the size and configuration of these screens in modern vehicles? Are automakers launching more and more advanced safety and driver-assist features just to make up for the distractions technology is creating? Shouldn't the quest toward zero fatalities on the road also involve creating distraction-free cabins?
Ultimately, it's up to drivers to use their good judgement and be careful while using their phones and car screens. But governments and the auto industry have a role to play, too.