Marc Lachapelle Wins a Fourth Automotive Journalist of the Year Award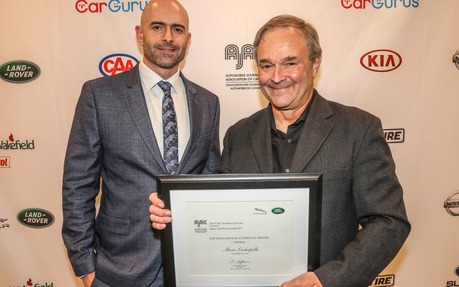 Marc Lachapelle, an esteemed and long-time contributor to The Car Guide, was named the 2019 Canadian Automotive Journalist of the Year at the 36th Annual Automotive Journalism Awards presented by CarGurus, organized by the Automobile Journalists Association of Canada (AJAC).
The ceremony took place on October 29 at the Ajax Convention Centre in Ajax, Ontario.
The AJAC Journalist of the Year award presented by Jaguar Land Rover Canada was inaugurated in 1984 and is the top automotive writing award available in the country. By edging out Lorraine Sommerfeld, Marc became the first four-time winner of this award. He was previously recognized in 1994, 2005 and 2017.
Some of the pieces that helped Marc secure the award this year include his review of the Porsche Cayenne Turbo S E-Hybrid for The Car Guide (French only) and a story about the launch of Zeal Motor and the Fat Truck published on Autofile.ca.
"Jaguar Land Rover Canada is extremely proud to present the AJAC Journalist of the Year award as we have done every year since its inception in 1984," said John Lindo, Director of Marketing and Public Relations at Jaguar Land Rover Canada. "It's always a privilege to see the work of the entrants for this award as it is the highest calibre of automotive writing. It was no surprise that Lorraine and Marc were honoured tonight as they are two of the best in the business."
Marc was also a finalist for the Environmental Journalism Award presented by Nissan Canada, which was won by Jil McIntosh.
Congratulations, Marc, for your exceptional work and thank you for your precious contribution to the success of The Car Guide!