Alfa Romeo Giulia, Stelvio to Receive Key Upgrades for 2020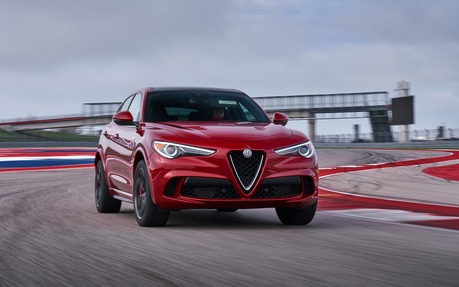 After launching new limited-edition 2019 NRING models to honour Alfa Romeo's century-old racing success and its unique connection to the famous Nürburgring in Germany, the Italian brand is planning a series of upgrades to its two most popular models for 2020.
Generally speaking, these changes will enhance styling, technology and the user experience provided by the Giulia sedan and Stelvio crossover.
No official announcement has been made yet, mind you. The information comes from a leaked internal document prepared by Alfa Romeo's North American division, as you can see below.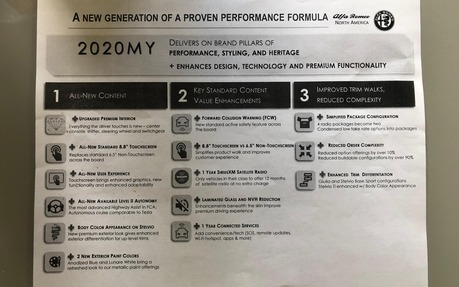 First, the interior will be quieter thanks to laminated glass and reduced NVH levels. The redesigned console, shifter, steering wheel and switchgear will improve ergonomics and the driving experience.
In the middle of the dashboard, the 6.5-inch non-touchscreen will be replaced by an 8.8-inch touchscreen with better graphics. This will be accompanied by a one-year subscription to satellite radio and connected services.
Furthermore, safety will be increased by making forward collision warning standard across the line. New driver assistance features will enable level-2 semi-autonomous driving on the highway "comparable to Tesla."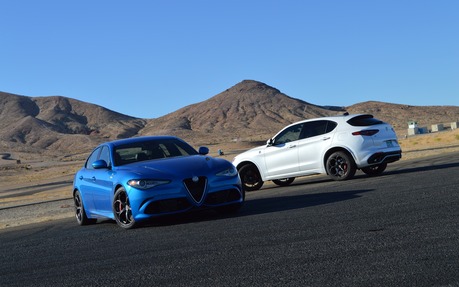 Finally, two new body colours will be offered (Anodized Blue and Lunar White), there will be more differentiation between trim levels and the number of options will be cut.
However, it looks like the powertrains remain unchanged for 2020. Both the Giulia and Stelvio use a turbocharged 2.0-litre four-cylinder engine that produces 280 horsepower or a twin-turbo 2.9-litre V6 that cranks out 505 horsepower. All-wheel drive is optional with the sedan and standard on the SUV.
As for the 4C roadster, we've just learned Alfa Romeo will sell the remaining units in stock and kill the model afterwards.