Ferrari Roma is Another Sleek Italian Coupe Inspired From the Past
This year was a big one for Ferrari. Following the debuts of the SF90 Stradale, F8 Spider and 812 GTS, here comes the all-new Roma.
The company describes it as a contemporary reinterpretation of the carefree lifestyle of 1950s and '60s Rome, hence the name. More specifically, the Ferrari Roma takes its inspiration from mid-front-engined grand touring coupes like the 250 GT Berlinetta lusso and 250 GT 2+2.
Clean, elegant lines and harmonious proportions are the key from a design standpoint. All superfluous details have been removed. For example, radiator cooling is delivered by a monolithic surface that is perforated only where necessary, creating a new radiator grille concept.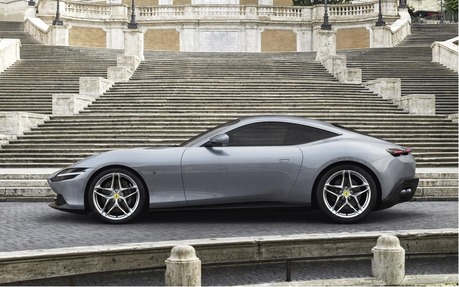 The Roma also incorporates several leading-edge technologies, most notably a mobile rear spoiler integrated into the rear screen that automatically deploys at high speeds to improve downforce.
And you can be sure the car has no problem achieving impressive velocities: 0-100 km/h in 3.4 seconds and a top speed in excess of 320 km/h. This is the product of a twin-turbocharged 3.9-litre V8 that punches out 611 horsepower at 7,500 rpm and 561 pound-feet of torque at 5,750 rpm. It's part of the V8 family that has won the International Engine of the Year four years in a row and it features Variable Boost Management for instantaneous throttle response.
Engineers also developed a new eight-speed dual-clutch gearbox that's lighter and more compact than the previous seven-speed unit. Drivers can expect faster and smoother shifts in addition to reduced fuel consumption.
As far as the chassis is concerned, 70 percent of the components are entirely new. Ferrari claims the Roma has the best power-to-weight ratio in its segment (2.4 kg/hp), which enhances handling and responsiveness. The wheels are 20 inches in size.
Inside, designers used a new approach that involved the creation of two separate cells, one each for driver and passenger, in an evolution of the dual-cockpit concept that embraces the entire cabin rather than just the dashboard as was previously the case.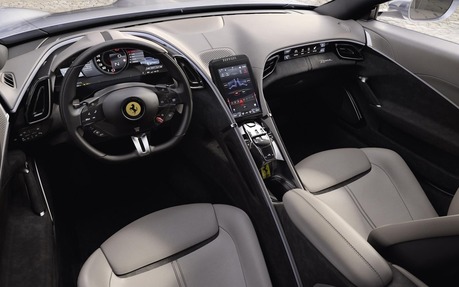 The human-machine interface was completely redesigned in the process, starting with the new steering wheel where all the car's main functions can be actioned by haptic controls. Right behind is a 16-inch digital instrument cluster that provides all the necessary information, while the 8.4-inch vertical touchscreen is said to be exceptionally intuitive and user-friendly.
And while the pictures don't show the rear seats, the fact that the Roma is called a "2+ coupe" means you probably won't be able to fit more than a small suitcase behind the front seats.