2020 Audi S8: High-end Luxury With a Sporty Twist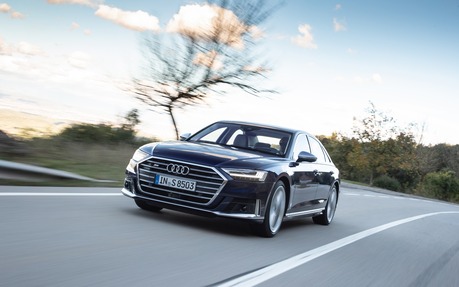 Two years after the launch of the next-generation Audi A8, here comes the high-performance variant, a car filled with the same advanced technologies but offering an extra dose of power and sportiness.
Available now in Canada from $151,600, the new 2020 Audi S8 is the executive luxury sedan for wealthy drivers always in a rush.
We tested the car on the beautiful mountain passes surrounding Barcelona and it seemed to laugh at our repeated attempts to push it from one corner to the next. The S8 proved impeccably solid and stable thanks to its weight of over two metric tons.
While powering our way through the hilly landscape, with hard stops followed by explosive accelerations controlled via the paddle shifters on the steering wheel, we were impressed with the dynamic and playful nature of the new Audi S8. This great German sedan marvellously combines luxury, comfort and performance.
It all starts with a twin-turbocharged 4.0-litre V8 engine that cranks out 563 horsepower and 590 pound-feet of torque. Audi's quattro all-wheel drive and eight-speed automatic transmission come standard. Full-throttle sprints from 0-100 km/h take a mere 3.9 seconds, rivalling a number of sports cars.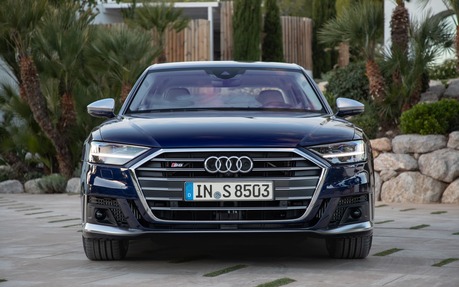 The smart engineers in Ingolstadt also gave the S8 a plethora of cutting-edge, go-fast systems. Similar to the regular A8, it features an adaptive air suspension with predictive assist powered by a 48-volt battery that's part of a mild hybrid setup.
At speeds below 30 km/h in Comfort mode, a front camera scans the road ahead 18 times per second. If the system detects a bump or pothole, it will automatically adjust damping for each individual wheel so passengers don't feel anything (or so to speak).
We found the whole thing remarkably effective, except maybe on smaller obstacles like rubber speed bumps, which the S8 is unable to detect for some reason.
Another comfort-enhancing feature is the easy entry/exit system that automatically lifts the car up 50 millimetres when someone opens a door handle.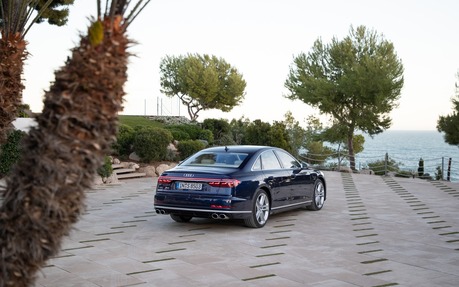 In Dynamic mode, the suspension is tuned differently and reduces body roll to just 2.5 degrees, which makes the car feel like it's driving on rails. When exiting corners, the S8's liveliness can be credited to the sport differential that sends more torque to the outside wheel to reduce understeer. Hard acceleration or braking has virtually no effect on the body, which remains impressively still.
Furthermore, the S8 comes standard with four-wheel steering technology, meaning it can pivot the rear wheels in the opposite direction of the front wheels at speeds below 80 km/h to improve manoeuverability in tight turns.
We need to remind you again that our test drive took place on pristine roads in southern Spain. Ride quality might suffer when the car lands in Canada.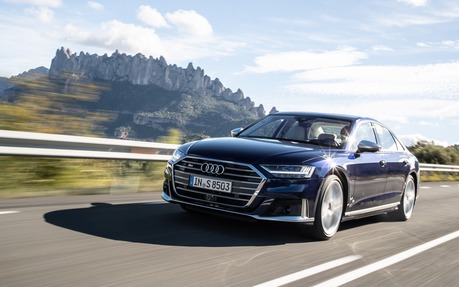 Inside, the 2020 Audi S8 boasts a fully digital interface complete with high-definition colour touchscreens on the centre stack and the brand's configurable Virtual Cockpit behind the steering wheel. Despite the abundance of technology, the cabin proves just as understated as the exterior, so you can't really know you're sitting in a performance variant.
In select markets, the S8 is available in short- and long-wheelbase configurations. Only the latter will be sold in Canada. In typical Audi fashion, options and packages are quite expensive. For example, the Rear Seat Connectivity Package (USB ports, two detachable tablets, DVD player and more) costs $3,500. The Rear Seat Comfort Package (power-adjustable seats with heating/ventilation and massage) can be had for $4,650. Want more performance? The composite-ceramic brakes alone cost $10,500. Love music? Prepare to pay $5,100 for the 19-speaker Bang & Olufsen 3D sound system. Fortunately, most of the content is included as standard equipment and not optional.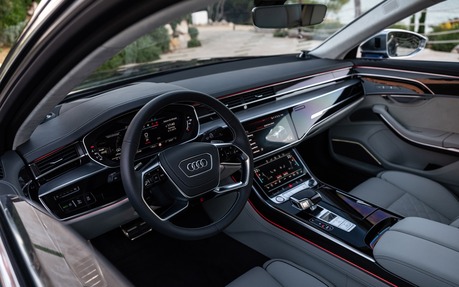 Ultimately, the new 2020 Audi S8 is a powerful and dynamic full-size sedan with comfort and luxury to spare. It keeps a lower profile than the high-performance versions of the BMW 7 Series and Mercedes-Benz S-Class, which are a bit more extroverted.
Sometimes subtlety is the best way to go.
Test drive report
Test model

2020 Audi A8

Trim level
S8
Price range
N/A
Price as tested
N/A
Warranty (basic)
N/A
Warranty (powertrain)
N/A
Fuel economy (city/highway/observed)
N/A / N/A / 12,8 L/100km
Options
N/A
Competitive models
BMW 7 Series, Cadillac CT6, Genesis G90, Jaguar XJ, Karma Revero, Lexus LS, Maserati Quattroporte, Mercedes-Benz S-Class, Porsche Panamera, Tesla Model S
Strong points

Strong engine
Advanced technologies
Superb dynamics and performance
High levels of comfort

Weak points

High price
Expensive options
Heavy weight
Conservative styling

Editor's rating
Fuel economy
Mild hybrid technology will save you 0.8 L/100 km.
Comfort
The adaptive air suspension does a wonderful job in Comfort mode.
Performance
The twin-turbo V8 generates 563 horsepower and accelerates from 0-100 km/h in 3.9 seconds.
Infotainment
The two high-definition colour touchscreens are the technological highlight inside.
Driving
Four-wheel steering combines with a torque-vectoring rear differential to deliver superb dynamics.
Overall
The new 2020 Audi S8 is the executive luxury sedan for wealthy drivers always in a rush.