Thor 24: The Most Epic Big-rig Truck Ever Built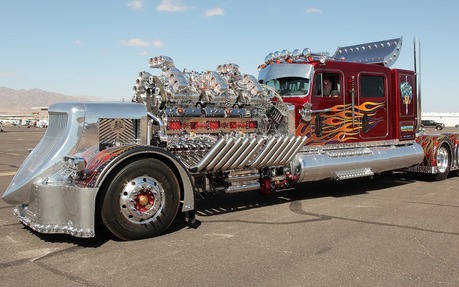 As founder and president of Caribou Industries based in California, Mike Harrah is an avid racer, helicopter stunt pilot and designer of custom exotic cars and big-rig trucks.
His latest and ultimate creation, which took seven years and about $10 million to build down in Arizona, is just out of this world. Aptly called "Thor 24," it is described as the "HOLY MOTHER OF METAL world-class monster big-rig, semi-truck ever built." Yeah.
Harrah took a 1979 Peterbilt 359 semi which he custom-stretched and fitted with two 12-cylinder Detroit Diesel engines. The latter are connected nose-to-nose by a splined crankshaft and boosted by 12 superchargers, plus eight nitrous oxide bottles between the middle bank.
The resulting 27.9-litre V24 stands eight feet tall and generates as much as 3,974 horsepower through an Allison HT740 transmission. Peak torque is not specified, however.
The truck weighs 32,000 pounds and totals 44 feet (13.4 metres) in length. Able to reach speeds of 210 km/h, it needs four drag parachutes measuring 12 feet in diameter to come to a stop.
The entire undercarriage is chrome-plated and polished aluminum and stainless steel. A Peterbilt air leaf suspension supports the rear end, while the ginormous grille up front is a tribute to 1933 Ford coupes.
The cabin is interesting, too. It was widened and stretched to fit two extra doors (the front passenger's door opens like a Lamborghini door). The instrument cluster boasts more than 24 gauges, the shifter is a broadsword and a Hawker Jet Helicopter engine acts as an auxiliary generator powering features like seven movie screens (including a 40-inch unit) and a 1,500-watt audio system.
We'll stop right there because the website says the full list of features and accessories can go on for 99.5 days. Rumour has it that Harrah is working on a variant for drag racing.