2020 Audi RS Q8 Unveiled with 590 Hp and Wicked Looks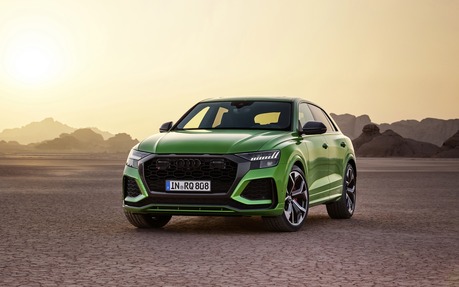 With the Audi Q8 now positioned as the brand's flagship SUV, it was only natural that a high-performance RS variant would follow. The world premiere of the new 2020 Audi RS Q8 took place today at the 2019 Los Angeles Auto Show.
This wicked, coupe-style SUV shares its twin-turbocharged V8 engine with the RS 7 and RS 6 Avant. It produces 590 horsepower and 590 pound-feet of torque, accelerating from 0-100 km/h in 3.8 seconds on its way to a top speed of 305 km/h. Audi's quattro all-wheel drive system has been specifically tuned for the RS Q8 and mated to an eight-speed automatic transmission.
Similar to the RS 7 and RS 6 Avant, there is a mild hybrid system featuring a 48-volt battery. This allows the vehicle to coast with the engine turned off at speeds between 55-160 km/h for about 40 seconds. It improves fuel economy on the highway, much like the cylinder deactivation technology that shuts off four of the eight cylinders when cruising under light load.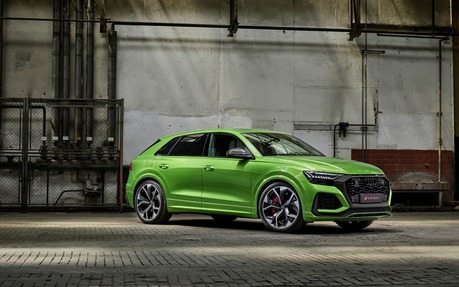 Performance and driving dynamics are further enhanced with four-wheel steering as standard equipment. The brakes use 420-millimetre discs with 10-piston callipers up front and 370-millimetre discs in the rear. Optionally, Audi offers 440-millimetre ceramic disc brakes.
"Hulk"
That's the nickname designers gave to the Java Green 2020 Audi RS Q8 you see here. It certainly looks like a monster with 20 millimetres of extra body width in front and another 10 millimetres in the rear, plus a honeycomb grille, new rocker panels, a rear spoiler, available 23-inch wheels and large tailpipes.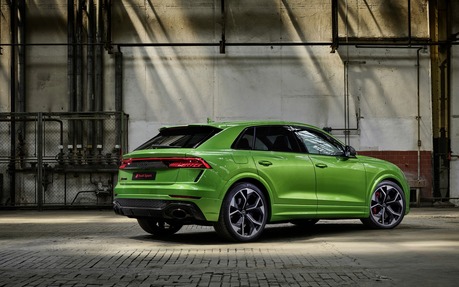 Inside, the first thing that catches the eye are the RS sport seats with heating, ventilation and massage. The Alcantara-trimmed multi-function steering wheel features a new RS Mode button that activates either the RS 1 or RS 2 driver profile.
For example, you can dedicate RS 1 to softer settings that maximize passenger comfort and reserve RS 2 for more dynamic settings that increase performance in solo driving. As a result, the RS Q8 can go from docile and forgiving to furiously aggressive on demand.
We had the opportunity to ride in an Audi RS Q8 driven by Frank Stippler, the most recent winner of the 24 Hours of Nürburgring, and it was quite an exhilarating experience, as you can imagine.
Pretty soon it will be our turn to spend time behind the wheel, so keep an eye out for our review on The Car Guide.