2019 MINI Cooper S 60 Years Edition: Six Decades of Irrational Fun
Thank God that Sir Alec Issigonis invented the classic Mini in 1959 and teamed up with John Cooper the following year. The two men have given us fantastic little cars with iconic styling and exceptionally fun handling.
Sixty years later, the British brand keeps the tradition alive and well (the 10 millionth MINI rolled off the assembly line in Oxford this summer) and celebrates the car's diamond anniversary in proper fashion with a 60 Years Edition.
Nice Gift
Available in 3 Door or 5 Door variant, this new MINI Cooper is fittingly painted in British Racing Green as a tribute to MINI's motorsport roots (black and grey are other options). It also features a Pepper White roof and mirror caps, unique 17-inch wheels and "60 Years" emblems on the front scuttles, hood stripes and even on the ground next to the driver's door thanks to an LED projector. Another cool touch is the Union Jack pattern in the taillights.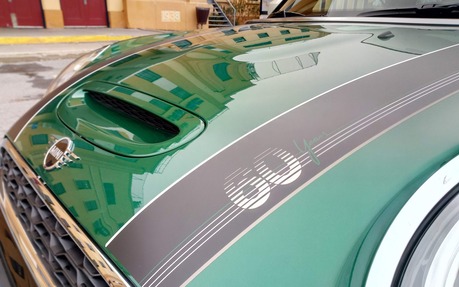 When you open the doors, sill plaques sporting the anniversary logo greet you. We like the lounge-style sport seats in Dark Maroon Nappa leather with green piping that matches the green pinstripe motif on the dash. While not the most comfortable out there, these buckets provide great lateral support, which is what you want in a car with such razor-sharp reflexes. There's also a hand-stitched Nappa leather sport steering wheel featuring the same "60 Years" emblem.
Small Gift
While it has grown in size since coming back to the market in 2001, the MINI Cooper—particularly the 3 Door model—remains quite diminutive and hard to access when compared with modern compact cars. Heck, sub-compacts like the Hyundai Accent and Honda Fit positively dwarf the tiny Brit.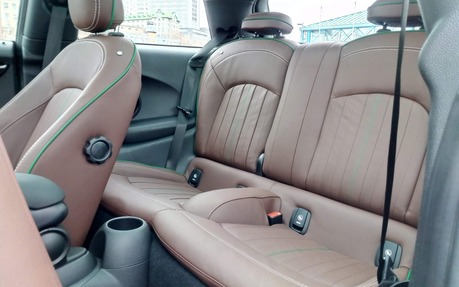 Truth be told, life inside a standard MINI is full of compromises whether you're talking about space (we pity the poor rear passengers), storage or ergonomics. Incidentally, it's a good thing the centre display is touch-sensitive, close to the steering wheel and fairly user-friendly, because the round selector and buttons between the front seats are buried too deep to be really useful.
Fun Gift
The 60 Years Edition is available with either the 134-horsepower triple-cylinder engine or the 189-horsepower four-banger (both turbocharged). The latter is definitely worth the investment as it makes the Cooper a lot sportier and more exciting to drive—0-100 km/h sprints are a matter of 6.7 seconds. The 207 pound-feet of torque, accessible from 1,350-4,600 rpm, make the biggest difference. Acceleration is lively in almost any situation and activating Sport mode adds another dimension (warning: the exhaust note is artificially enhanced through the rear speakers).
We didn't really miss the six-speed manual transmission, honestly. The six-speed autobox is that good. It also meant we could keep both hands on the steering wheel at all times and make the most of the sharp, responsive steering. Paddle shifters would have been nice, though.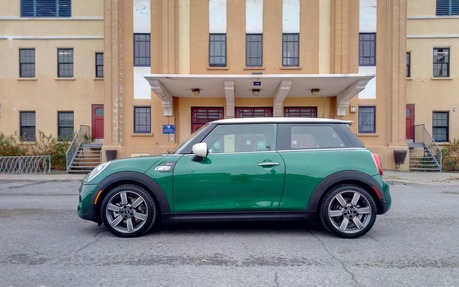 The ride is stiffer than average in the segment, so cracks and joints quickly become tiresome. On the other hand, the car is so agile that potholes are easy and even fun to avoid.
Pricey Gift
The 2019 MINI Cooper S 3 Door starts at $27,390. The 60 Years Edition requires a premium of $6,900. In addition to all of the above, it includes a panoramic sunroof, heated front seats (but no heated steering wheel), automatic climate control, navigation and a few other extras.
Some will find it pretty expensive for such a small, impractical and historically unreliable car (replacement parts are costlier, too). However, good luck finding another car with such distinctive styling and that many customization options that can make drivers smile with such regularity.
For our money, we'd skip the 60 Years Edition and go straight to the John Cooper Works model (228 horsepower, 236 pound-feet) at around $35,000. By the way, prices go up $1,500 in 2020 due to a new seven-speed dual-clutch transmission as standard equipment. The wise man's pick would be a Volkswagen Golf GTI or Mazda3 Sport, both of which are basically just as fun, yet roomier, more comfortable and more refined.
Test drive report
Test model

N/A

Trim level
Cooper S
Price range
$23,090 – $34,890
Price as tested
27 390 $
Warranty (basic)
4 years/80,000 km
Warranty (powertrain)
4 years/80,000 km
Fuel economy (city/highway/observed)
10,2 / 7,4 / N/A L/100km
Options
60 Years Edition ($6,900)
Competitive models
N/A
Strong points

Spirited turbo-four engine
Exceptional handling
Styled like no other

Weak points

Beware of the price and ownership costs
An interior full of compromises
Lack of comfort and noise insulation

Editor's rating
Fuel economy
With an average of 8.4-9.0 L/100 km, the Cooper S burns more (premium) gasoline than other small cars and even a few compacts.
Comfort
We like the supportive front seats, but everything else requires some form of compromise.
Performance
With a light weight and 207 pound-feet of torque accessible at low revs, acceleration is lively in almost any situation.
Infotainment
Bless the centre touchscreen that is close to the steering wheel and fairly user-friendly. The round selector and buttons between the front seats are not really helping.
Driving
The Cooper S is exceptionally dynamic and agile. Keep in mind the ride is firm and visibility is problematic at times.
Overall
We're big fans of the looks and spirited performance, but there is no practical or logical reason to buy this MINI.