This Winter-busting Civic has Tracks and Four Turbos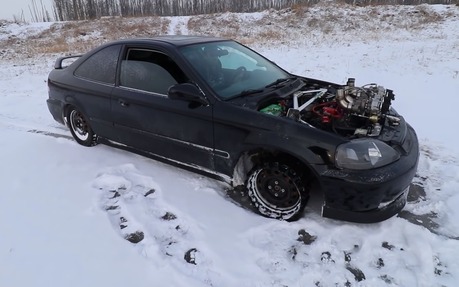 The Honda Civic has been the best-selling car in the country for more than 20 years. Canadians love driving this Japanese compact, perhaps as much as playing in the snow.
Kyle Williams, a gearhead better known for his YouTube channel Boosted Lifestyle, found a spectacular way to combine both—and maybe even inspire those who hate winter.
After getting his hands on a sixth-generation Civic coupe equipped with a 1.6-ltre four-cylinder engine, Williams decided to cut the exhaust manifold and install four Borgwarner K03 turbochargers. That's right, four. Due to a lack of space, he had no choice but to arrange his wild setup the way you see here.
Later, following a number of static tests and a few road tests, Williams thought it would be fun to replace the car's front tires with tracks and then let it rip in a snow-covered field and on an icy road.
There are obviously more effective and more sophisticated ways to increase power and winter performance—as shown by Nissan with the Rogue Warrior, 370Zki and Altima-te AWD—but we still applaud Williams' effort and originality.